Sport news
FIA WORLD RALLY CHAMPIONSHIP
Present:
Toyota Gazoo Racing
– Sébastien Ogier (FRA)
– Elfyn Evans (GBR)
– Kalle Rovanperä (FIN)
Q: First of all, we are back in action in the FIA WRC at a brand new event, Rally Estonia. Is it an extra motivation, not only being back but in a brand new event as well?
SO: I think that after such a long break, the motivation is there anyway. It's really nice. I always enjoy going to the new places and discover new roads and I wanted to say, new people. Maybe it's a bit more difficult to meet the people right now… The road looks beautiful. I think we are all unanimous, that when we've seen the road during the recce, we are all enjoying driving on this kind of road, especially with the car we have right now. There are extremely fast roads, while you need to have a lot of confidence. I think luckily for most of us, we have done this test event two weeks ago, which was really helpful. Now I'm looking forward to start the real battle, the real fight. Like I said, this warm-up was very important for me, I feel very good in the car and I'm ready to give my best.
Q: You have mentioned that 'jump management' is going to be very important this weekend. Can you explain a little bit about what you mean by "Jump management"?
SO: Basically, it's the rally that I'm going to do that has the most jumps. In Finland, there were a lot of jumps, but most of them in our days are flat and you just keep the full throttle. Here it's a different case – some of them are much bigger, some are a bit artificially made, which means that we don't know how the car is going to react. Maybe some kickback from the rear, maybe some hard landing. Unfortunately, we saw Elfyn last year having a bad reception on the jump. Those are the kind of jumps that we have to manage with the perfect speed. Of course if you slow down too much, you will lose time. But it's also very easy to do a little bit too much, and have a hard landing, and damage the car, damage yourself or even crash. This is why the jumps for me are going to play quite a big role into the rhythm.
Q: Lot of people are obviously looking at home advantage from Mr Tänak. But naturally he has competed many times across those roads. Do you believe that this is going to be the case this weekend or it's going to be more of a battle between you?
SO: I think he has already showed it two weeks ago and even a little bit this morning in Shakedown. We know that he is going to be extremely fast and we know fighting with him this weekend is a big challenge. But we never know. Especially I think second pass is going to be a bit tricky this weekend. There might be some very damaged road or big rocks in this conditions. We know that he is able to be very fast, and push very hard but you still have to avoid the trouble in these conditions. I feel that the car is working well for us, too, so we have definitely the right tools in our hands to perform well here. I just hope now that the conditions starting in front will be OK tomorrow. It was the case this morning at Shakedown, I hope tomorrow that there won't be some cleaning effect for me. But at the end of the day, we start with the same chance. Of course, when you are the local one, it's always a bit of help. A couple of years ago in Monte Carlo, when I reached the Gap area, I knew a little bit more than the others and that can always give a little bit of advantage. The gaps are very small, so nothing is impossible.
Q: Elfyn, Seb touched on it, your jump last year. A couple of weeks ago in Estonia also, at the Lõuna-Eesti Rally, you went off. I don't want to talk about the negative. What was the feeling in the car before that happened? Are you satisfied with the kilometers under your belt there?
EE: Yeah, I think we had good testing before we got the chance to do the rally, which was an opportunity to confirm everything we did in testing. Everything feels pretty good in the car, to be honest. So yes, we're looking forward to what we can do on this event. Like I said, the car is working well and we've had some good kilometers behind the wheel. I'm happy and ready to go.
Q: It's a shortened itinerary from what we're used to. 233 competitive kilometers. It's a fast event, it's always going to be a sprint. Flat out from the start or is there any other strategies that you could employ?
EE: Of course. Obviously, everyone is going to be pushing hard from the get-go. I think in terms of the day itself, both Saturday and Sunday are quite intense days although we are missing a day of competition in comparison to normal. Still, the days that we do compete, are quite full-on, so nothing will be so-so different from normal. But like Seb said, there are areas that can catch you out, especially the topic of the jumps. You can win or lose quite a bit if you take them too slowly, but there is always the risk of damage. There is an element of balancing risk and reward.
Q: You've gotten off to an incredible start this season. We saw the win of course in Sweden but it has been consistent performance throughout the events. You're coming to your 90th WRC event here in Estonia. What is the hope for this weekend?
EE: The hope is always the same: to perform at your best. Obviously, we want to win but then so does everybody else. We know the competition will be tough so we are again here to give it our best shot and see what we can come up with on Sunday afternoon.
Q: Kalle, success for you of course on the roads in Estonia. Brilliant result for you there. How did you find it?
KR: It was a nice test event. It was very good to be back in the car and get back to the feeling in the rallies. For me it was a good feeling in the car all the time and also it has been like that all the time in the test, so I think it should be the same feeling here too.
Q: We saw you achieve your first podium in WRC in Sweden. Feels like an age ago now, of course. Lots of people online and journalists are talking about, maybe you're the dark horse this weekend Maybe you could be the one walking away with the win. Do you feel that that is the possibility?
KR: I don't think that this is what we want. Because I have not, for sure, so many rallies behind. Of course I want to improve myself all the time and just have a clean rally and do at least 5-6 races just to get the experience. But I also know that this is one of the events that will be easier for me to be on the pace. For sure I hope that we can be on the podium or have the chance to fight at least. I think that this is the only thing I'll be happy about.
Q: As pretty much our youngest WRC driver, how frustrating was it for you during the off-season, not to be able to go behind the wheel and continue on the good work that you've done in the start of the season?
KR: It was quite difficult for sure. The start of the season was good so it would have been nice to continue like this. For sure in the beginning, the small holiday was nice but then it got too long and I was just waiting to go back into the rally car.
Question from the floor – Agence France Presse, Raphaëlle Peltier (FRA), to Sébastien Ogier
Q: The sixth month break that we've had, has this made you reconsider the plans to retire at the end of the season?
SO: There are two answers. First, I'm ready to step out and do something else because I really enjoy the breaks, to be honest. But at the same time I don't want to stop in such a strange season and a short one. Doing another one and fully more normal (season) would be nice. We didn't make any agreement, yet, but the wish is there on both sides, for the team and myself. Let's hope that we can do that soon.
Hyundai Shell Mobis
– Thierry Neuville (BEL)
– Ott Tänak (EST)
– Martin Järveoja (EST)
– Craig Breen (IRL)
Q: Ott, we are here in your home nation of Estonia for the restart the FIA WRC and of course, Rally Estonia. Tell me, what does it feel like to have the WRC steam role right in for the first even?
OT: First of all, it's been a very long break and we've been kind of forgetting already what it means to be in that circus. Of course, it's nice to start again, especially back in Estonia. I can only say that it was a nice trip from home to here – it took me only one and a half hour! That was definitely the best advantage I had compared to the other guys. Like always, we are definitely looking forward. It will be a tight fight. I'm very happy that we can start again.
Q: No trains involved, no having to check in your baggage. Did you pick Martin up along the way or did he drive you there?
OT: No, we are not so big friends that we are travelling together.
MJ: My road was even shorter, it was 25 minutes.
Q: Of course, you are very much, Martin, here at the home territory, aren't you?
MJ: Yes, that's true. Adding to Ott, it's also good to be back in the competition mode. Especially as we have done some events but now, they are giving also the points, so It's a little bit different.
Q: Yes, it is a little bit different now. Does that mean – is there extra pressure? When you were here last year, it was a promotional WRC event, there was a great atmosphere of course but you didn't get the points in the championship. Now of course, it does. You don't have too many rallies left in this season. Does that put an extra pressure on your shoulders?
OT: Every other year, we've done the event. Of course, it's been still the test even. Now when we're doing the competition, the only focus goes on the performance to do the best time. Of course there is no testing anymore so the focus is only on one thing.
Q: Martin, previously we've seen the rally actually go through your home town, Elva. What's that like, especially for friends and family, having it all here as a proper WRC event?
MJ: I guess it's good for them. Of course, the situation currently [with COVID-19] is not so nice but still they can wave and cheer, so that's good for them.
Q: Have any co-drivers been tapping you on your shoulders, as soon as the Rally Estonia was on the calendar. Was anyone trying to get an extra information from you?
MJ: Yes, Our good friend Torstein (Erikssen). He wrote me already before they announced that the rally was here. He asked me got the notes but I didn't have anything.
Q: Ott, what about you, have you been sharing the information with your teammates? About what the rally is like? Apparently a lot of these guys have done the rally, Thierry many years ago. Have you been sharing the information about it or you've been keeping it all to yourself?
OT: First of all, I guess even more than half of the rally is completely new for myself as well. Secondly, think I have the same amount of the experience as, for example, Craig (Breen) has. Maybe he has even more than me. Okay, I am from Estonia, I know this area. When I started, I used to drive here, so I know a bit. But still by now the organizers have made so many new roads which have been used in the rally, so there will be something new to discover for me as well.
Q: Everybody is saying that you have the home advantage. It makes a difference for everyone. Even Sébastien Ogier said that, when he goes to Gap, he feels that he is a little bit quicker than everyone else. Do you think that this really does count at the end of the day?
OT: The experience definitely counts and if you have some know-how from the past, you can imagine what can happen, it definitely gives you some extra confidence. Rally is all about the experience. If you have some more than the others, then definitely it is a bit of an advantage.
Q: Thierry, you have been here before. But as we discussed yesterday, so long ago. 2013. Do you remember from back then?
TN: Yes.
Q: One jump?
TN: Yes.
Q: Is that all you're going to say to me today? One man, one word
TN: 2012 was my last time. Very few memories, to be honest, one jump I remember – the very famous jump. All the rest looks pretty much new for me. But obviously I've put a lot of effort on driving recently. For example, the opportunity to come here last week definitely helped for the preparation.
Q: Tell me a little bit more about that, though, because you have referenced that you wanted the things to go a little bit better than they did. What was the issue?
TN: Basically, a couple of issues with the pace-notes on the first stage but after that, it went all fine. We just had a couple issues with the car, as well. We struggled on the first loop to get a good feeling and to fix up the car, But in the end, nothing major. This morning, the feeling was pretty good at Shakedown. I know that it's going to be an interesting weekend, a challenging one, definitely, because we only have a few drivers who really have no experience over here. But we are going to fight. There might be some who are not reachable this weekend but the target is to be on the podium.
Q: Who is not going to be reachable this weekend?
TN: I think there is no secret that Ott is going to be really, really fast on those roads. He is born on such roads and knows them well. They are very special roads and you need to be really committed and to know what is coming. I think he is going to be the main man to beat. After, there will be some Finnish guys as well who are very fast and feel very comfortable on this kind of surface. I did a good recce and I'm definitely going to push.
Q: Mr Breen, let's turn to you now. As Ott Tänak said, you got some great experience, you've been here four times, driving with in a range of different cars. Could it be the surprise, the Rally Estonia?
CB: Definitely piling pressure on me there. Look, it's obviously an event I've done a lot, but I guess not so many times in a World Rally Car. It's definitely a rally I know quite a bit but like Ott said, they're using a lot of not just different roads this year, but completely new roads built for the rally, so nobody has any experience with them. For sure, on the roads that we've done previously I hope to take something of an advantage, but still you have to link up with the new bits as well and try to be as committed as you can on them. So it's not going to be an easy challenge.
Q: Do you feel in a different position in a comparison to these guys who are battling for the championship title? Do you feel that you can absolutely go for it or is the pressure wanting to impress Mister Adamo still there?
CB: I guess there is an element of a lot of different things. I guess, since I went in the car for the first time in Finland last year, the goal has always been to try and pick up Manufacturer's points. It's difficult when you do not get these opportunities very often. You just have to try to do the best job you can. I definitely do feel confident going into this weekend. Like I said before, it's a rally I know. Generally speaking, fast rallies for some strange or no reason, are the ones that suit me best. Because you know where I grew up, it is the complete opposite. I think if there are opportunities for a good result, this rally is one of the better ones. I want to impress nobody more than myself. I want to leave this weekend satisfied and if I'm satisfied, I can only hope Mister Adamo is satisfied.
Q: Any issues at all on the recce with the torrential rain yesterday? Did you have to stop at any point out there? Did it cause any kind of distraction? Or are the notes all good?
CB: No. I have to say it was a pleasant surprise how well the roads coped, I thought, considering how much rain had fallen. I think we have seen in the past at some other rallies that if you get a massive downpour of rain like we had pretty much all during the morning yesterday, it can really transform the stages and really turn them up. They actually stayed in quite good shape. I think that's all credit to the organisers. Again, not only have they from an organisational point of view done something incredible, to make the rally work but also create these roads that are quite durable and strong has been something quite exceptional as well. Let's hope it continues tomorrow.
 
M-Sport Ford
– Teemu Suninen (FIN)
– Esapekka Lappi (FIN)
– Gus Greensmith (GBR)
Q: Esapekka, back in action now on Rally Estonia. As with many of the drivers we've spoken to in this Press Conference, you have had experience here before. What did you think when you heard that we were coming here to restart the season?
EP: I was really happy, first of all. That we're going to restart and as we missed out Finland, this is for sure the next rally I would like to do, as it's very close to it. The nature of the rally is very similar. I enjoyed a lot last year this rally and I'm sure that I'm going to enjoy this weekend as well.
Q: I'm sure you are. It is a high speed event out there – lots of jumps, so dynamic to watch for us. What's it like to compete at it?
EP: It is for sure. We need to trust the car, the pace-notes and that combination has to be really perfect to be able to be competitive. Sometimes it's a bit too crazy. Especially this year, it looks that we have more narrow roads but it is still fast. It just doesn't get any slower. That's where I feel it's a bit crazy. But it's also a part of the work. It needs to be
Q: Are you happy with your runs?
EP: Yes, very happy. I'm a bit surprised of my times but very much in a positive way. Well, let's see if we can keep it on the rally. I was really on the limit, so I'm afraid we need to step down to be able to finish the rally.
Q: Well, it's about finding the absolute balance…
EP: Clearly. Probably the rain created some small surprises as well. If some sections or some corners are not really dried up, there might be mud and you can't see it through the bushes, so that's why you have to have some small marks.
Q: Talking about Shakedown, let's talk to Teemu Suninen. It was going well and then it wasn't going quite so well, Mr Teemu Suninen. What happened at Shakedown to you?
TS: The first three runs were pretty OK, I was finding a good rhythm with the driving and tried to find good confidence with the car and it felt pretty good. Then we came to service, worked on the car set up, went back to the stage and it wasn't working that well. I lost the control and went off. Not good for our confidence. We just need to forget it, try to get the confidence back and be on the limits again.
Q: It is difficult, isn't it? It's such an easy thing to say – get your confidence back! But it's a difficult one when it's such a quick event and there is no stages to really warm up on. Maybe tonight?
TS: Tonight is kind of a different stage from the others. I just need to forget what happened in the morning and try to get third (position). I know I've been there before – in Mexico, I finished in the podium. I just need to get the similar kind of confidence and find a good rhythm. At least we have proved that we have been there once with the car, so we know that we can do it.
Q: I'm sure you will find that confidence. In terms of preparation of the event, I know that it has been limited for you but you have tested in the UK. How did that go?
TS: It was pretty OK. It was really muddy and it was raining like it normally does in the UK. From that side, it was great as we got some rain on the recce. The idea was to have one test day with the car.
Q: Let's turn to the man who hasn't been here in Estonia before. I'm glad to find one because it's limited around the Service Park. It seems, Gus, that everyone in some way, competed here but you?
GS: Yeah, pretty much. I wish I had competed here before at some point, that is for sure. It's been six months out of the car. I didn't do much mileage on the test, so I have to take this one a step at a time.
At Shakedown, everything was going in the right direction but when we went for the second pass, the road was so destroyed… We were just damaging the car. We need to focus on making some good improvements through the weekend. Like Teemu said, he proved the car is very fast. There's no reason we can't be there or get close towards the end of the weekend.
 
Q: For someone who hasn't been here before, give me your impression on the stages?
GS: In the wide open sections I think they are some of the nicest stages I've seen for a long time. Same as EP: I think that the narrow roads tend to ruin the rally a little bit, they are a little bit unnecessary. When it's wider or even medium kind of size, it's nice but for sure there's going be some little mistakes in the forest.
 
Q: Give us a little bit of insight, what have you been up during the lockdown season?
GS: When I was on the plane back from Mexico, my dad said: you're going straight to work when you get back, because there's definitely not going to be any rallying for quite a while. I just got back into it. Like I said, I had the least amount of time in the car. I'm just happy to be back in it and take a step at a time.
 
Q: So your approach is going to be as you said, one step at a time? No heroics?
GS: No, no. It would be unrealistic compared to the amount of seat-time I've had.
Question from the floor – Worldrally.se, Bo Christer Bofeldt (SWE):
To Teemu Suninen and Esappekka, do you know what is happening next year?
EP: If I'm really honest, I have no idea. First of all, is it already from Monte Carlo? As the year is changing, I'm not sure. We have to see where this virus is going. Hopefully I'm driving but like I said, I don't really no.
TS: I have no idea what is happening next year. The situation in the world is very unclear. Really hoping to get in the car.
FIA WRC2 CHAMPIONSHIP
Present:
– Mads Østberg (NOR), PH Sport
– Nicolay Gryazin (RUS), Hyundai Motorsport N
Q: Mads, you're two time winner of this event. Tell me what it's like, first of all, to be back in the FIA WRC and to be back in Estonia?
MO: It's very good to be back in the competition again. It's been a long break, which, to be honest, I've enjoyed but it's also very fantastic to be back in the rally car. Really amazing as well to be back in Estonia. I haven't been here for 8 years. I've seen some of the same people, some of the same junctions but not so many similar stages. I've recognized a few places and that's very nice.
Q: Well, that's also a little bit helpful, as well. What do you think of the route this year?
MO. It looks very nice. To be honest, it's quite different from what I imagined. I remember the stages from back in 2012 which were much wider and faster from what we are seeing from this event. That's quite nice to see a bit of a change. Quite a lot of jumps, which I also enjoy. I think it's a bit more technical and difficult from what I expected but for us, I think that it's quite positive.
Q: You certainly are the king of jumps, you've proved that over the years. You have been in the competition mode, this isn't the first time we see you back behind the wheel. Do you feel prepared and ready for the pace here?
MO: Well, that's always difficult to judge before you start the event. But it was nice to be back in the FIA ERC in Liepaja a couple of weeks ago and for sure, the speed there was quite amazing. I think some of the drivers are well prepared and faster than me, so hopefully I'll manage to close the gap a little bit. We feel certainly well prepared and we have been able to develop the car a little bit to be better suited for these fast stages. I hope that we should be able to improve from what we saw a couple a weeks ago.
Q: You were doing some development testing with Citroën at the start of the week, can you tell us on what areas of the car?
MO: Oh yeah, I probably could…
Q: That's a big sigh!
MO: It's always important to do the development. To be honest, Liepaja was also a bit of development work for us as well. We had some new suspensions coming into that event, we had no experience with it. For sure, we have the new bits on the car which should make us faster. We have a different philosophy on the transmission which could also help us a little bit on the faster corners. So we will see if we have found a good average for this rally because there is some slow and technical sections as well where we were already quite fast but we need to find an average to work for the whole event.
Q: Nicolay, good to see you here! You are no stranger to Estonia, you've competed at this event previously before. This time is going to be a little bit different as you have a new co-driver on board, how is this relationship going so far?
NG: That's true. We did this rally last year in a R5 car so it was very exciting. Last year it was training so it was easy to drive. This year I will try to reach the good result and see what we can do on the jumps. The jumps are really incredible, it's really high. You really need to work on where to jump in the corners and it's really easy to make a mistake. But it makes it more interesting to fight. The road is fast as usual in Estonia, so it's a tough challenge for drivers.  Konstantin Aleksandrov is my new codriver, it's an even bigger challenge for him. Because, before he drove only R2 and it's different in Russia than in the WRC. Here, for him, it will be a big challenge. We did a couple of rallies before Estonia, just to make him feel better in the car. I think now he is in a good shape. He is still trying to learn and to improve. I think during this rally, there will be no problems. We'll just try to enjoy.
Q: Given that you have a new co-driver on board and as you said, he hasn't got huge amount of experience and we do have a very strong field of drivers within your category this weekend, what is your hopes in terms of result?
NG: I need to finish and for sure, I want to get good points to make Hyundai to lead in the WRC2 championship. I'll try to do our best. After the first day, we will see what our pace is. I don't have big expectations but try to work as hard as we can.
Question from the floor – Worldrally.se, Bo Christer Bofeldt (SWE):
Q to Mads Ostberg: Is it challenging for you to drive and work under coronavirus restrictions?
MO: To be honest, it has been quite okay. I think, we are obviously taking caution and for sure, a lot of the development work in the manufactory has been stopped. So it's been certainly a very different time than to what we have been used to. We stopped for a while but over the last weeks, I've been to the factory and the guys back there have worked pretty hard to present so many ideas. Of course, I haven't been able to go to France and do the development there, so we have been a little bit stuck. We didn't get the equipment here either, so we do carry a lot of baggage on the planes. But honestly, we are just very happy that we are able to do our job. We try to be careful and just do the maximum from what we can do on those restrictions.
FIA WRC 3 CHAMPIONSHIP
Present:
Jari Huttunen (FIN)
Karl Kruuda (EST)
Q: Tell me about how you are feeling coming back into the WRC action?
JH: Of course it's nice to be back after a long time. I'm really happy and enjoying the comeback.
Q: You have experience of this event under your belt. It's a very high-paced event and after such a long time that there have been rallies only for a few people out there, how difficult it is for the driver to get on the pace straight away? 
JH: Of course, it's not never easy to find that on really high level and sometimes you have to take some risks. It's not easy. Let's see how it's going.
Q: In terms of the recce that you guys had, yesterday morning we saw incredible rain. Did that affect you? Did it slow you down? Did you have to stop on any point? Did you have any issues on that or not?
JH: No, for me it was OK. In some parts, there was heavy rain but no problems. Let's see how these stages are during the rally because I did hear that, in some places, it was muddy and could be damaging.
Q: It's great to see you back in action at your home WRC event. It's been a year after competition. First of all, WRC in Estonia. Karl, what does that mean to you?
KK: Basically it meant that I cannot miss this event! That's why I'm sitting here. I'm very happy. Congratulations to all the people that did this job in two months. Last year, I was behind the fence as well with the WRC and I understood it's not the easiest thing to do. You need to give these people all some credit.
Q: Absolutely. Let's talk about you and the car. There's been an interesting livery over the years and this year is no exception. Your car is covered in ducks. Tell me why, and the story behind it?
KK:  When you bring WRC to Estonia, you bring all the cameras and worldwide media to it. Your car is in front of the cameras where you can present the things on. This year we thought to explorate something different. I know these times have been difficult to everybody all around the world and nobody takes it easy. But we tend to forget that people are already struggling and what they have to go through. On that note, we thought to promote the children with cancer and to donate to them so we could gather big amount of money together. We succeeded with that as well a week ago but we're still keeping it open so people could support the people who struggle a lot more than we do.
Q: That's a very worthy cause, Karl. Congratulations for doing that. Tell me, what are you hoping for personally in terms of competition this weekend? What are you hoping to achieve?
KK: On the competition side I just want to enjoy the whole event. I had a chance a couple of years ago to drive this but I had an accident after the second stage and had to retire. A couple of minutes ago I started thinking that the last time I drove Rally Estonia was five years ago. I'd really like to have a trouble free event. My personal goal is to a least match the top guys on my right setting the pace for me. If I can do that, I'm very, very happy.
FIA Junior WRC CHAMPIONSHIP
Present:
Ken Torn (EST)
Martins Sesks (LVA)
Q: Ken, it is the home event for you this time. Rally Estonia on the FIA WRC calendar. How does that feel?
KT:It feels good. We don't need to travel the long way. I've always enjoyed the south Estonian roads.
Q: Does it add extra pressure to perform?
KT: Maybe, but I don't want to think too much about that. We are just doing our things. I hope that if we do all great, then we will be fighting for the top positions.
Q: You had success recently in Latvia, of course, where we saw a fantastic battle between you and Martins. Is there a big rivalry between you two?
MS: Definitely.
KT: Actually, Martin has been a good competitor for me. We've fought in the Estonian championships, in Junior and ERC. For sure.
Q: Did the event in Latvia give you a good sense of the speed and everything you are approaching at this event. Do you feel prepared?
KT: Yeah, I think so. Rally Latvia is the good preparation for Rally Estonia. Maybe there are a little bit faster roads than there but the surface is not so similar. We've had the experience for years on that surface, and a good feeling on the road.
Q: There is a good line-up, as always. But seeing as this is your home event, do you feel that you are the favorite for the win?
KT: We hope so, but I think that the other competitors think the same, so let's see.
Q: Martin, talk us about how, and most importantly. Good to be back?
MS: Good to be back. Especially be back here, in Estonia. As Ken said, we've had quite nice battles in the previous years here as well. Estonia is something between Rally Finland and Rally Liepaja.
Q: Martin, this is an incredible event that we have seen from 2010 onwards. How would you describe the stages to people, who have never seen them, from around the world? What are they like?
MS: As Ken said, it's a mix between Latvian roads, and a little bit of Finland's as well. It's something mixed but still it's very, very fast and very enjoyable.
Q: You said that there is a definite rivalry between yourself and Ken. Are you seeing yourself as a favorite this weekend?
MS: I don't want to make that pressure. For sure we want to do our job as good as we can and hoping for the best.
Q: How did Shakedown go this the morning? Any problems or it was feeling good?
MS: We thought it went good. For sure there was also some rocks and we hit something as well on Shakedown. It was good to prepare for the rally because it will be quite rocky at some places during the event.
Q: Did the heavy rain gave any impact on your recce this weekend?
MS: I hope not. We will see tomorrow. Actually not, the road is really good with absorbing all the water that came from the rain. I think there shouldn't be any problem.
World Rally ChampionshipRally EstoniaWRC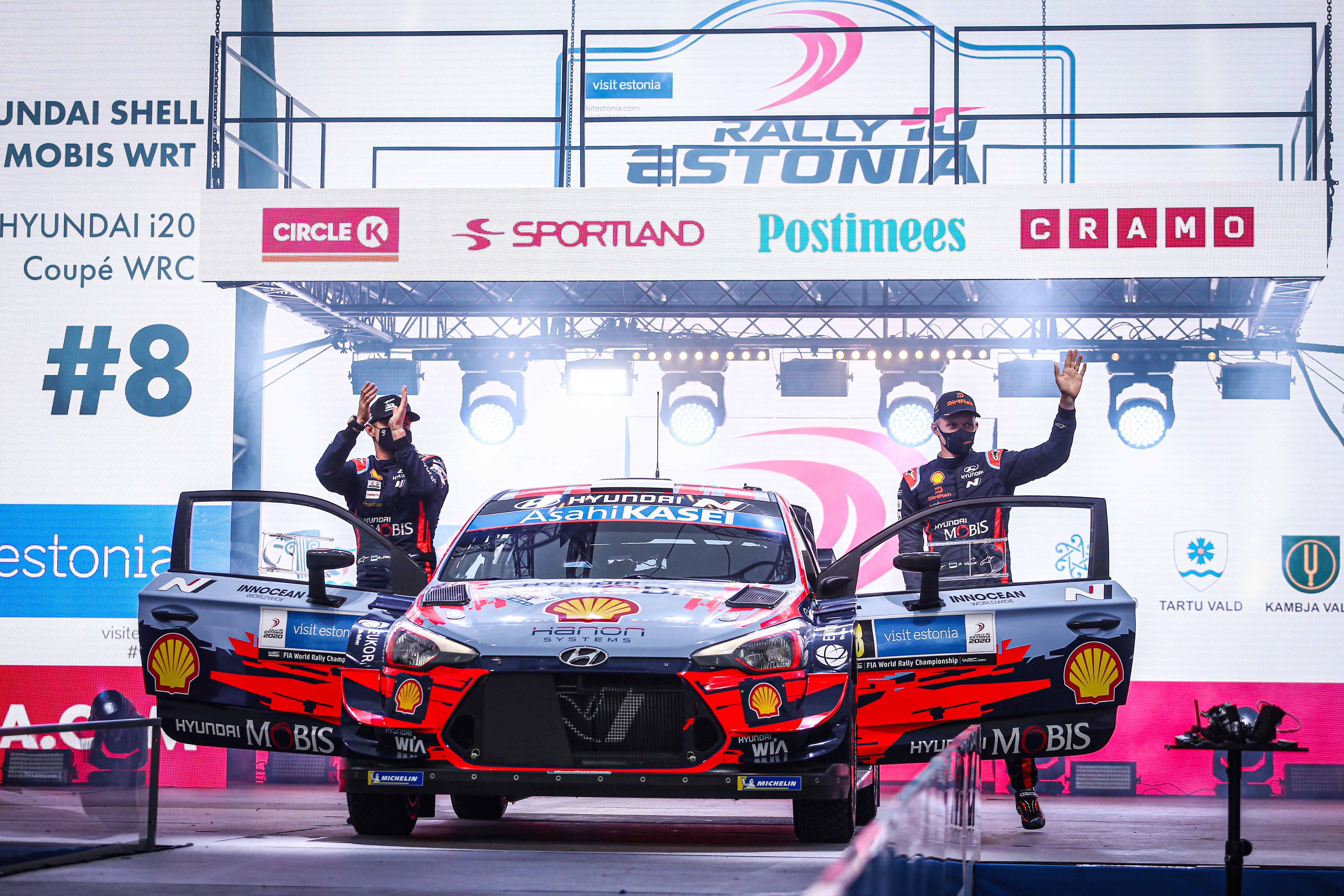 SEASON 2020SportRallies1SportWorld Rally ChampionshipRalliesWRCSEASON 2020Rally Estonia01
This content was originally published here.