Updates from the race at the Suzuka circuit
Ferrari lock-out front row of the grid in Sunday qualifying
Any thoughts? Email or tweet @scott_heinrich

Updated
Lap 52/53: More power for Vettel and now Hamilton is calling on his team for the same. The gap between second and third is now 0.67 secs. Hamilton's rear tyres look shot.
Lap 51/53: The traffic ahead isn't helping Vettel. Hamilton is within two car lengths of the Ferrari driver. Bottas now 14 secs out in front.
Lap 50/53: Bottas now 12 secs in front of Vettel, who holds a 0.5 secs buffer over Hamilton. Can he keep the Mercedes man at bay?
Lap 49/53: Albon sits in fourth and Sainz in fifth after Leclerc's pit stop. Hamilton still eyeing that gap to take Vettel.
Lap 48/53: Hamilton is tempted to try to pass Vettel but thinks better of it. The battle is on for second, with Bottas in glorious isolation out in front.
Lap 47/53: Hamilton now just 0.67 secs behind Vettel, who looks to be labouring on the medium tyres. Leclerc now pits, with his team looking to bag the fastest lap.
Lap 46/53: Ricciardo takes Stroll into eighth place. If nobody betters Hamilton's fastest lap, and nothing untoward happens to theri drives in the final few laps, the constructors' championship will be Mercedes'.
Lap 45/53: Hamilton now owns the fastest lap of the race and is closing on Vettel with a 1-2 Mercedes finish in his sights.
Lap 44/53: Leclerc talking to his team, saying he doesn't want to pit again. Hamilton to finish the race on soft tyres. Vettel is on the mediums. Bottas leads by 10.5 secs.
Lap 42/53: Ricciardo takes Perez into 10th. Bottas closing the gap on Hamilton, who now pits. Team instruction? The world champion emerges from the pits 5.3 secs behind Vettel and 15.3 secs behind the leader, Bottas.
Lap 41/53: Mercedes need to outscore Ferrari by 14 points to secure another constructors' championship and as things stand they will do so today.
Lap 40/53: Leclerc has left Gasly for dead in seventh place. He's now 5.6 secs behind Sainz in fifth.
Lap 39/53: Verstappen apoplectic after the early collision that saw him retire from the race. Says he likes tough racing but basically accused Leclerc of irresponsible driving. Hamilton 9 secs in front of Bottas. Does he stay out there and try to win it?
Lap 38/53: Bottas back onto the soft tyres after that pit stop. "Tell me what I need to do to win this race," Hamilton asks his team. Beat your teammate, it would seem. Fifteen laps to go.
Lap 37/53: Bottas does head into the pits. Nice work by the team and he resurfaces still in front of Vettel. Bottas just under 10 secs behind Hamilton after that pit stop.
Lap 36/53: Leclerc takes Gasly into sixth place. A daring and brilliant move. But it's all about Bottas to this point, 13.5 secs ahead of Hamilton and almost 30 in front on Vettel. But a pit stop looms for the leader.
Lap 34/53: Leclerc is driving like a man possessed after that early incident and is now in seventh place. Gasly is in his sights. Ricciardo in 11th after being the last man to pit.
Lap 33/53: The top seven drivers are all on the medium tyres. Hamilton is reporting that his tyres are still good. Bottas now 13.3 secs out in front, with Vettel 20 secs back in third after his latest pit stop.
Lap 32/53: Leclerc into ninth place now, just 10 seconds behind Gasly in sixth. Vettel is now in the pits. Hamilton stays out on the track for now.
Lap 30/53: Leclerc weaves his way into 11th place. Ricciardo finally heads to the pits, resuming the race with softs.
Lap 29/53: Hulkenberg takes Perez into 9th place, underlining a good day for Renault. Hamilton seems unhappy with team strategy today, constantly questioning his team. Albon into fourth after Sainz's stop.
Lap 28/53: Sainz onto the mediums, which he'll hope will last him. Leclerc back in 12th having gone a soft-medium-soft combination. Bottas still 11 secs out in front, with Hamilton 7 secs further back.
Lap 26/53: Norris looks to be going backwards in 11th after that incident with Albon. Leclerc in the pits again and he emerges with the soft tyres. Will that last him to the end? Unlikely. Sainz now heads to the pits, leaving Ricciardo and Kyvat as the only in the top 10 yet to pit.
Lap 25/53: Hamilton on the medium tyres now but this race looks like Bottas's to lose. Sainz driving well in fourth but Albon has him in his sights.
Lap 23/53: With a pit stop each, Bottas leads Vettel by 11.7 secs with a further 9.5 secs back to Hamilton. Hamilton complaining to team about the time he has lost. Mercedes are banking on Vettel taking another stop.
Lap 22/53: Hamilton now in the pits, his tyres deteriorating. No action on the Norris-Albon incident. The Leclerc-Verstappen collision to be looked at after the race.
Lap 21/53: Ricciardo driving very well in fifth after starting from 16th on the grid with medium tyres.
Lap 19/53: Vettel zips past Sainz into third place following his pit stop. Hamilton, who hasn't stopped yet, leads Bottas by 6.8 secs and Vettel by 10.8 secs. Now the quickest lap of the race belongs to Bottas.
Lap 18/53: Bottas heads to the pits. He emerges with the medium tyres. Albon has just clocked the quickest lap.
Lap 17/53: Bottas now 7 secs in front of Vettel. That fast start is paying dividends. Vettel in the pits. He's keeping the red tyres.
⏪ to Lap 1
The collision between Verstappen and Leclerc is now under investigation by race stewards#JapaneseGP 🇯🇵 #F1 pic.twitter.com/Vebw6blQOn
Lap 15/53: Mercedes on the radio to Hamilton.They think Vettel will be pitting soon and they may make a strategic pit stop themselves. Verstappen now out of the race after that early collision.
Lap 13/53: Albon in 5th for Red Bull, no doubt to the cheers of the locals. Bottas now 4.1 secs ahead of Vettel, who is now only 1.8 secs ahead of Hamilton. Leclerc takes Raikkonen into 14th place. No case for Vettel to answer after a possible false start. It was just very slow!
Lap 12/53: The two Mercedes are clocking the quickest laps with Vettel in between them. Leclerc up to 15th, weaving his way through the field. Can he stay on without another stop?
Lap 11/53: Leclerc now on the mediums after his pit stop. Verstappen struggling in 17th after that contact with the Ferrari driver. The two Mercedes drivers are sandwiching Vettel with a big gap to Sainz in fourth.
Lap 9/53: Leclerc takes Verstappen with a minimum of fuss. No contact this time. These Ferraris are so quick. The two Renaults are 8th and 10th on the medium tyres. Good effort after showing very little in qualifying.
Lap 8/53: Leclerc 33 secs behind Bottas in 17th after his early pit stop. It's unlikely the investigation will look fondly on his part in the ding with Verstappen.
Lap 7/53: Bottas 2.4 secs ahead of Vettel, 5.2 secs ahead of Hamilton and 12.8 secs ahead of Sainz. Tough luck for Verstappen – that prang with Leclerc was not his fault. And now there WILL be an investigation.
Lap 6/53: Norris is into the pits, saying he we was forced off by Albon. Verstappen moves ever so slowly into 16th. Bottas driving comfortably out in front.
Lap 4/53: And now Leclerc is off, promoting Sainz to fourth. If it's a one-track stop for Leclerc, might not be the end of the world. There will be no investigation into the coming together between Verstappen and Leclerc, much to the former's chagrin.
Lap 3/53: Hamilton is complaining of his vision being affected by the wing damage of Leclerc. The champ can't believe the Ferrari driver hasn't been ordered off the track.
Lap 2/53: Leclerc is being encouraged to stay on and see how he goes. Bottas keeps his lead from Vettel, Leclerc and Hamilton.
Terrible start for Vettel, who is immediately passed by Bottas. Wing damage for Leclerc after a tussle with Verstappen, who spins off the track. Leclerc in third but is staying on the track despite reporting damage to his team. Incredible opening to this race!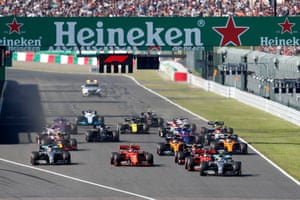 OK, we are just moments away from the start … hold on tight. It's formation lap time. All drivers from the top 10 on the grid are using soft tyres.
Updated

Ferrari team principal Mattia Binotto is sporting a grin that would make the Joker look straight faced: "We are very happy. Suzuka is a difficult circuit but it is now five poles in a row."
As for team tactics, with two drivers on the front row, Binotto isn't giving much away: "Nothing sophisticated. We are simply trying to do our best. It's good to start ahead but the race will be difficult."
The Japanese fans are out in force at Suzuka, no doubt many of them Honda fans and hoping for a Red Bull victory. Incredible that both Red Bull drivers clocked 1'27.851 in qualifying.
Pole for Seb, a front-row lockout for @ScuderiaFerrari
So far, it's been a super Sunday for these fans 🙌#JapaneseGP 🇯🇵 #F1 pic.twitter.com/uJdeB3OTHY
The strong winds at Suzuka played their part in qualifying and will likely do so in the race. At present, it's a strong tailwind down the straight to the line with a headwind into the 'S' Curves and down the back straight into the Spoon Curve. How will that shape the tactics of both the Ferrari and Mercedes teams? At any rate, cannot wait to see how Vettel handles pole position after his antics in Sochi. No doubt his intention will be to never see a car from lap 1 through to 53. Incredibly, and ominously perhaps for Mercedes, this Suzuka track has never produced a winner from the second row.
What of Mercedes? The general consensus is that Suzuka is tailor-made for the car but their bid for a sixth straight win in the Japanese GP – they haven't lost at Suzuka in the hybrid engine era – looks less than straightforward now after Ferrari's tour de force in qualifying. Still, the Silver Arrows will have their own plans with both Bottas and Hamilton enjoying an unobstructed view of their Ferrari rivals on the grid. And they'll need them. Around 0.3 secs clear of their rivals through practice, the gap was turned on its head in qualifying with Hamilton 0.238 secs behind the best that Vettel could muster.
Hamilton's win in Russia strengthened his grip on the title but he can't wrap up his sixth drivers' championship today. It is possible, however, for the champ to eliminate everyone bar Bottas from contention heading to Mexico. Vettel is one of four men mathematically in the hunt of running down Hamilton, but he is a whopping 128 points in arrears of the Brit. Bottas (73 points behind Hamilton), Leclerc (107) and Max Verstappen (110) are the others. As for Mercedes, they can equal Ferrari's record of six consecutive constructors' championships at Suzuka if they outscore the Scuderia by 14 points.
The stage is set for an epic race.
What a Quali session! 🙌 It's an all silver second row for today's #JapaneseGP!
Valtteri will start P3, with Lewis alongside him in P4!
We gave that everything everything we had! Looks like we've got two red cars to catch, boys… 🤜🤛 pic.twitter.com/1eH4nJcVBj
Lights out: 4.10pm (AEDT)
Nothing between them! ⏱ Max and Alex qualify for the #JapaneseGP with exactly the same time of 1:27.851 for P5 and P6. pic.twitter.com/bLgahhJINn
Good afternoon, sports fans. Welcome to a Sunday at Suzuka that, thanks to Typhoon Hagibis, can only be described as super. This is just the fifth time in Formula One history that qualifying and the race has been held on the same day. And the morning's action didn't disappoint, whetting the appetite for what should be a fascinating race.
Qualifying belonged solely to Ferrari, the Scuderia locking out the front row with Sebastian Vettel to start from pole ahead of Charles Leclerc. It's Ferrari's fifth successive pole position, a feat they haven't achieved since 2001 and something that will be even more satisfying after the dominance of Mercedes in practice. The Mercedes duo of Valtteri Bottas and Lewis Hamilton will start on the second row.
Ferrari's tactics this afternoon will be fascinating after the meltdown of Sochi. Regardless, the simmering rivalry between Leclerc and Vettel is now compulsory viewing. Prior to Japan, Leclerc had outqualified Vettel in the past nine GPs and following qualifying Damon Hill suggested to Leclerc that he had awoken the beast inside Vettel. Certainly, the rise of the Monégasque driver has given rise to the theory that Vettel is fast becoming yesterday's man. That train of thought has been derailed after qualifying and, if anything, Vettel can thank his teammate for stirring the competitive juices.
Mercedes looked to be the team to beat after Friday's practice sessions but conditions on Sunday morning were quite different. Clear, dry but still windy, Vettel commented after qualifying that he felt his Ferrari was almost glued to the long-radius corners of Suzuka and that he only needed his brake once.
How do you see the race panning out? Get involved, and keep me company, by dropping a comment below, emailing me or getting in touch via Twitter – @scott_heinrich.
This content was originally published here.