Style. Above all else, it's the reason people buy coupés. They want to be seen, and are willing to sacrifice just a little practicality for the privilege. That slightly-more-daring attitude towards looks has seen BMW take a radical approach to the design of its new 4 Series, expanding its iconic kidney grilles in a potentially divisive direction.
It's a more in-your-face look than the rivals from Audi and Lexus that we've lined up here. Audi moved to oversized grilles a long time ago, but even so, this facelifted A5's styling is still more conventional than the BMW's. The Audi mixes a look that's both sharp and relatively understated.
Then there's the Lexus RC. It's something of a left-field choice, but offers individual design, tech and quality – exactly what any premium coupé must offer. Here, hybrid plays pure-petrol power, though, which is an interesting point of difference.
Yet all three competitors are close on price, so the question is: has BMW created the best coupé on the market for the money? Or are you better off spending your money on the updated A5 or the hybrid RC? 
BMW 4 Series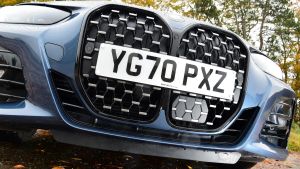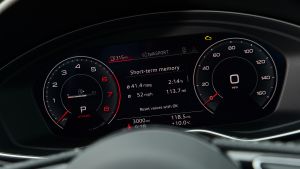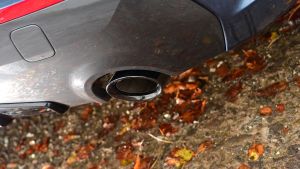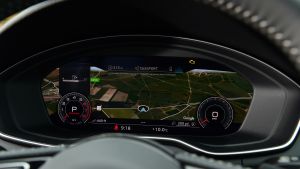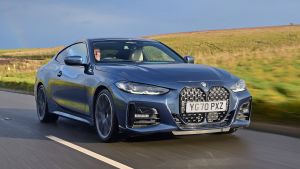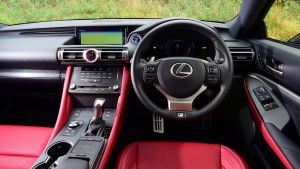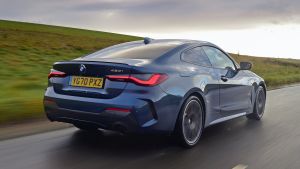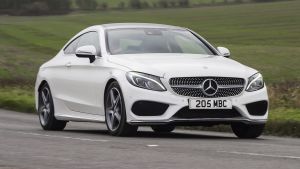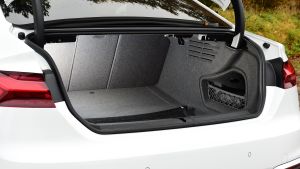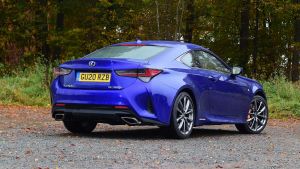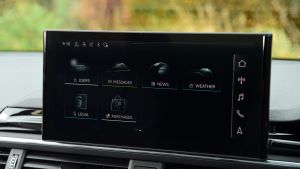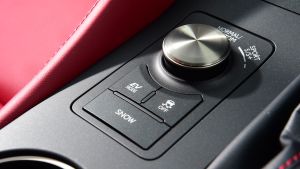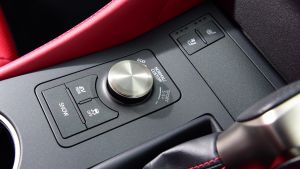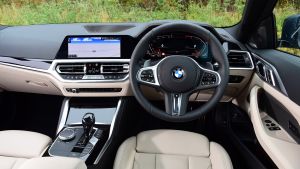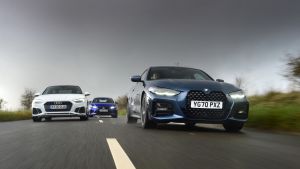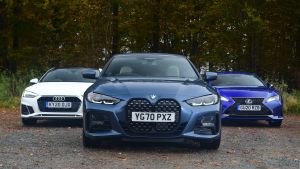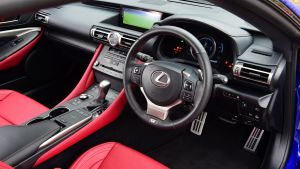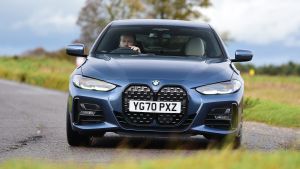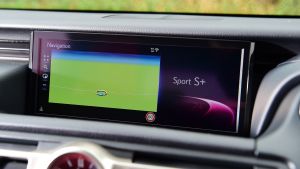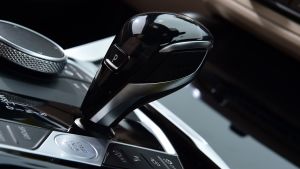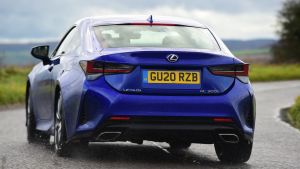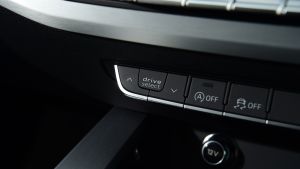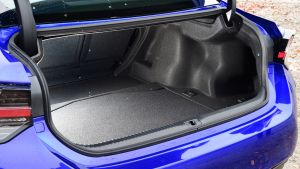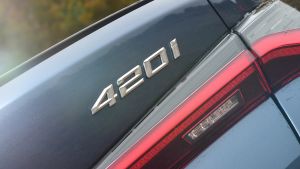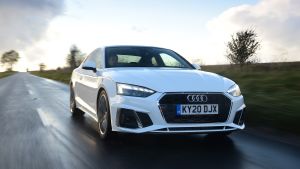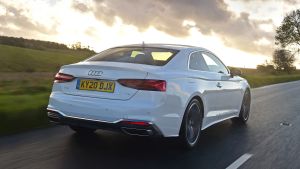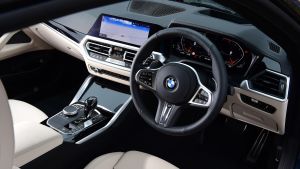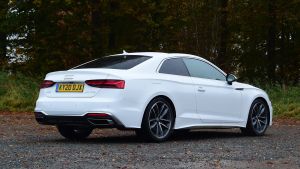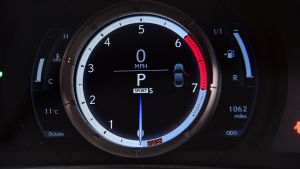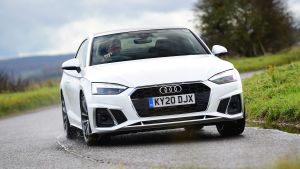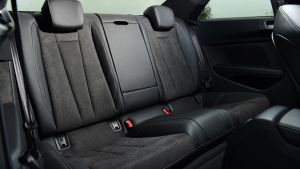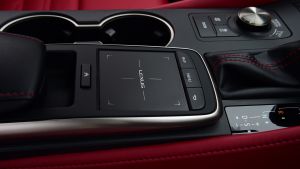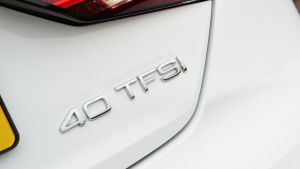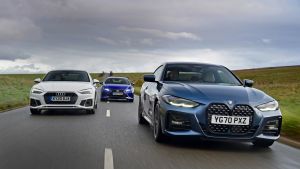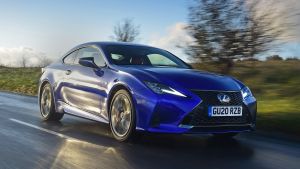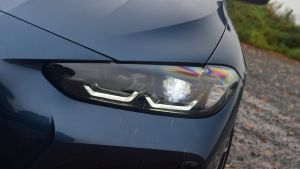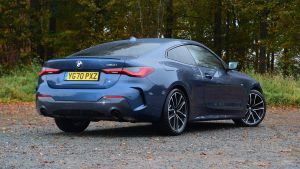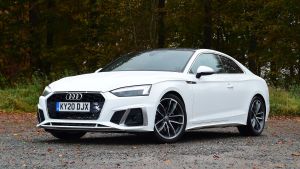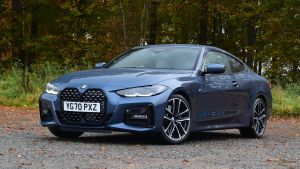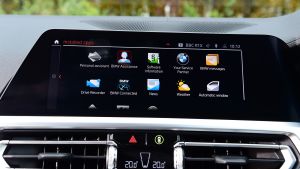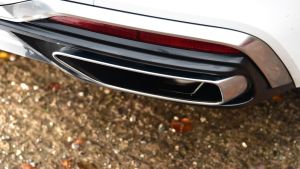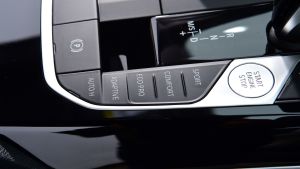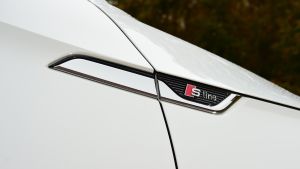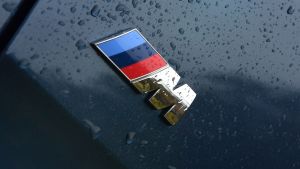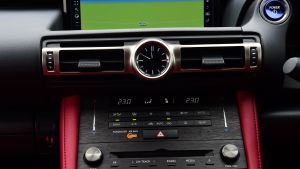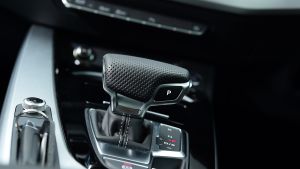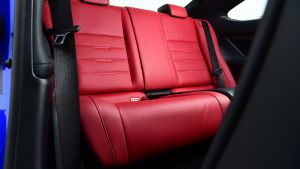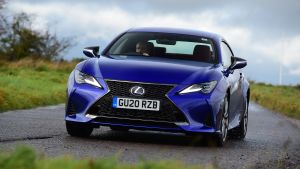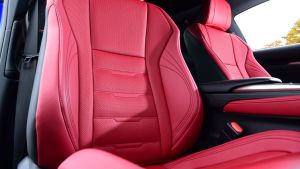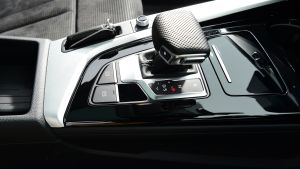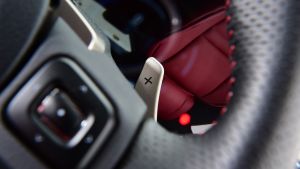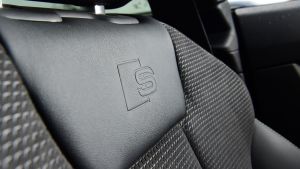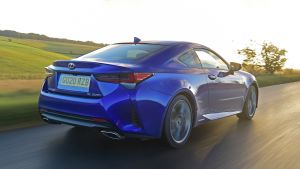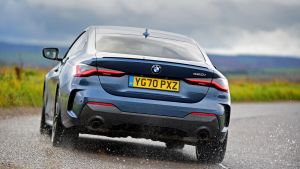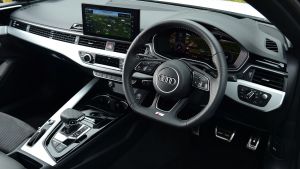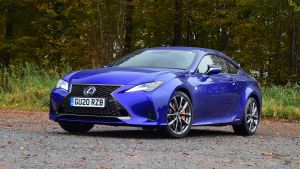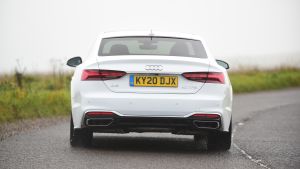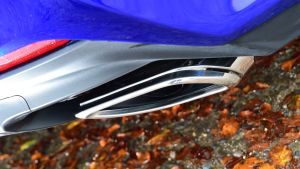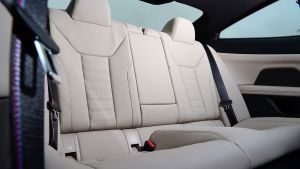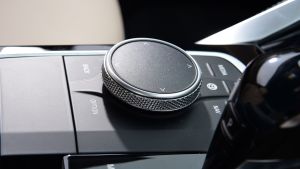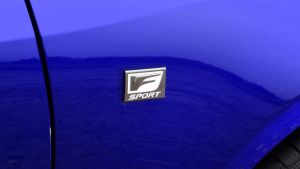 | | |
| --- | --- |
| Model: | BMW 420i M Sport |
| Price: | £40,460 |
| Engine: | 2.0-litre 4cyl turbo, 181bhp |
| 0-62mph: | 7.5 seconds |
| Test economy: | 36.3mpg/8.0mpl |
| CO2: | 146g/km |
| Annual road tax: | £475 |
BMW can arguably be credited with creating the four-seat coupé class back in the sixties with its 02 Series. Although there have been several identity changes on the way to the current 4 Series, it's always remained the car that every rival wants to beat. So does the latest G22 model line continue the brand's success?
Design & engineering
While the controversial new nose is undoubtedly a talking point, the rest of the 4 Series under the skin is very familiar. It uses the same mechanicals as the latest 3 Series, including the lightweight, rigid Cluster Architecture (CLAR) that forms the basis of everything from the next 2 Series Coupé to the vast X7 SUV. 
The rear track is 23mm wider than the saloon's, while the axle itself gets additional bracing to give a stiffer platform on which to operate. The sleeker roofline means the 4 Series stands 1,383mm tall – 52mm lower than the 3 Series – and this has contributed to a drop in the centre of gravity by 21mm when compared with the saloon.
The 4 Series comes with passive dampers as standard, although the £2,500 M Sport Pro package that's fitted to our test car introduces adaptive units whose damping rate varies according to the driving mode selected.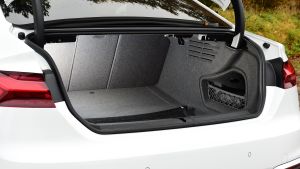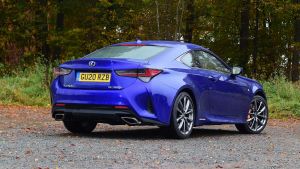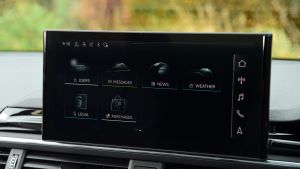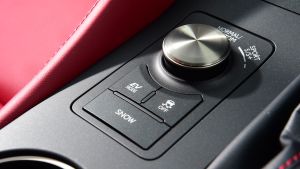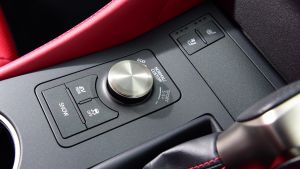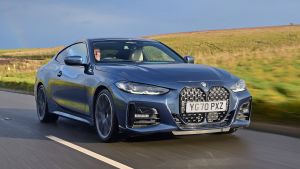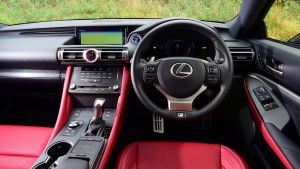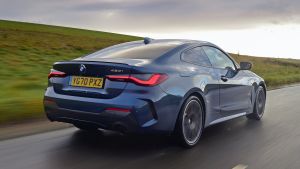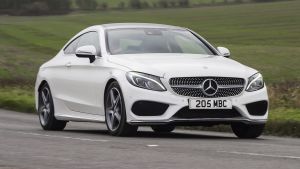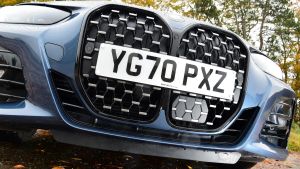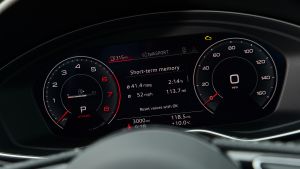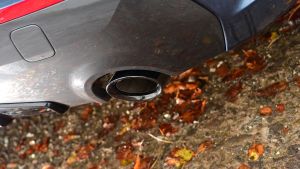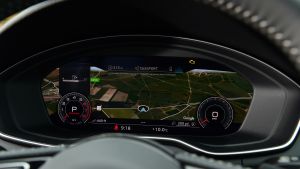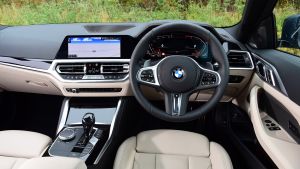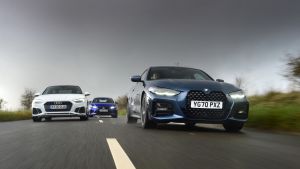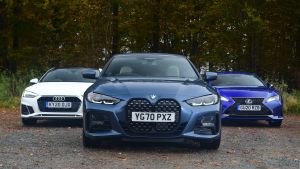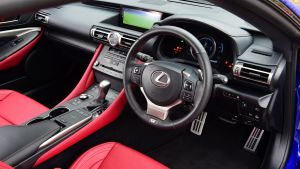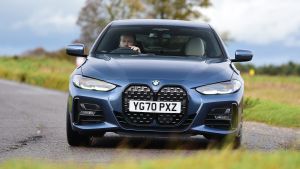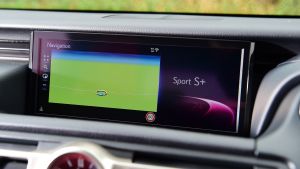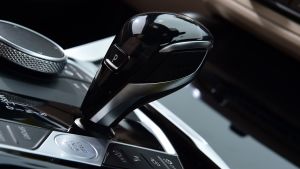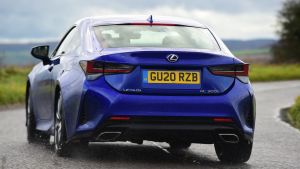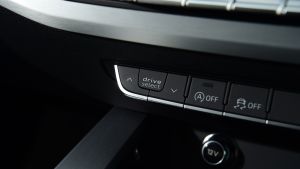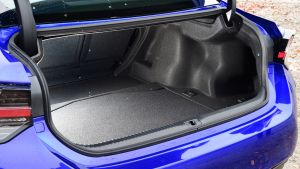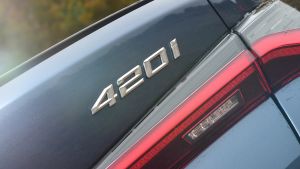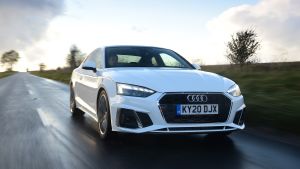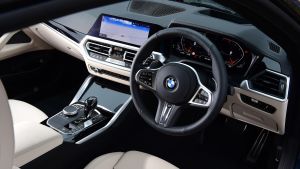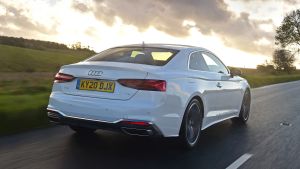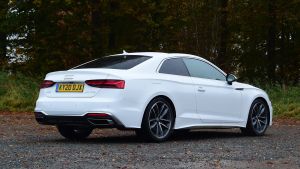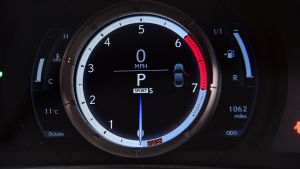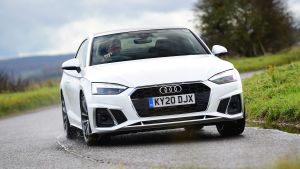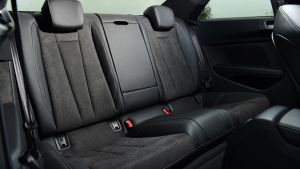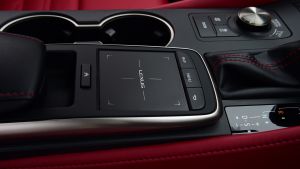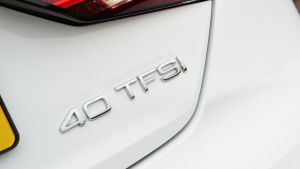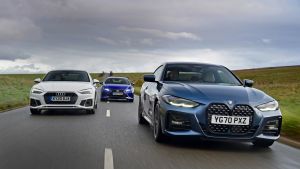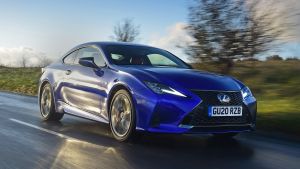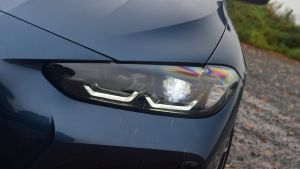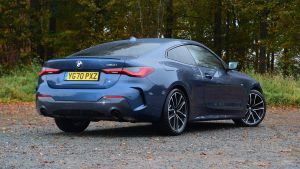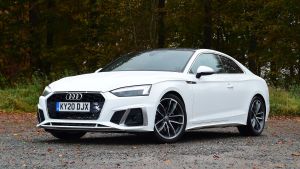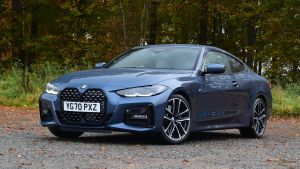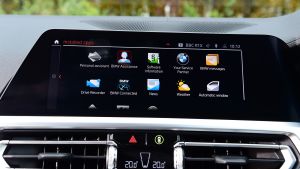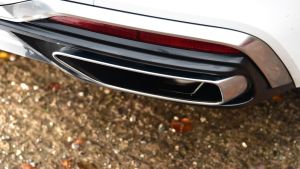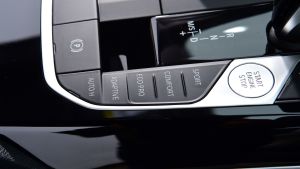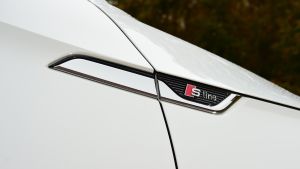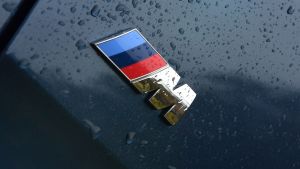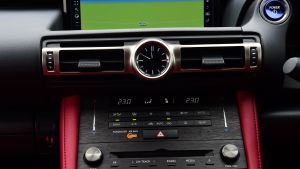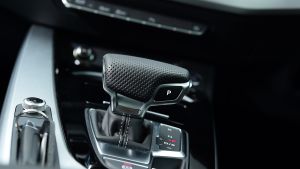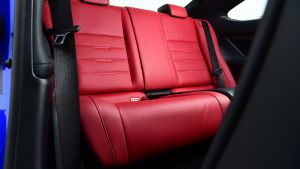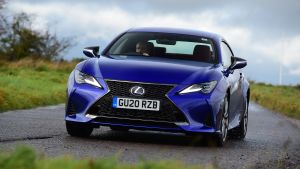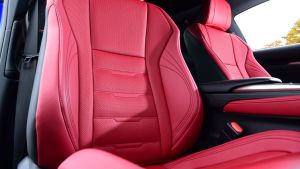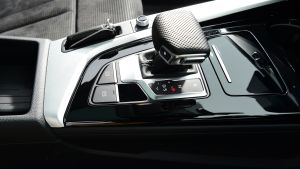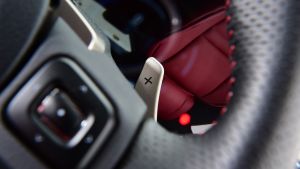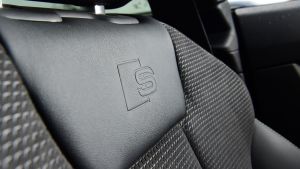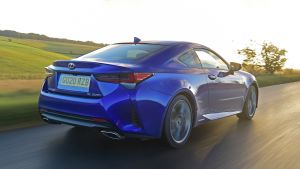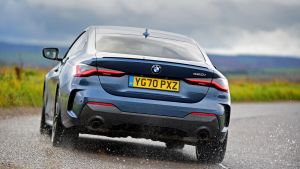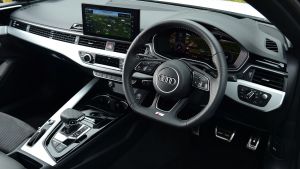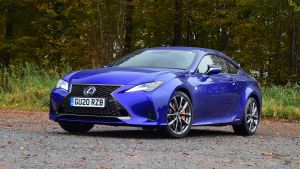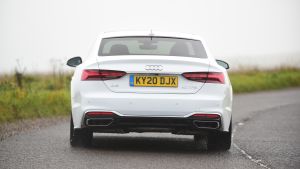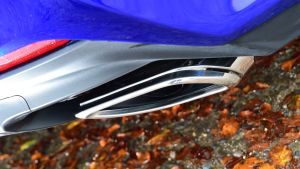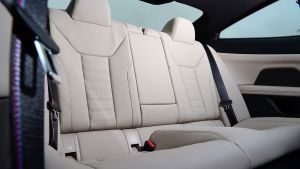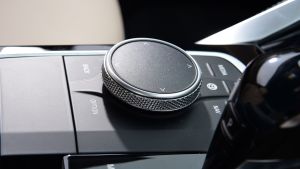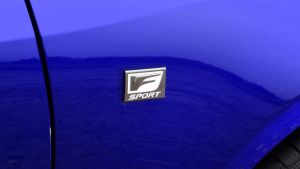 The cabin, meanwhile, is much the same as the 3 Series' up front, with the pair sharing the same dashboard architecture. In other words, it's packed with tech, while the build quality matches the sky-high standards of both of its rivals here.
Driving
With such a strong starting point as the 3 Series, it would be a bit of a shock if BMW had managed to mess the 4 Series up. Thankfully it hasn't. If the brief was to produce a car that's fun enough to keep enthusiastic drivers entertained, yet cosset at times when a long-distance cruise is the order of the day, then BMW has nailed it.
Equipped with optional adaptive dampers and riding on 18-inch wheels, the 4 Series manages to deliver both the sharpest handling and the most compliant ride of this trio. The difference between Comfort and Sport modes on the adaptive dampers isn't night and day, though; regardless of setting, the 4 Series feels agile, responsive and relaxing all at once.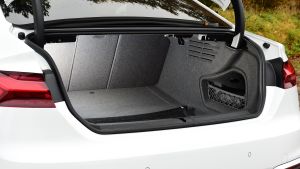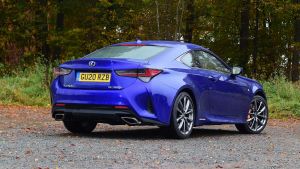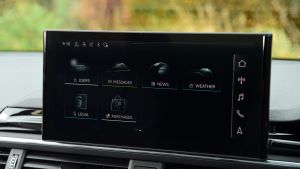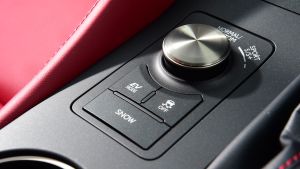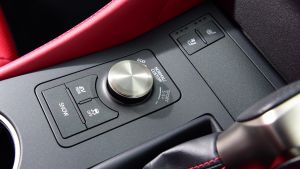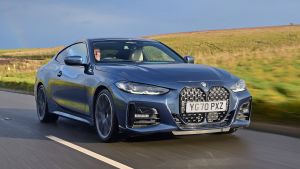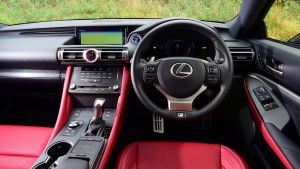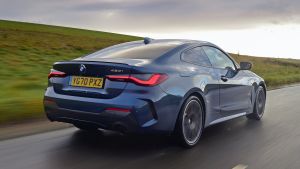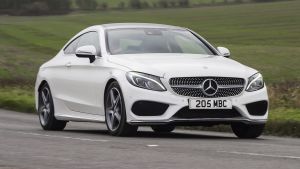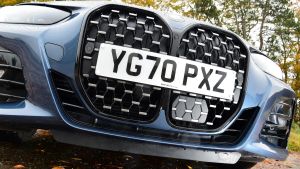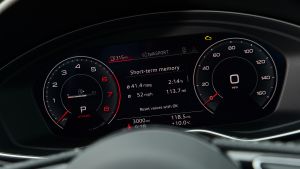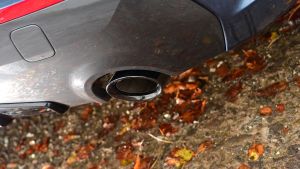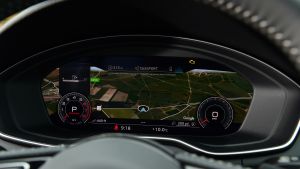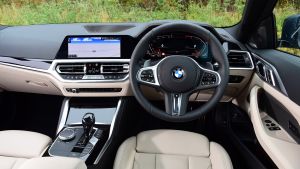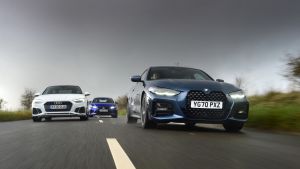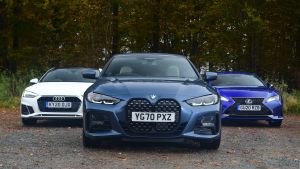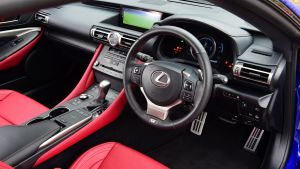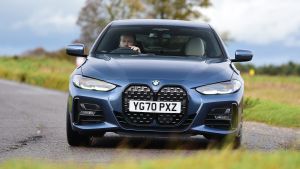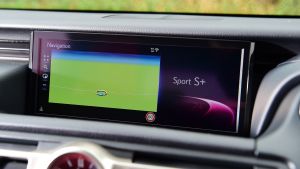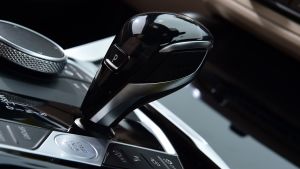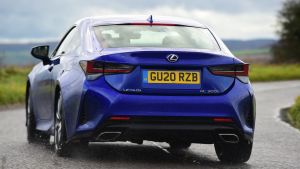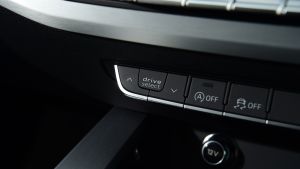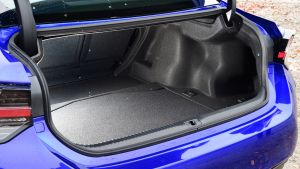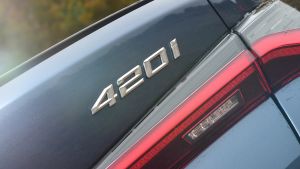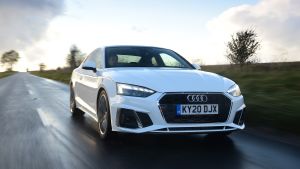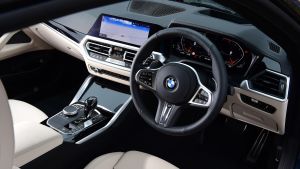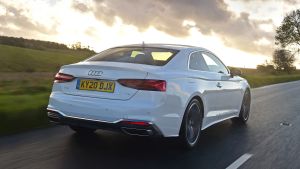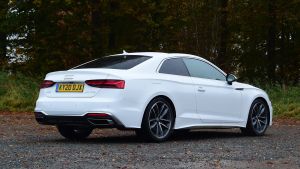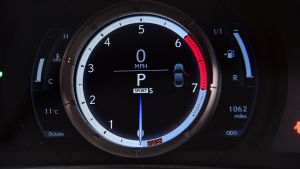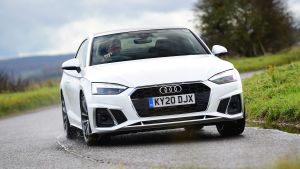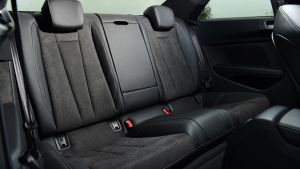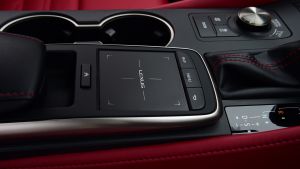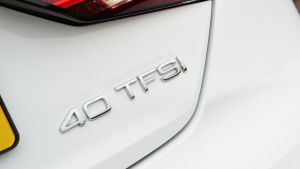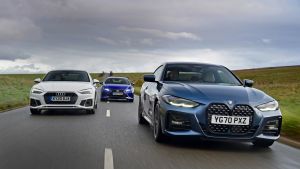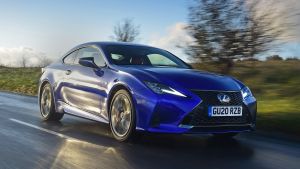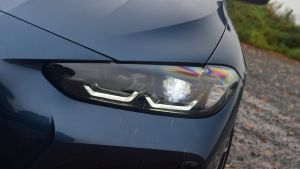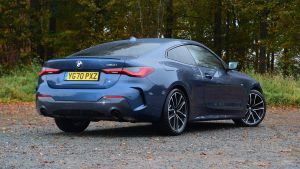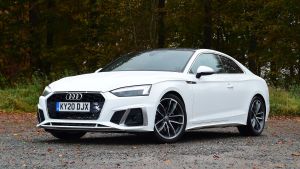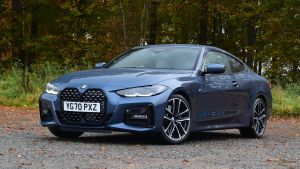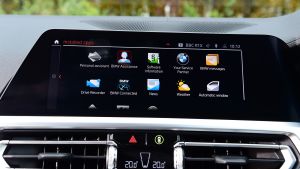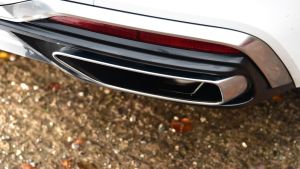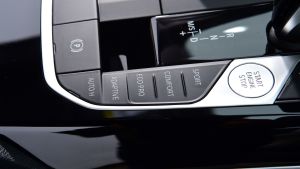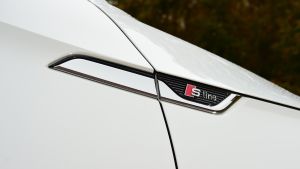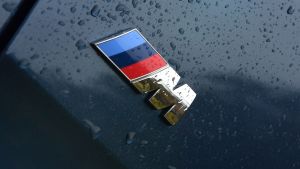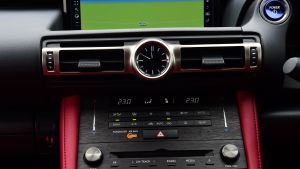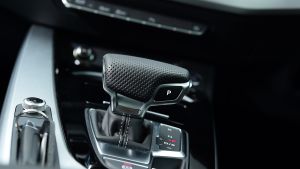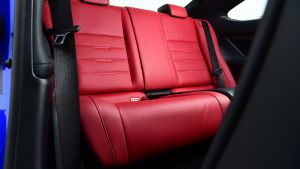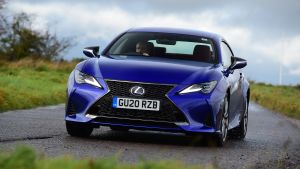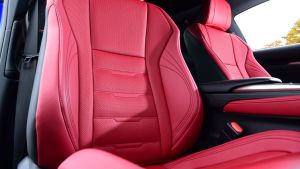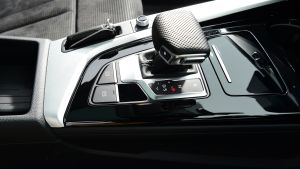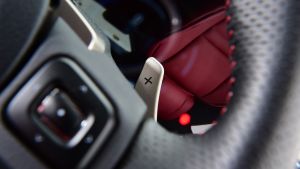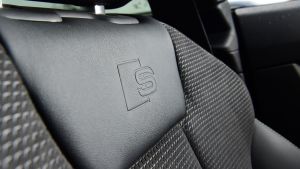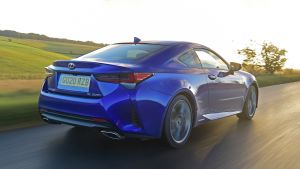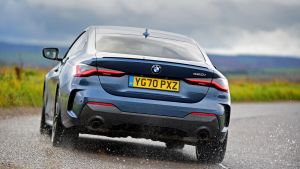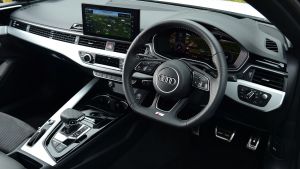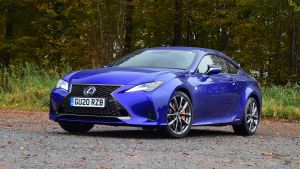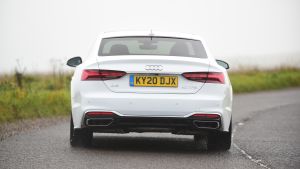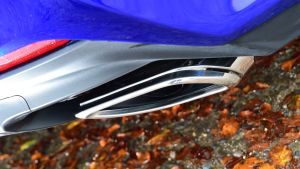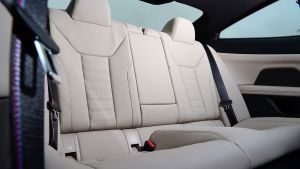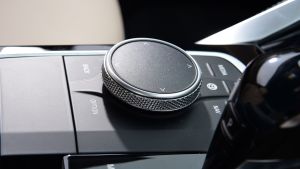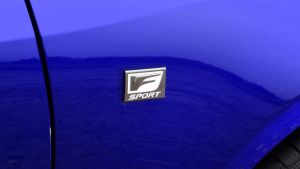 As with many BMWs, it's hard to register the finest details through the steering because of a thick wheel trimmed in needlessly squidgy leather. The Audi's rack is no more feelsome, but a firmer grip means that it's more pleasant to use. Still, the BMW turns into corners with a sharpness that the Audi or Lexus can't match. 
The 420i is powered by a 181bhp 2.0-litre turbo petrol engine, so it falls short of the 201bhp A5. So while performance is a step up from the Lexus, it doesn't feel as gutsy as the Audi. 
As usual, the eight-speed automatic gearbox is a BMW strong point. It's the most responsive transmission of these three, and in normal cruising it shifts smoothly. Sport mode introduces more abrupt changes – great for enthusiastic driving. But leave it in this mode at slow speeds and it can sometimes engage with more jerkiness than the Audi's box.
Practicality
None of these coupés has particularly spacious back seats, but the BMW will be the most pleasant to spend time in. 
It's got the most kneeroom, while headroom is just short of the A5's. The seats themselves have generous side bolstering that makes them feel more snug and supportive than those in either the Audi or the Lexus. One small issue in the BMW is that of foot space; if the driver or front passenger has their seat set low, there's barely any space underneath. A fold-down armrest gives occupants an extra dash of comfort, and includes a pair of retractable cup-holders.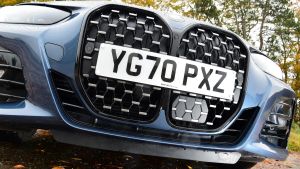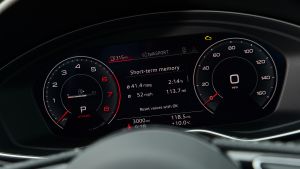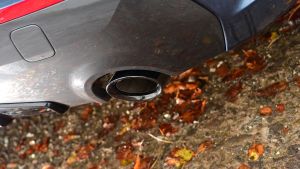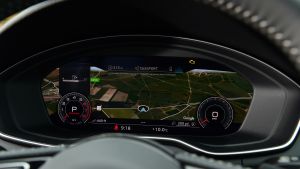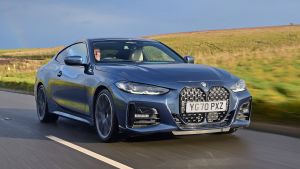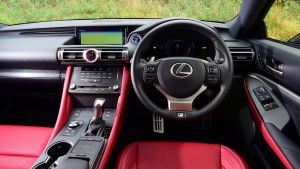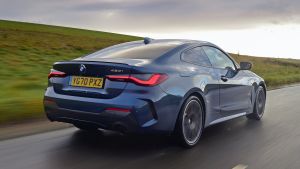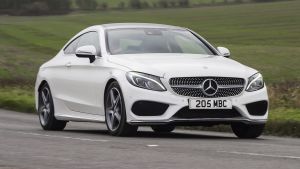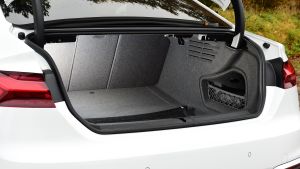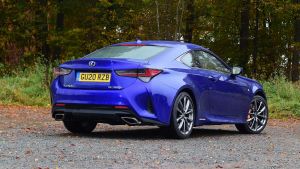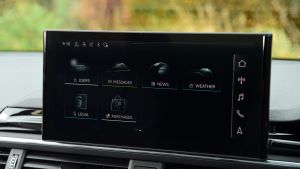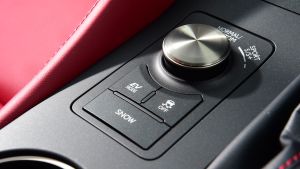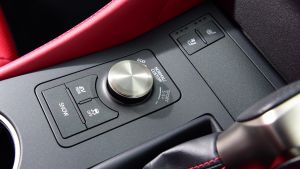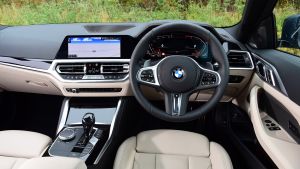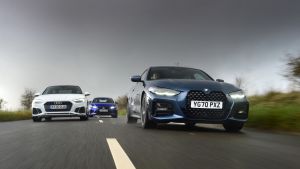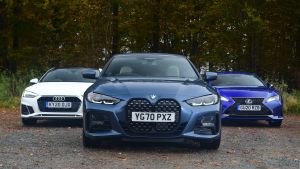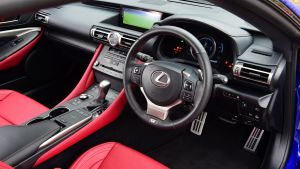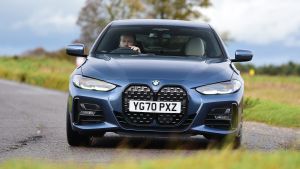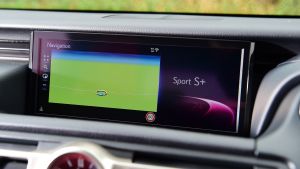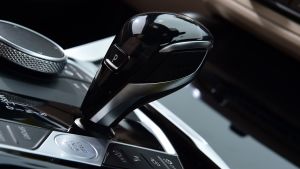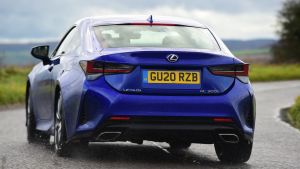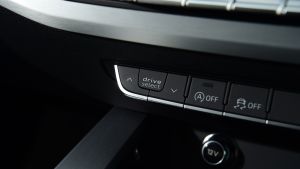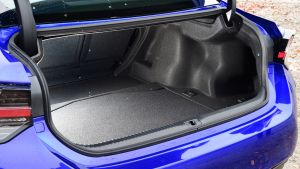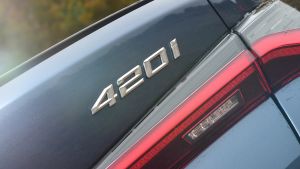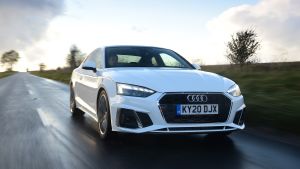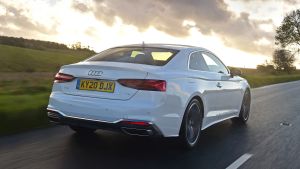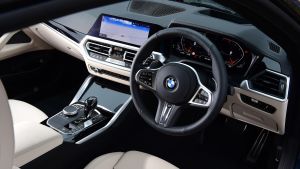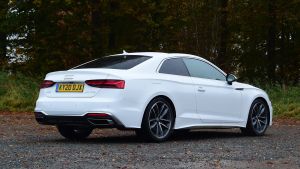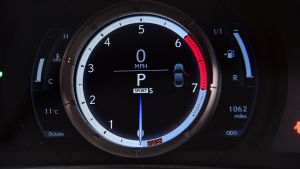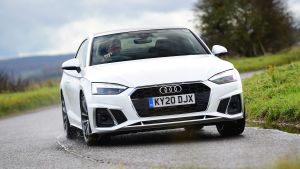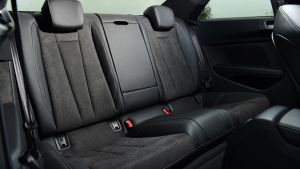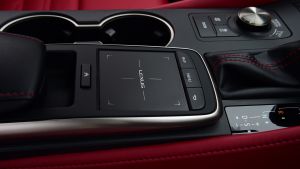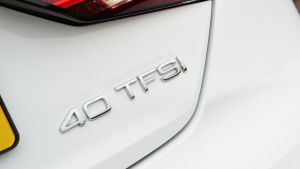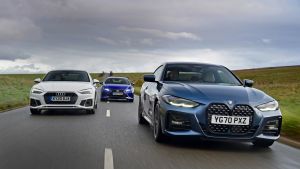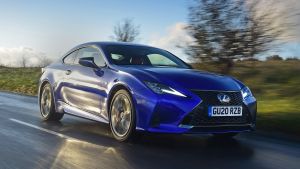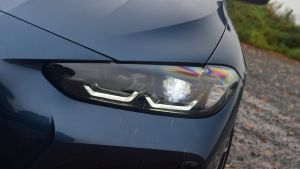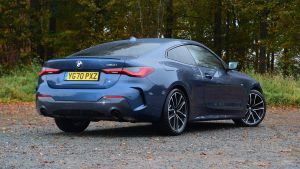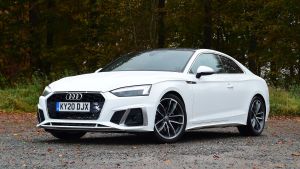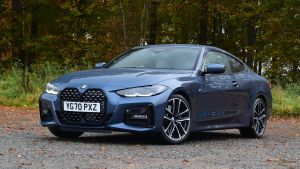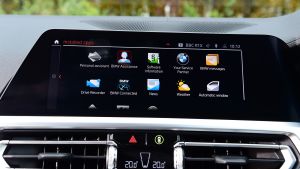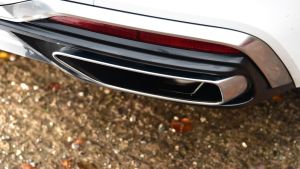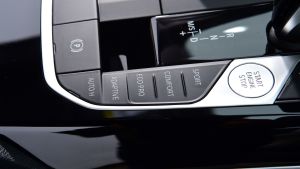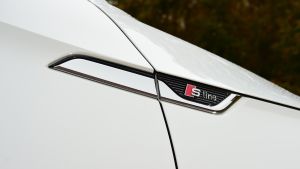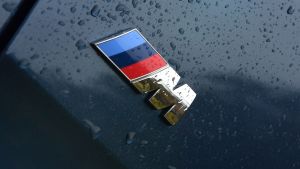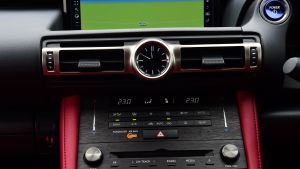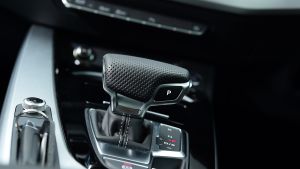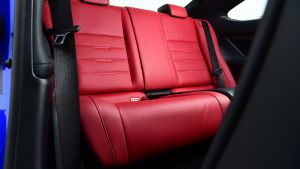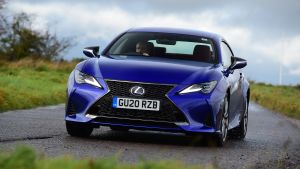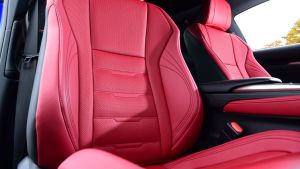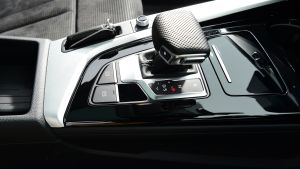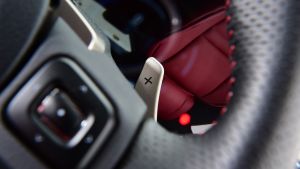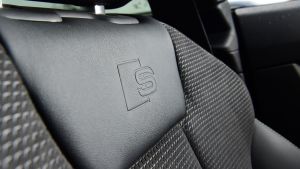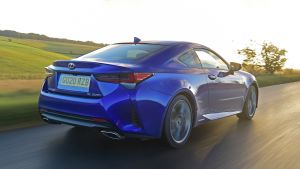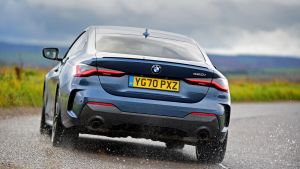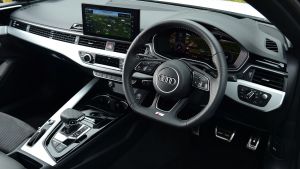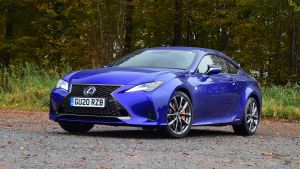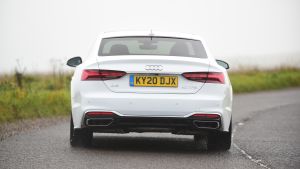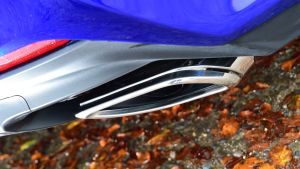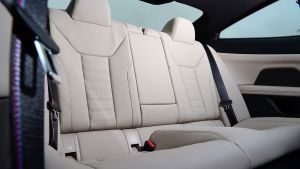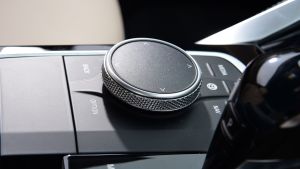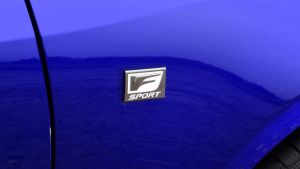 At 440 litres, the BMW's boot is just 10 litres short of the Audi's 450-litre space. The opening is quite narrow and reveals a long, shallow bay that gradually slopes up towards the seat backs. The centre section of the rear seats folds flat, so it's possible to load longer items.
Ownership
Of the three manufacturers here, BMW fares the worst in our Driver Power surveys. Results of 27th for the brand and 25th for its dealers in 2020 are disappointing, especially beside such brilliant results for Lexus.
While Euro NCAP hasn't tested the 4 Series, it's reasonable to assume a similar outcome to its saloon relative, the 3 Series. That car aced the tests in 2019 with a five-star rating. All 4 Series models get cruise control with a braking function, while the optional Driving Assistant Professional pack adds a semi-autonomous function that can control speed and steer the car between lanes with the driver's supervision.
Running costs
During our time with the 4 Series, it returned 36.3mpg, which translates into an annual fuel bill of £2,865 if you cover 20,000 miles.
The 420i falls into the 32 per cent Benefit-in-Kind company car rate, which means an annual tax bill of £5,144 for higher-rate taxpayers. 
While that's lower than the Audi (33 per cent, so therefore costing the same driver £5,608 per year in company car tax), the Lexus falls into the 31 per cent band, thanks to its more efficient hybrid powertrain. However, it's a pricier machine with a higher P11D price compared with its rivals, so the Lexus RC 300h in F Sport trim splits them with an annual company car tax bill of £5,362 per year. 
Testers' notes 
"It's the entry point to the 4 Series line-up, but the 420i's fairly light engine up front and the lack of a four-wheel-drive system mean that it's the sweetest-handling model in the range."
Audi A5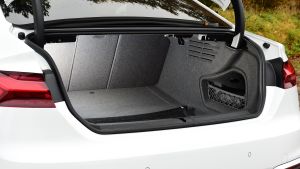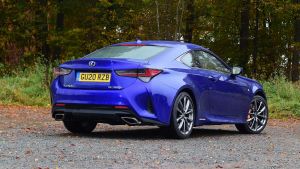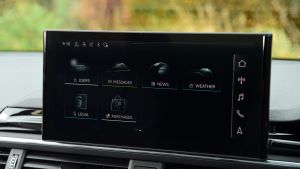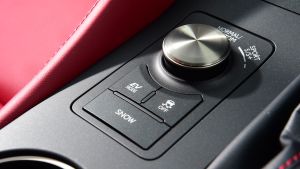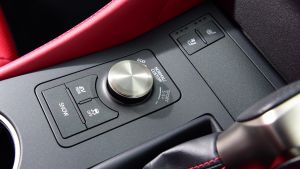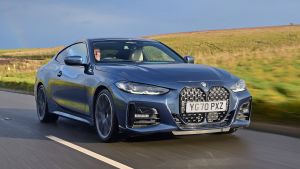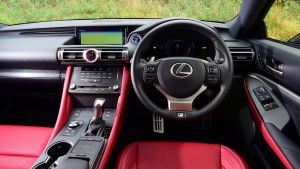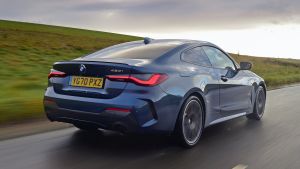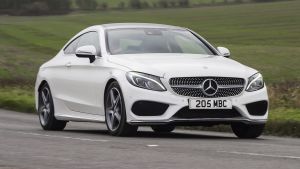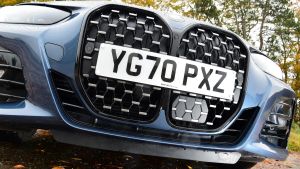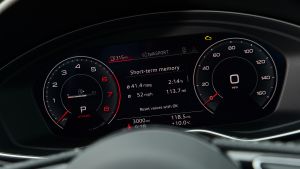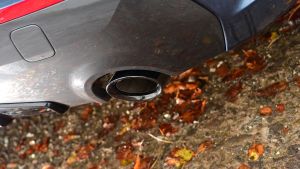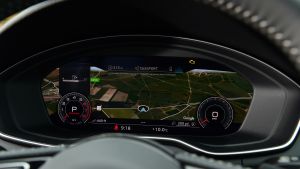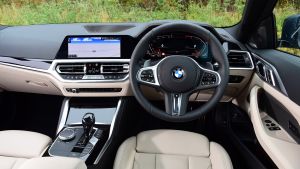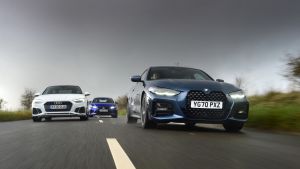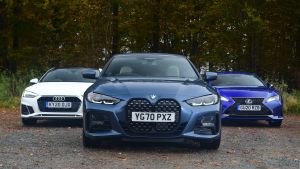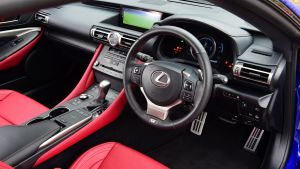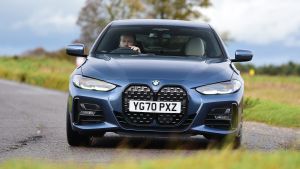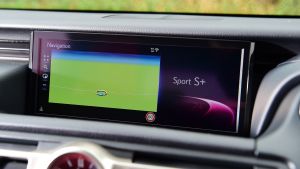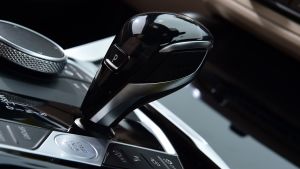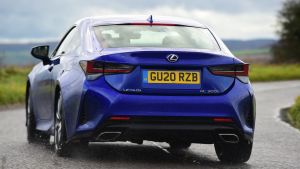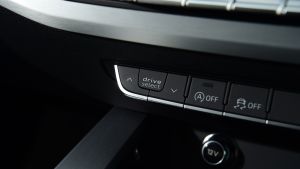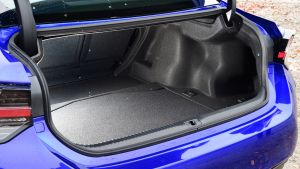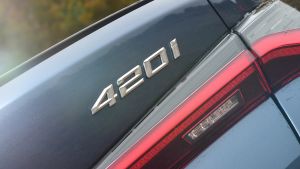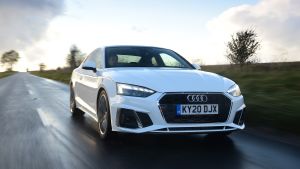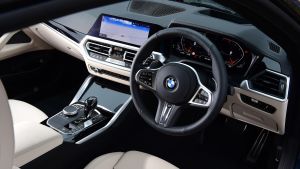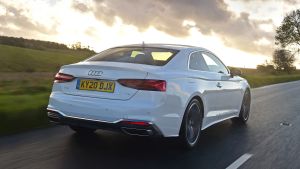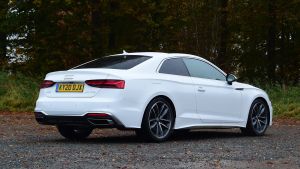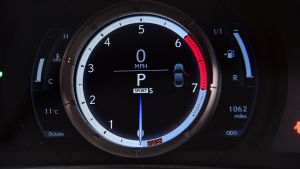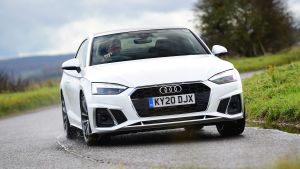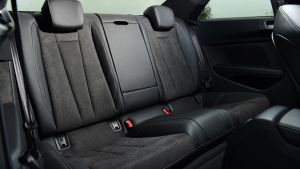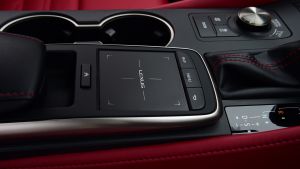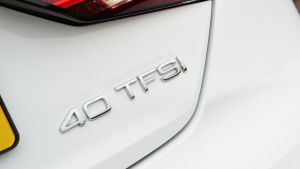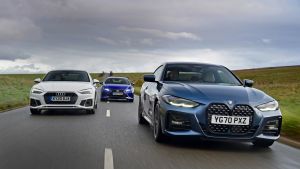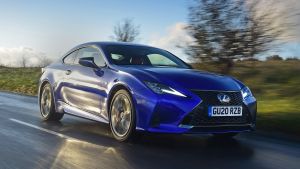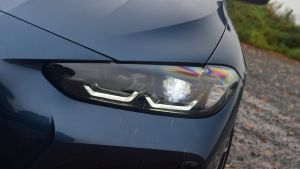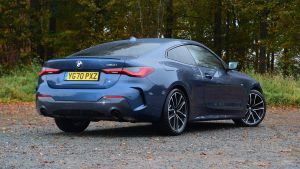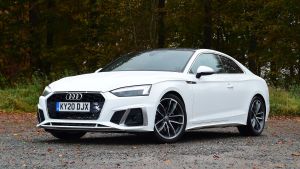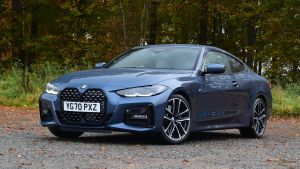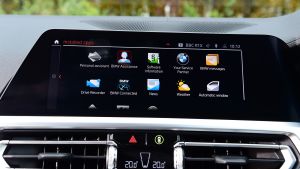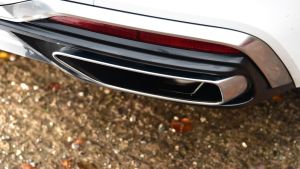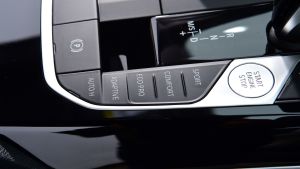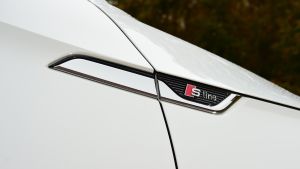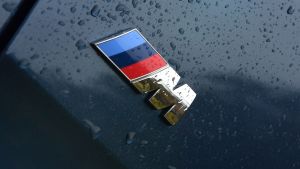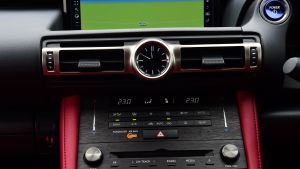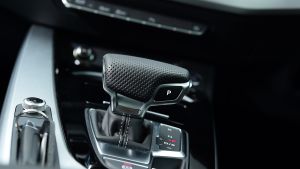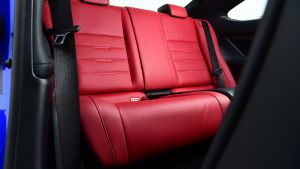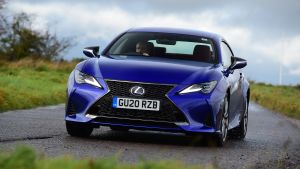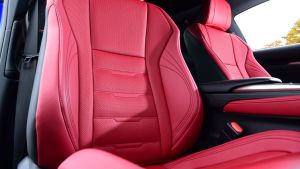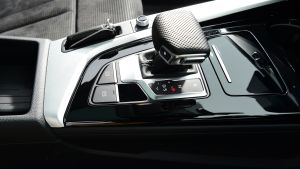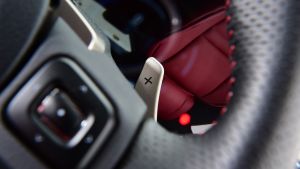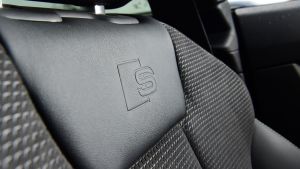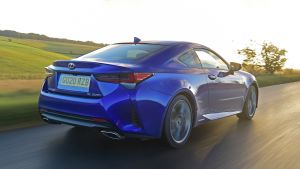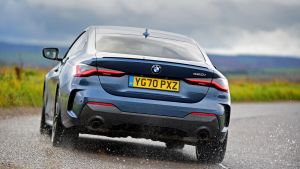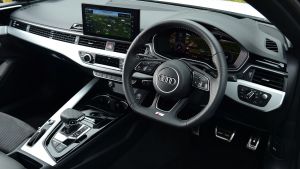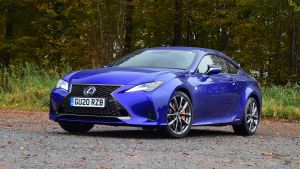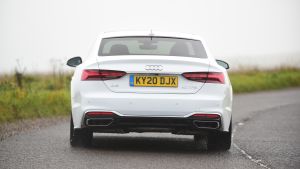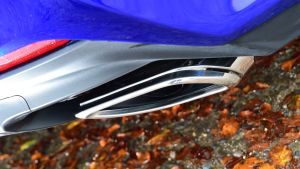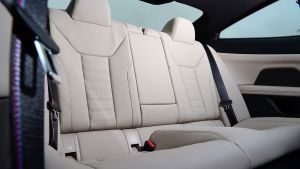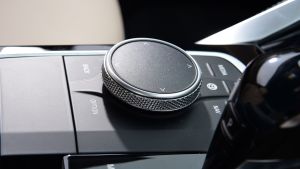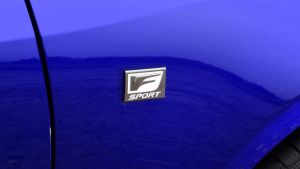 | | |
| --- | --- |
| Model: | Audi A5 Coupé 40 TFSI S tronic S line |
| Price: | £41,805 |
| Engine: | 2.0-litre 4cyl turbo, 201bhp |
| 0-62mph: | 7.1 seconds |
| Test economy: | 32.2mpg/7.0mpl |
| CO2: | 150g/km |
| Annual road tax: | £475 |
The Audi A5 has always majored on flawless build quality, great in-car tech and a relaxing driving experience. It steals a march on the BMW here with stronger on-paper performance figures, too. But is this all enough to keep the 4 Series at arm's length from the top of the class?
Design & engineering
As with the 4 Series, the A5 uses the familiar underpinnings of a conventional, yet very capable, compact executive saloon – in this case, the A4. Like the four-door, the A5 received a mild refresh for 2020, which introduced a subtle styling nip and tuck, a tweaked engine line-up and improved infotainment. 
Power comes from a 2.0-litre turbocharged petrol engine. Its 201bhp maximum is usefully more than the BMW's, while this figure comes in slightly lower than the 420i's maximum. Peak torque of 320Nm is 20Nm higher than in the 4 Series too. While that headline horsepower figure is some 19bhp down on the RC 300h's, the Audi is the lightest car here, and that plays a big part in its performance; at 7.1 seconds, the Audi boasts the quickest 0-62mph time of the bunch. Drive is sent to the front wheels through a seven-speed dual-clutch automatic gearbox.
Audi's interior design team has long been on top of its game, and the A5 is another hit. The 2020 update introduced a larger 10.1-inch infotainment screen at the top of the dash, but otherwise it's the same cool, understated design as before. Material quality is brilliant and the controls feel slick and solid.
Driving
There is one caveat we have to consider when comparing the Audi A5 with the BMW 4 Series. While our 420i featured optional adaptive dampers and 18-inch alloy wheels, only the top-spec A5 Vorsprung trim gets a similar configuration; this S line has the standard passive set-up and optional 19-inch wheels. 
As a result, the A5's ride was the firmest and most unsettled of the three cars here. It improves as you go faster, making the A5 a great motorway cruiser, but the low-speed ride can feel jiggly. Past experience has told us that comfort is improved by the optional adaptive set-up on range-topping models, delivering ride quality
that comes close to the 4 Series'.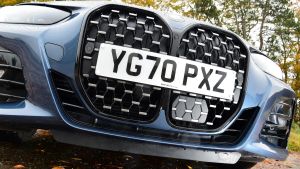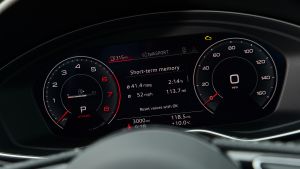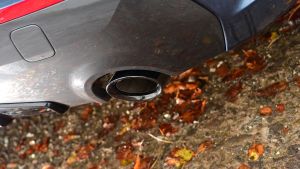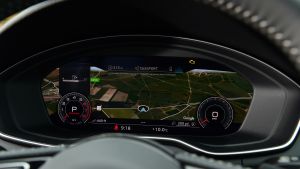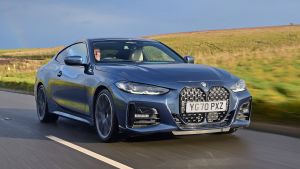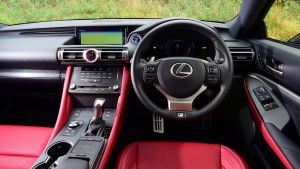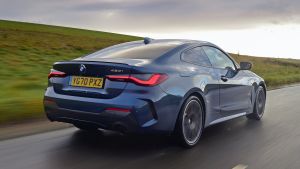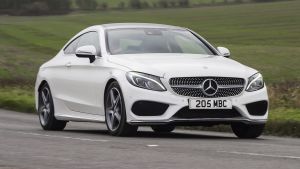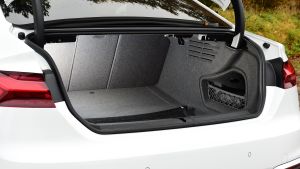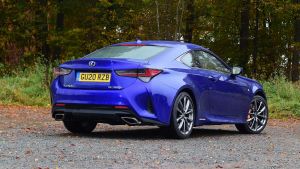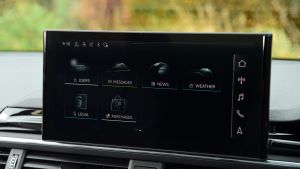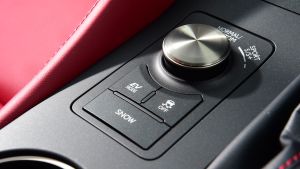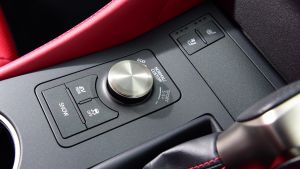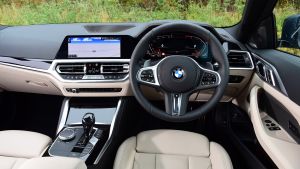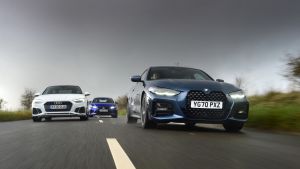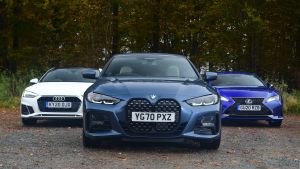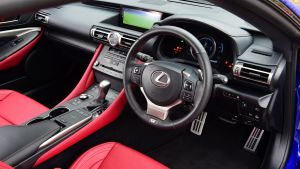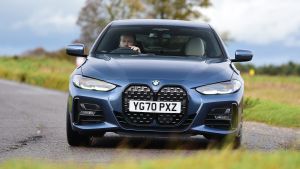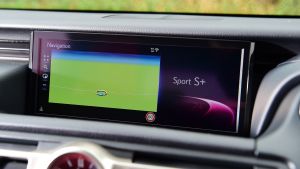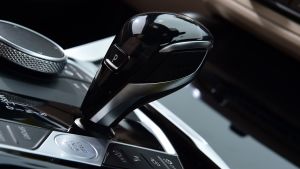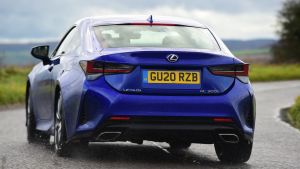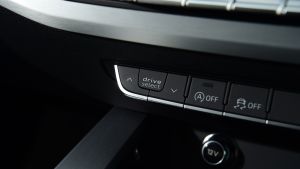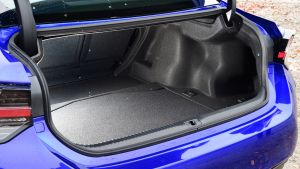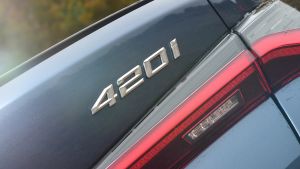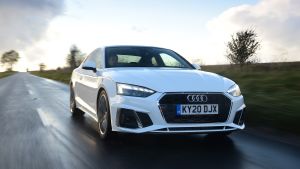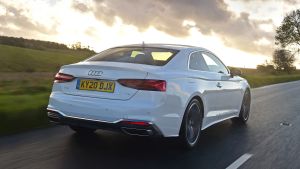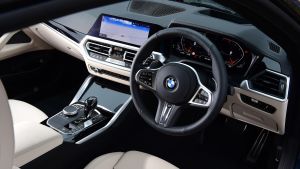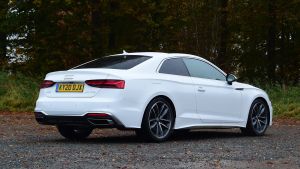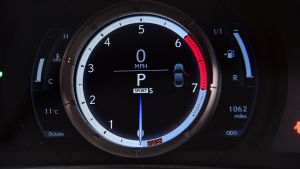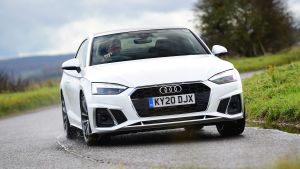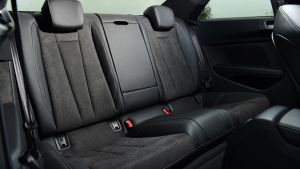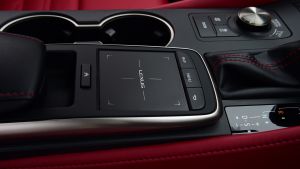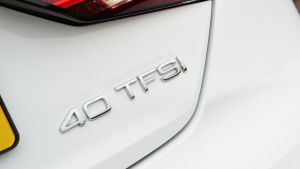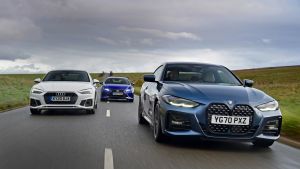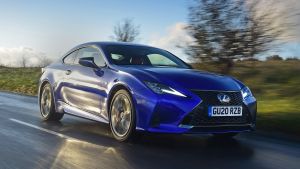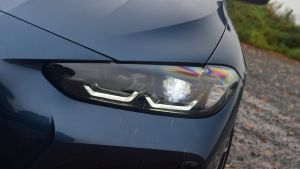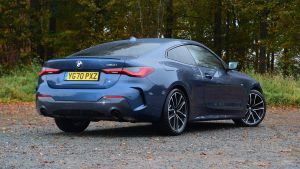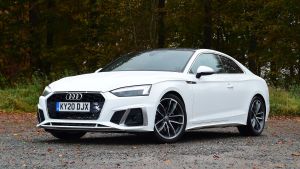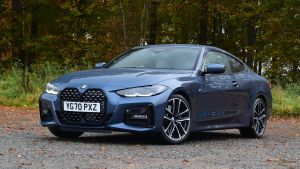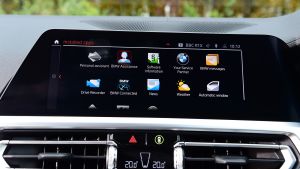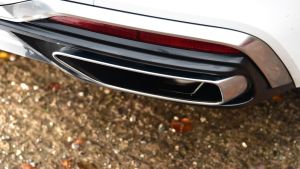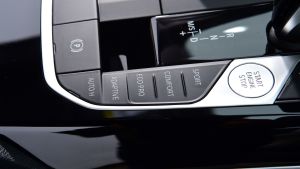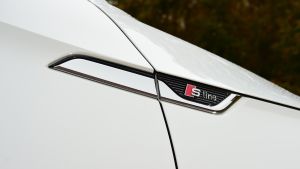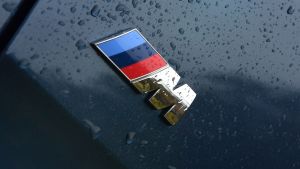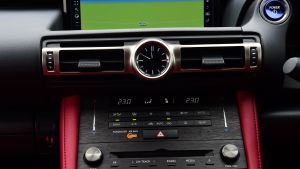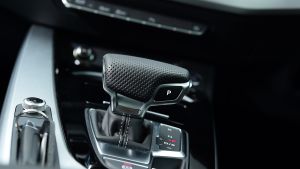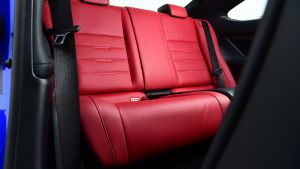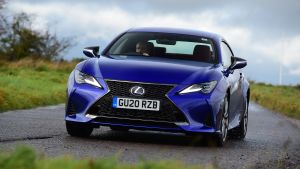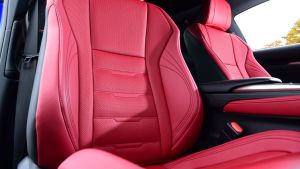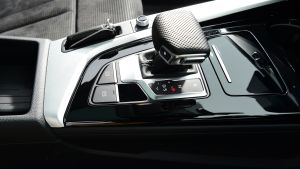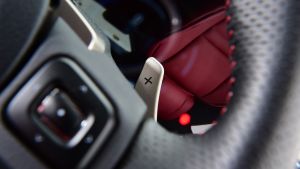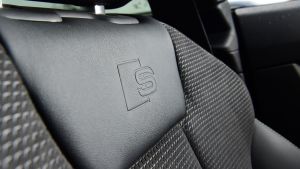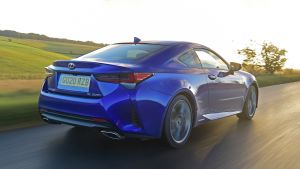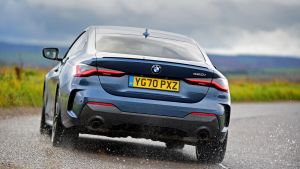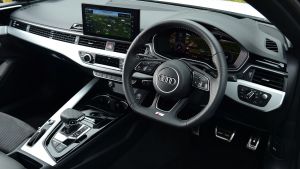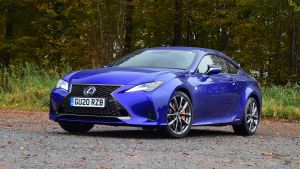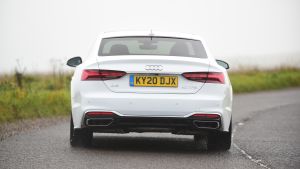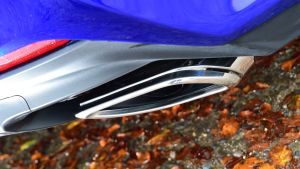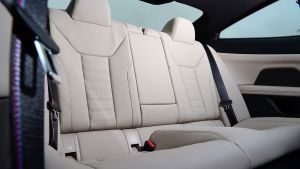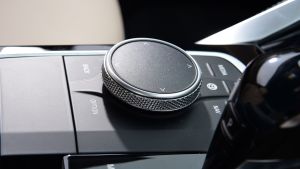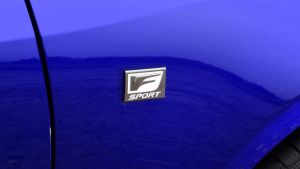 But even with the most sophisticated suspension system, the Audi isn't a match for the BMW through the turns. It's a car that's set up to be safe and predictable rather than fun; the more nose-heavy feel compared with the Lexus or the BMW means that it's not a particularly enjoyable car to thread along a twisty road. That firm suspension does mean that it maintains a fairly flat attitude through the corners, though. 
The steering doesn't transmit much information back from the road surface, either, but the weighting and precision are on par with the BMW.
The Audi takes a clear win on straight-line performance, though. Its 2.0-litre turbo unit was uprated from 187bhp to 201bhp with the most recent facelift, and while it's down on the RC's hybrid unit, the A5 weighs 250kg less. In the real world, the Audi's engine feels more muscular than either rival's, while the smooth-shifting gearbox is a great match.
Practicality
On balance, the Audi A5 is the least comfortable of these three for adults in the back. Its main weakness is legroom; anyone sitting behind a driver of at least average height will feel cramped. It's not helped by the fact that the seat squab itself is low and short, forcing the occupant's legs up at an angle, so there isn't really any under-thigh support. 
It's a shame, because the back seats have their positives. Headroom, for example, is better than in either the BMW or Lexus, while the climate control functions, a pair of USB sockets and two cup-holders for each rear seat passenger – two in the fold-down armrest and two at the outer edge of the seat base – mean that the A5 is quite accommodating otherwise.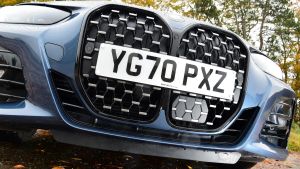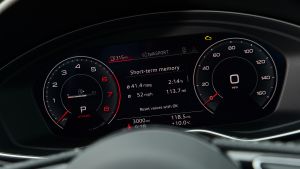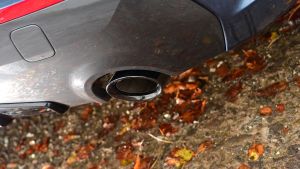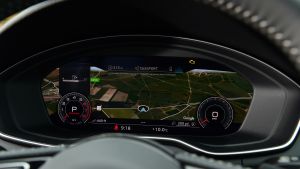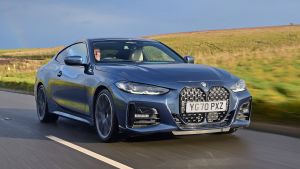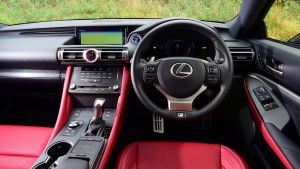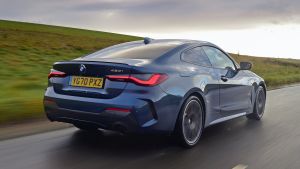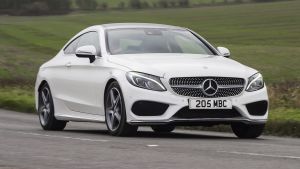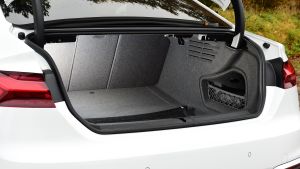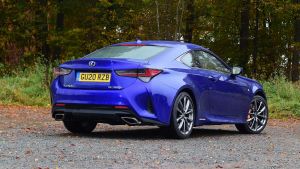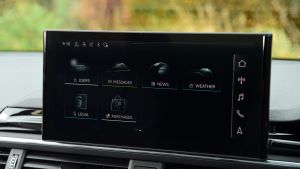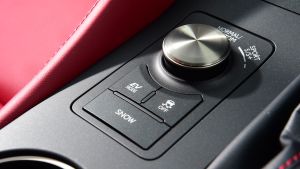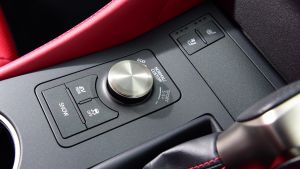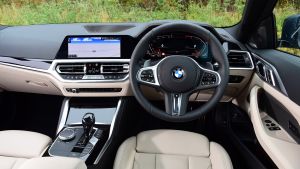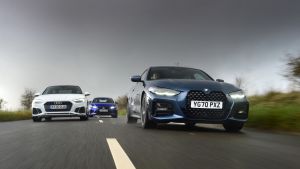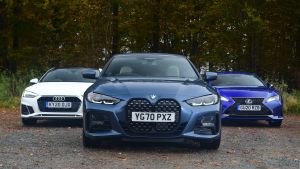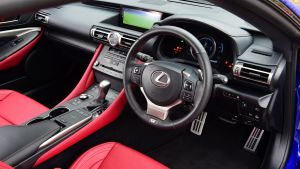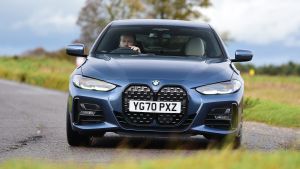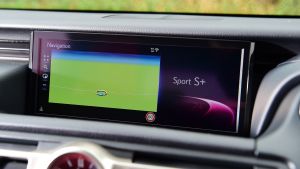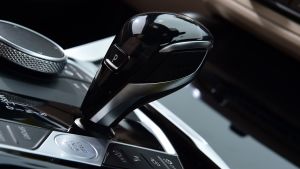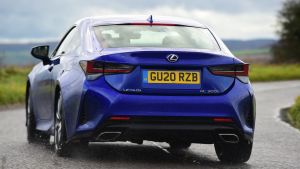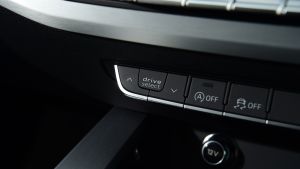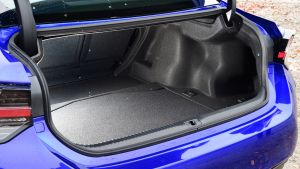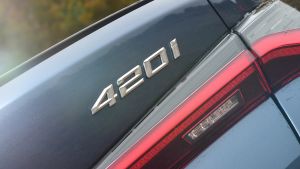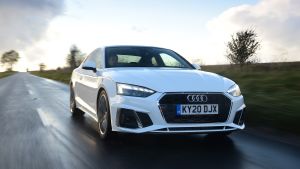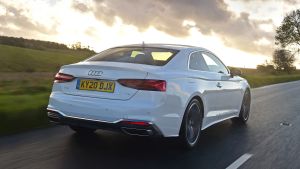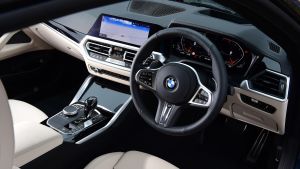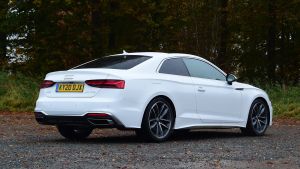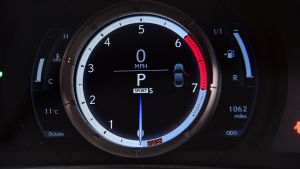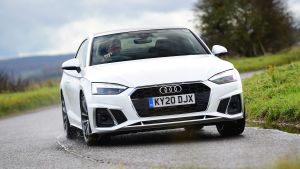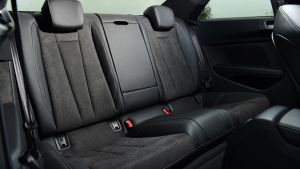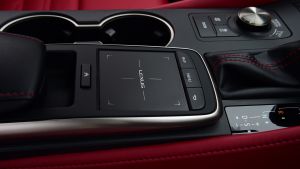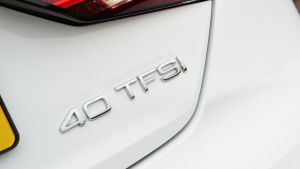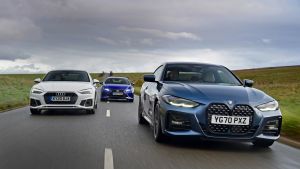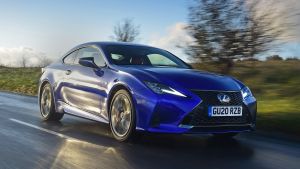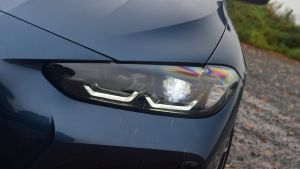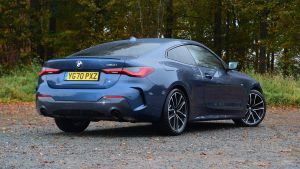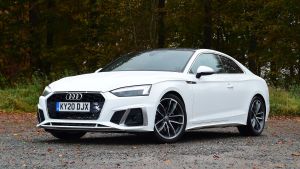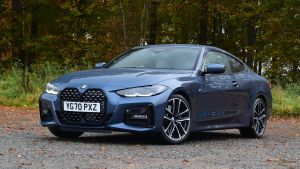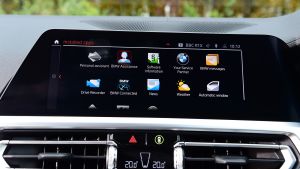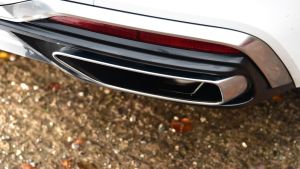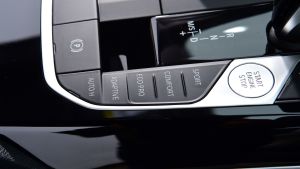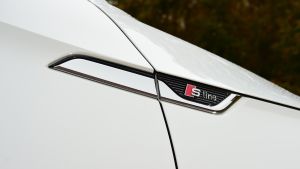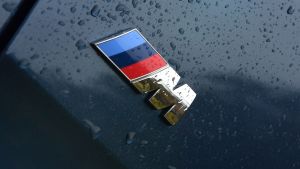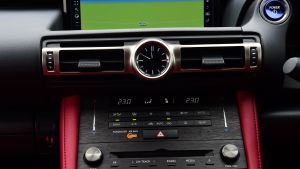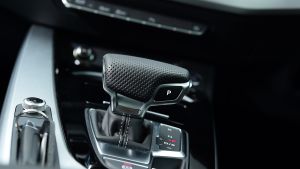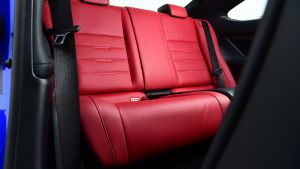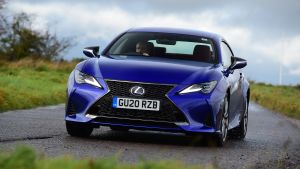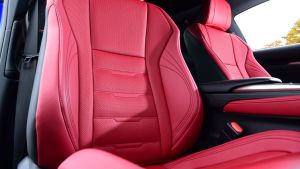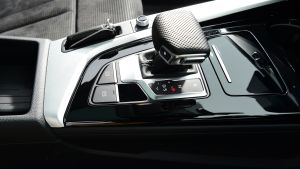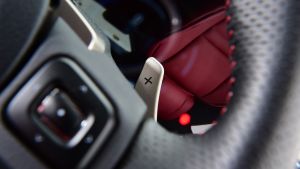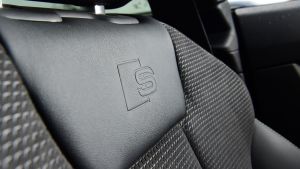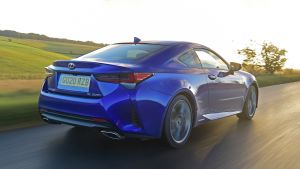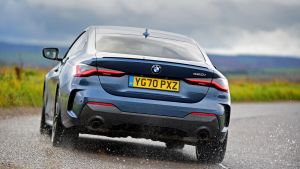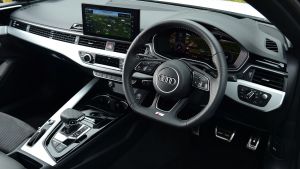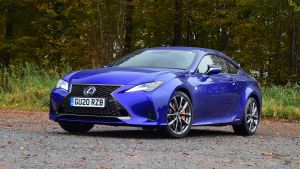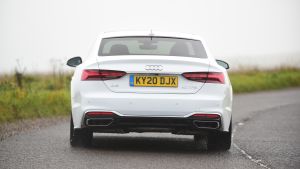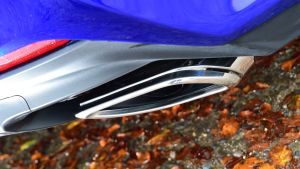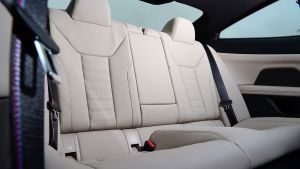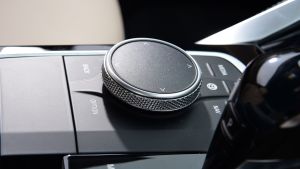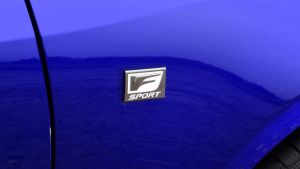 Move further back, and the Audi has the largest boot. The 450-litre space is only slightly down on the A4 saloon's, and as in the BMW, the centre of the rear seat back folds to enable the loading of long items.
Ownership
Audi didn't cover itself in glory with its customer satisfaction ratings in our most recent Driver Power surveys. But the brand and its dealers still performed better than BMW, with results of 21st and 20th respectively.
Safety body Euro NCAP hasn't assessed the A5 since it was first released in 2015, and an update to the available suite of safety tech since then will no doubt have improved its credentials. It still achieved a five-star rating, with fairly strong results across the board.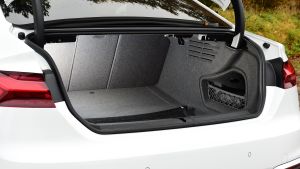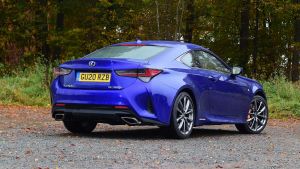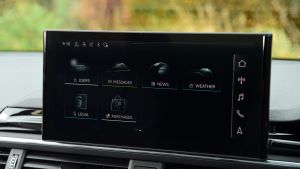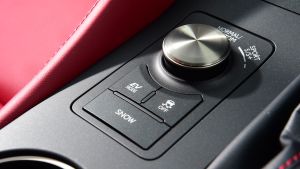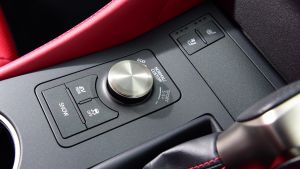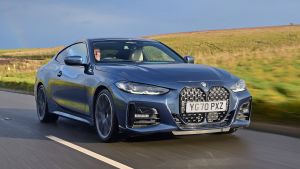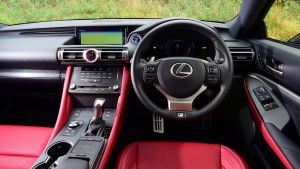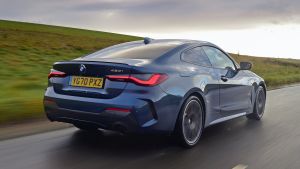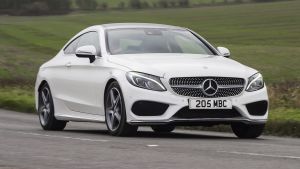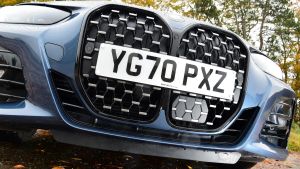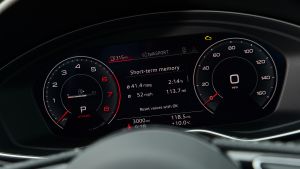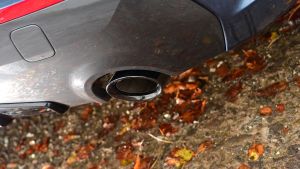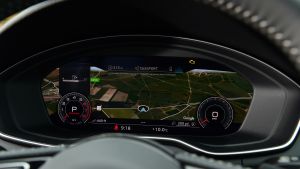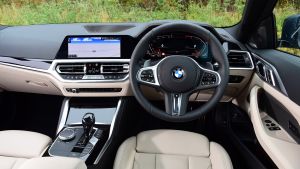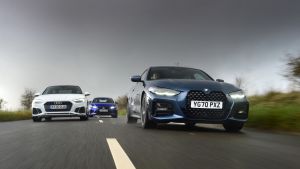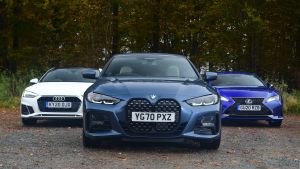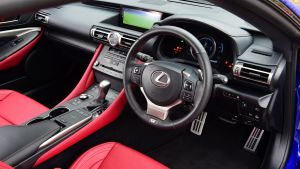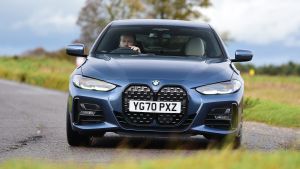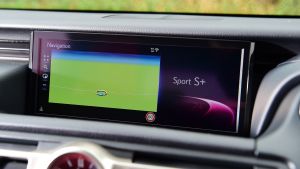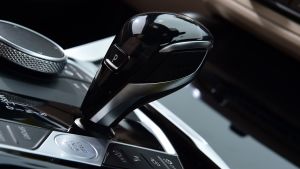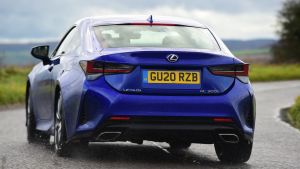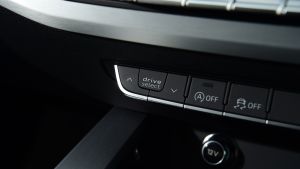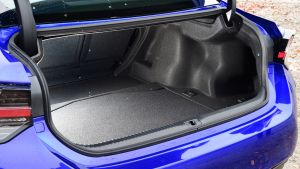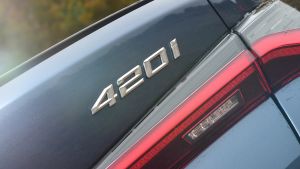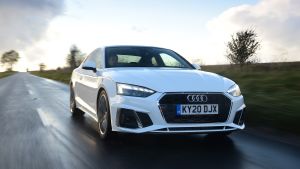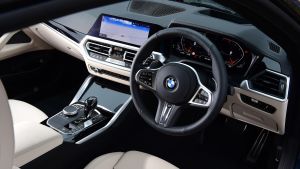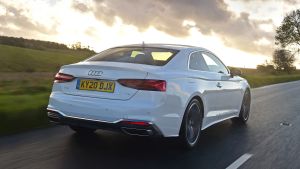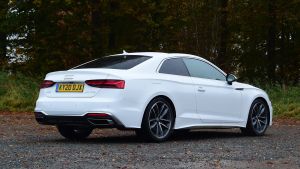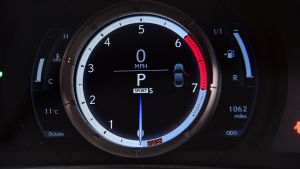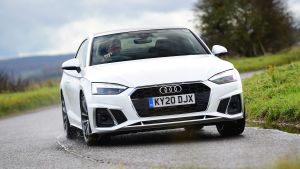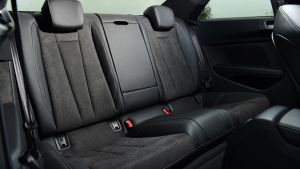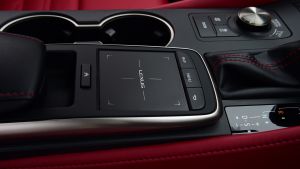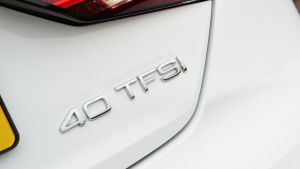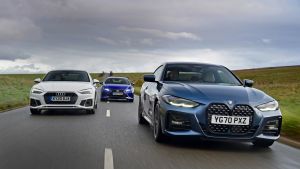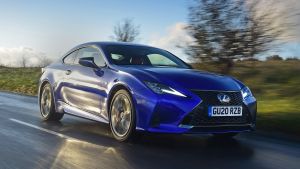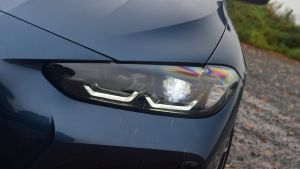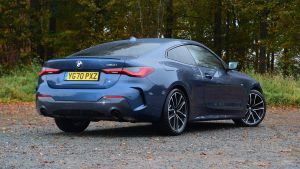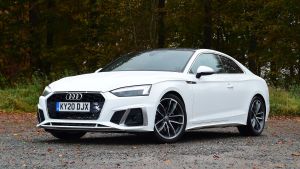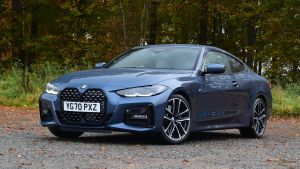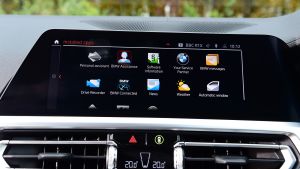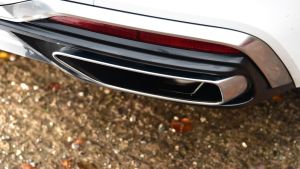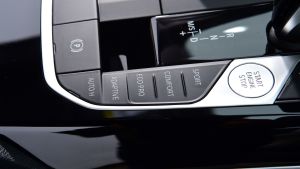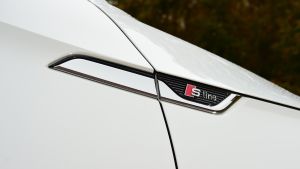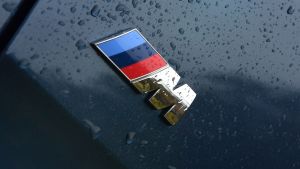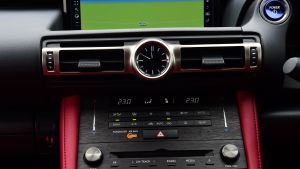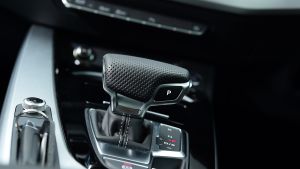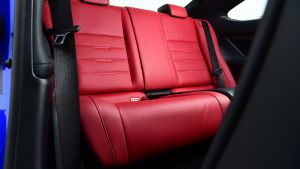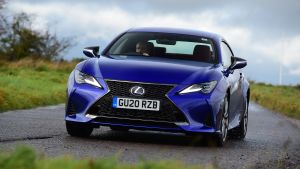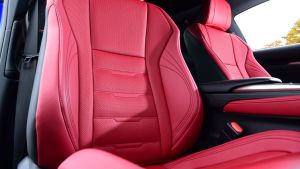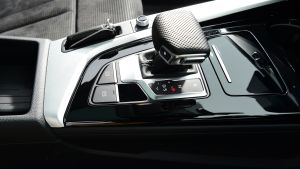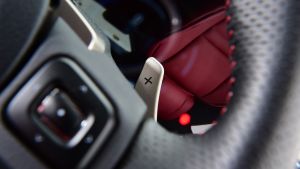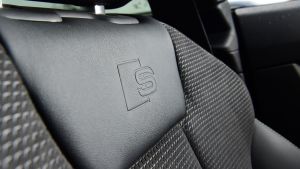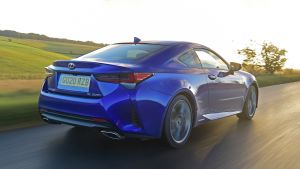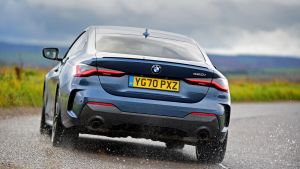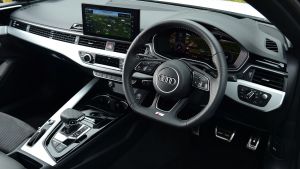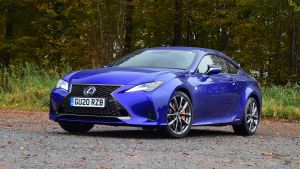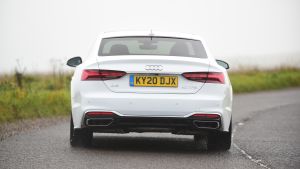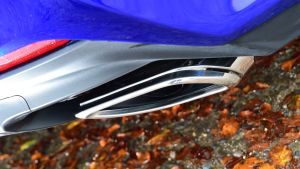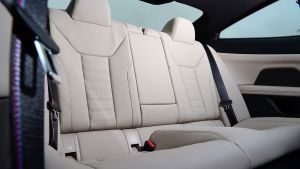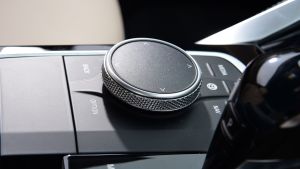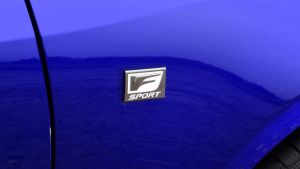 Every A5 has six airbags, cruise control and an autonomous emergency braking system. The Driver Assistance Pack is a £2,700 option on S line models and adds adaptive cruise control with lane assist, and other accident-avoidance and mitigation systems.
Running costs
Both on paper and in the real world, the A5 proves to be the thirstiest car of the three here. Averaging 32.2mpg, it fell 10mpg short of the Lexus, which means that
drivers covering 20,000 miles would need to stump up £3,230 for petrol – about a third more than those who go for the RC 300h.
Our experts also predict it will hold on to the least money on the used market, retaining 39.8 per cent of its value after three years or 36,000 miles, equating to depreciation of £25,188.
The Lexus splits its rivals (49.3 per cent predicted value with depreciation of £22,886, highlighting the current popularity of hybrids), while the BMW should retain 51.7 per cent, so it'll only lose £19,554 over the same period based on our figures.
Testers' notes
"The A5's ride comfort improves when equipped with adaptive dampers. Unfortunately, this set-up is now only available on Vorsprung models, which cost a substantial £12,900 more than S line."
Lexus RC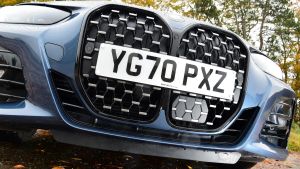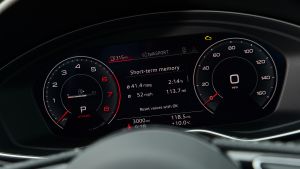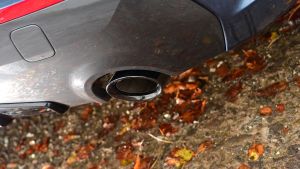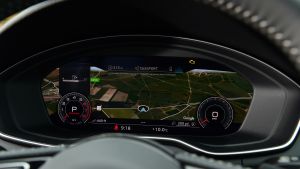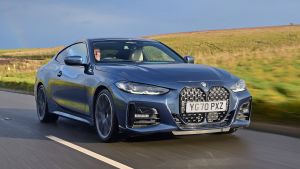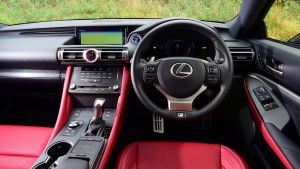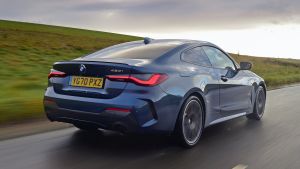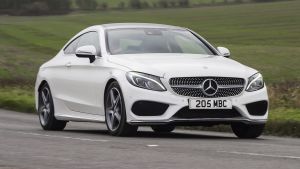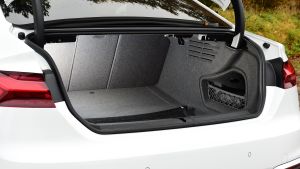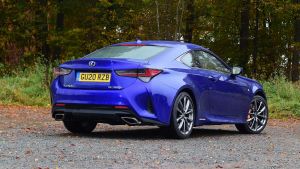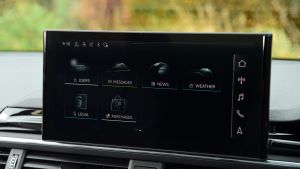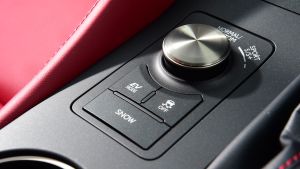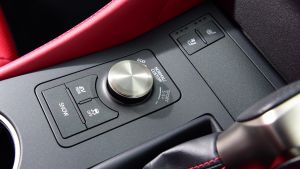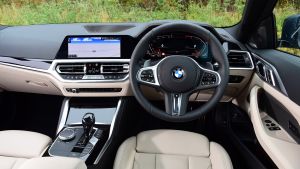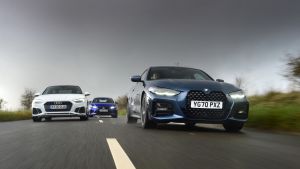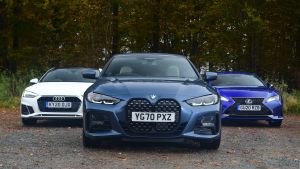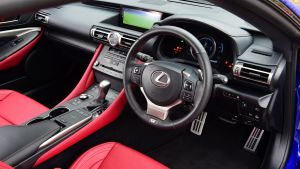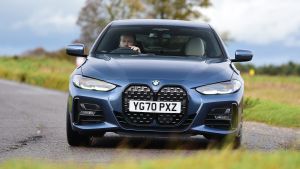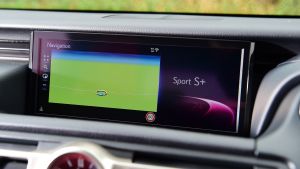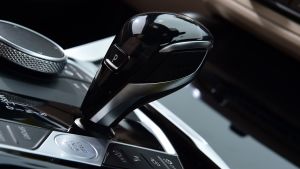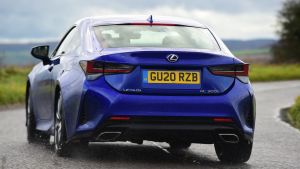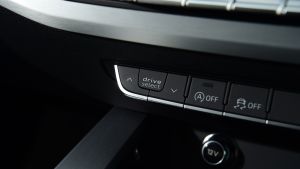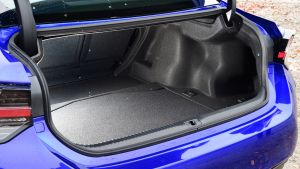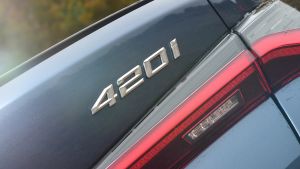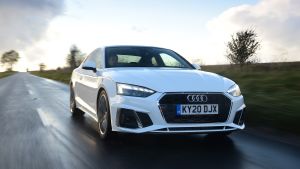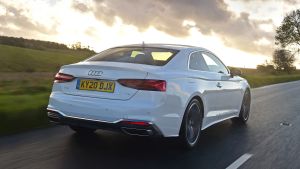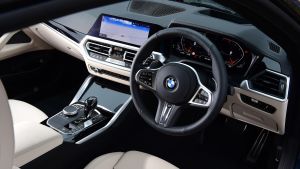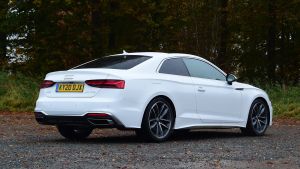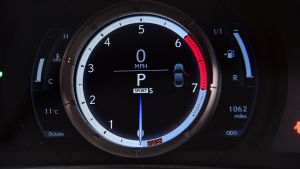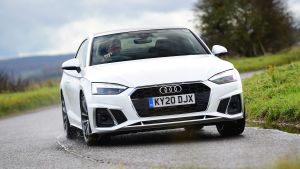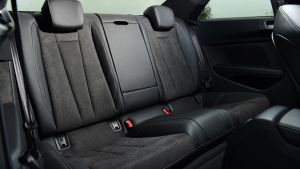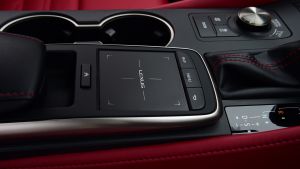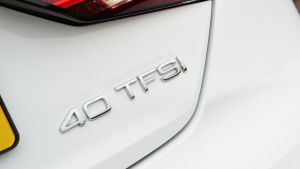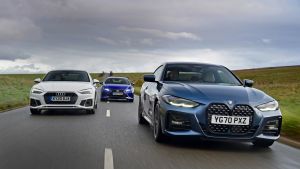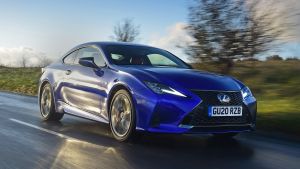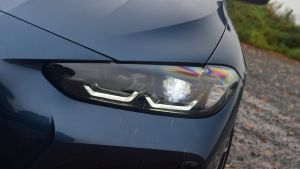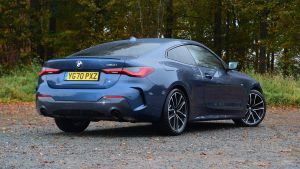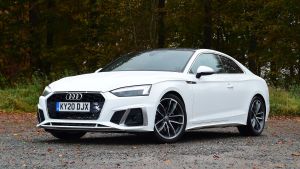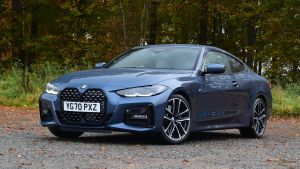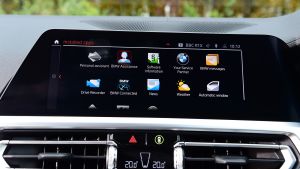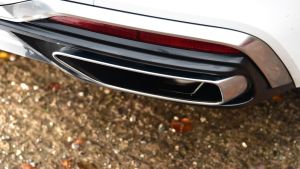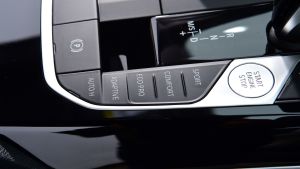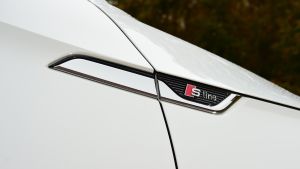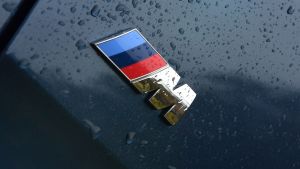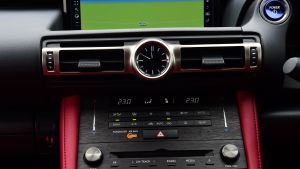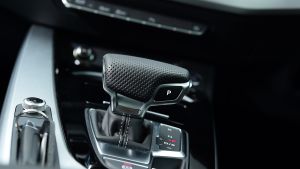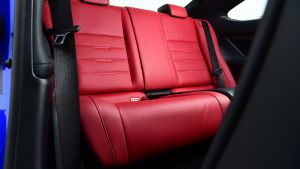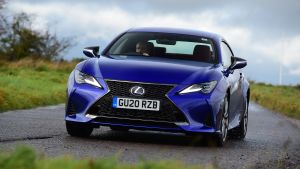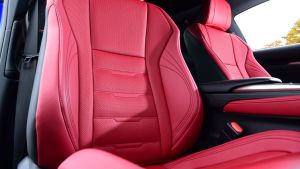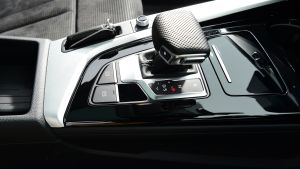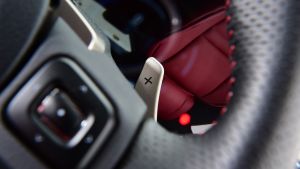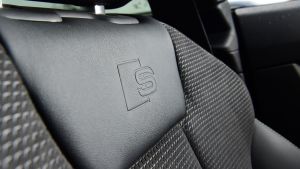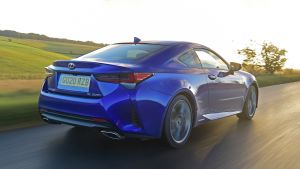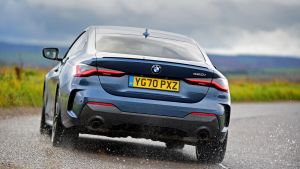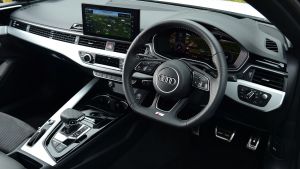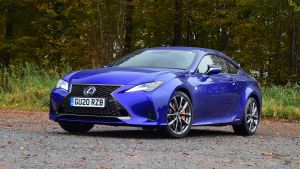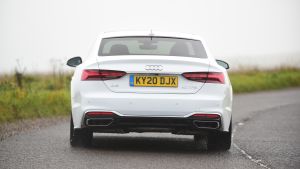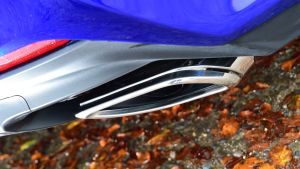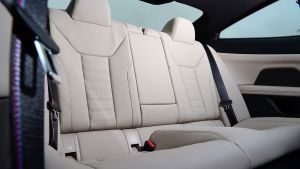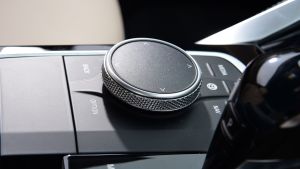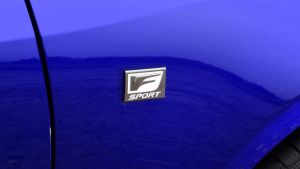 | | |
| --- | --- |
| Model: | Lexus RC 300h F Sport |
| Price: | £43,500 |
| Engine: | 2.5-litre 4cyl hybrid, 181bhp |
| 0-62mph: | 7.5 seconds |
| Test economy: | 42.2mpg/9.3mpl |
| CO2: | 145g/km |
| Annual road tax: | £465 |
Lexus has often chosen to take its own path in the premium segment, while hybrid tech, faultless build quality and excellent dealer service are among its many strengths. The RC 300h certainly has the looks to stand out here, but are those Lexus qualities enough in a class where driver appeal and the latest in-car tech will attract many buyers?
Design & engineering
The RC was first introduced in 2014, and a subtle facelift at the start of 2019 introduced some styling flourishes inspired by the stunning LC coupé. A couple of mechanical changes featured, too, including tweaks to the steering and suspension set-up that were designed to improve both response and comfort.
Lexus and parent company Toyota are big champions of hybrid tech, and the standard RC range reflects that with its single powertrain option: a 178bhp 2.5-litre four-cylinder petrol engine paired with a 142bhp electric motor for a combined total of 220bhp. Torque from both is sent to the rear wheels via a CVT automatic gearbox. 
A nickel-metal hydride battery offers a nominal electric-only range, and the RC can drive in zero-emissions mode even at motorway speeds, but don't expect to cover serious distance in EV mode. This element of the powertrain is more focused on assisting and taking load off the petrol engine to improve performance and efficiency.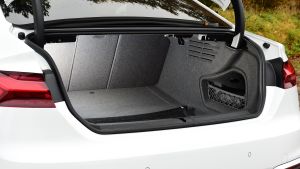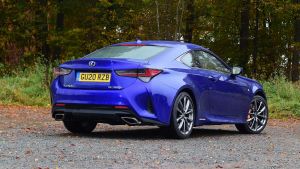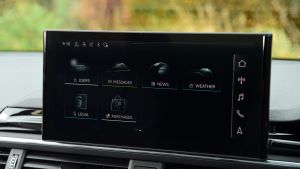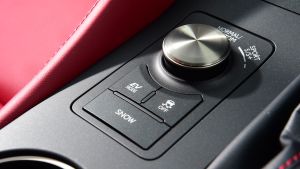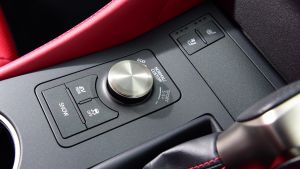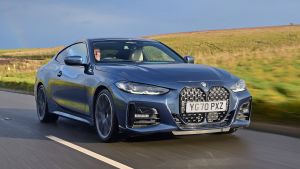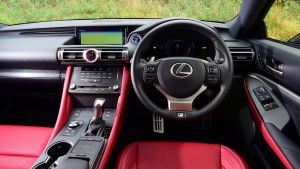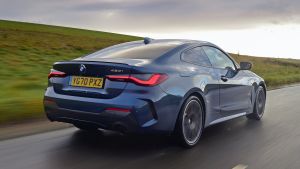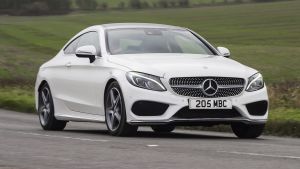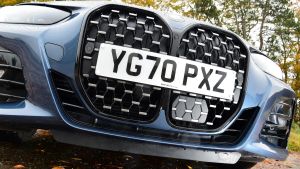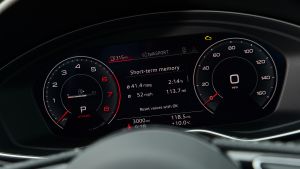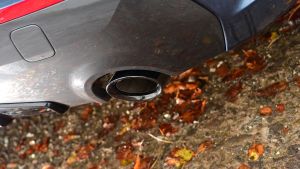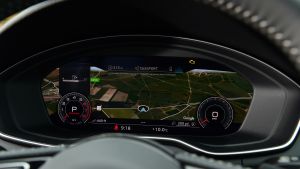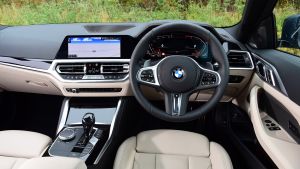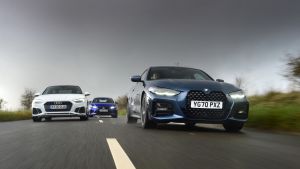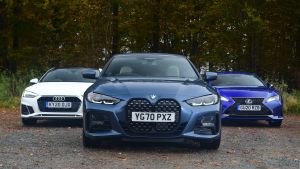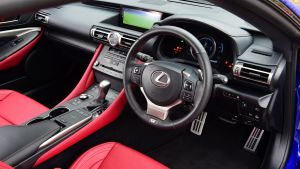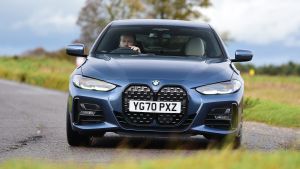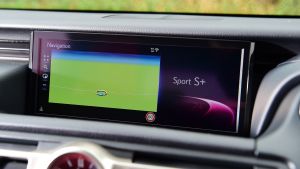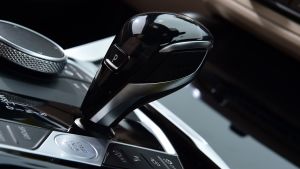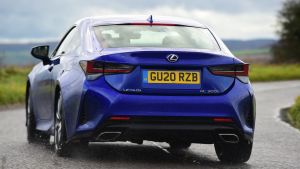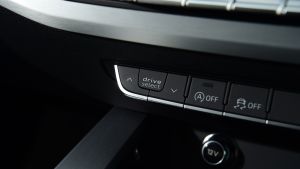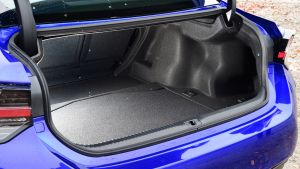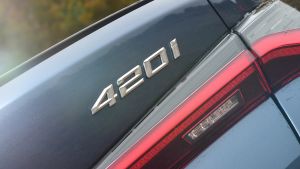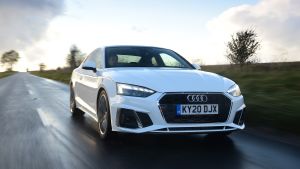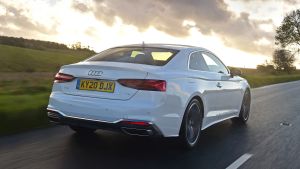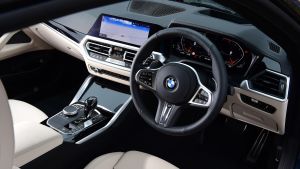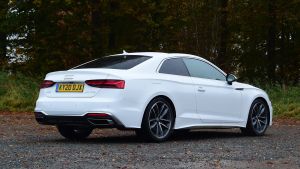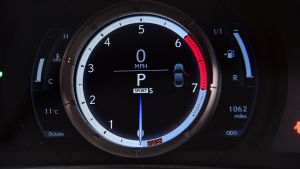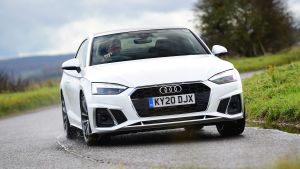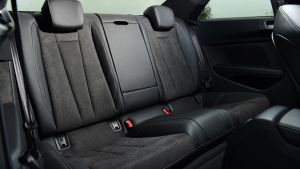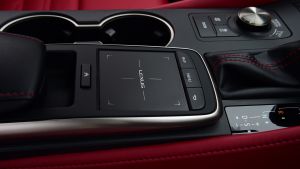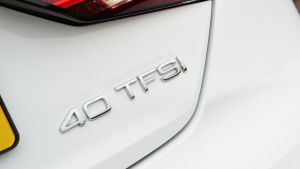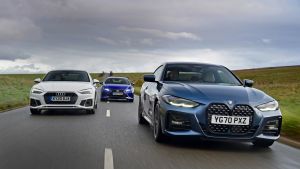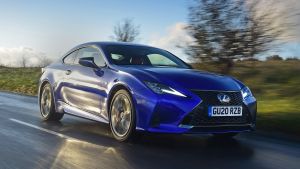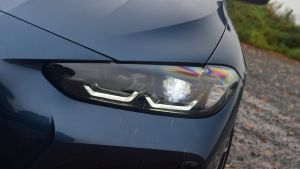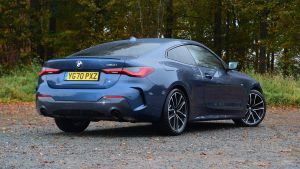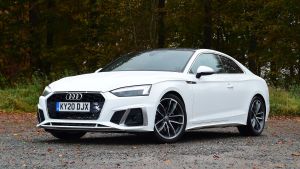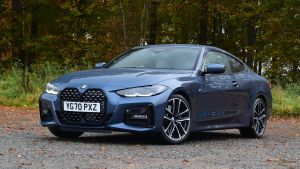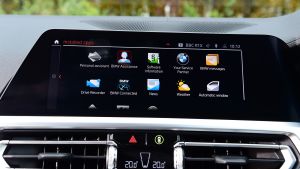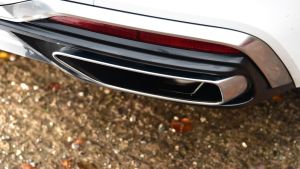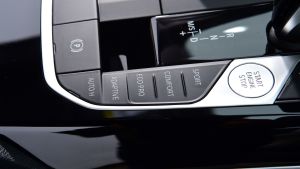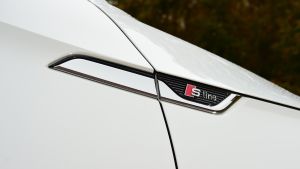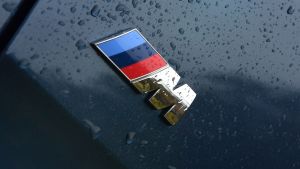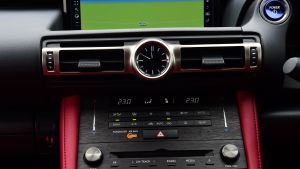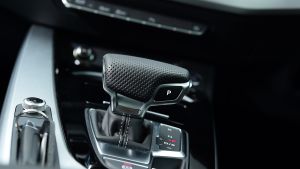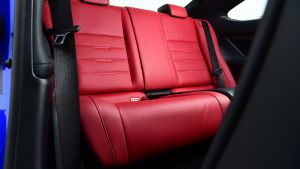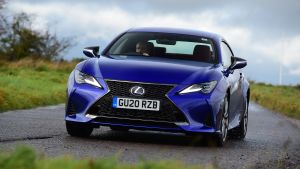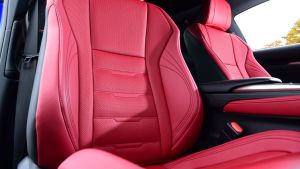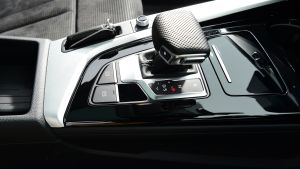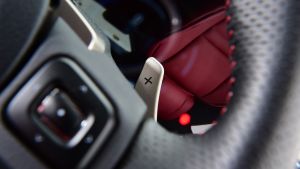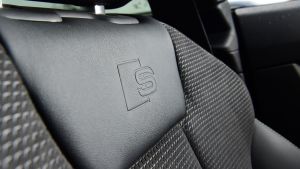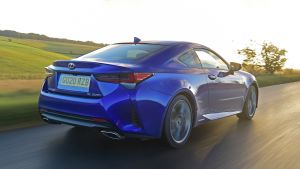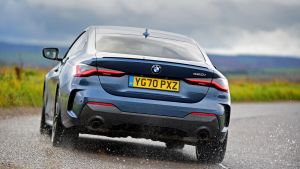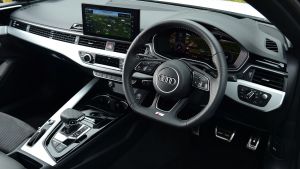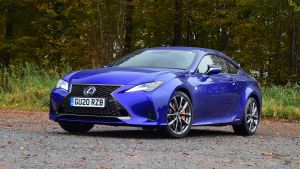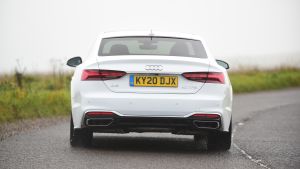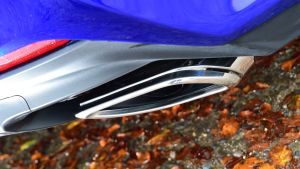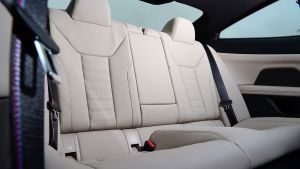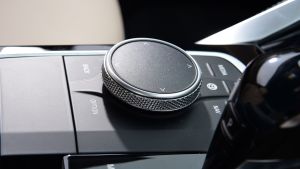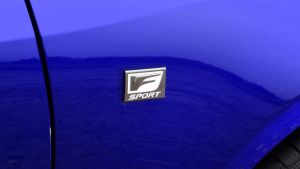 The cabin design is starting to show its age now, mainly due to a centre console that's not only button-heavy, but also features a front-loading CD player. A couple of buttons to the right of the steering wheel feel a little cheap and betray Lexus's parent company, but otherwise the RC is at least as beautifully finished as its German rivals, with extremely solid build quality and some attractive materials.
Driving
Hybrid tech is something of a double-edged sword for the RC. While it gives plenty of potential to save fuel – particularly for town driving – it also adds weight. At 1,735kg the RC is 210kg more than the BMW, while the Audi is 40kg lighter still. 
It's a contributing factor to the RC's lack of excitement. While the chassis balance is tidy, it feels reluctant to turn into corners with the same enthusiasm as the BMW. What's more disappointing is that refinement isn't quite up to scratch, either. It could never be considered anything other than a relaxing place to be, but compared with its rivals, the RC transmits the most road noise into its cabin. Plus under full throttle that powertrain is noisy. On the plus side, the ride is marginally smoother than the A5's – despite also being fitted with 19-inch wheels.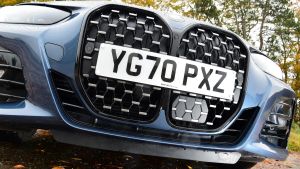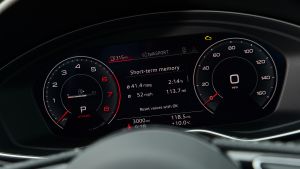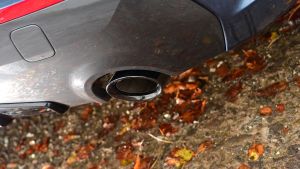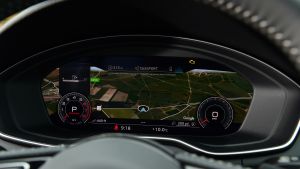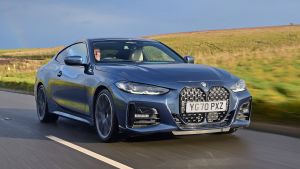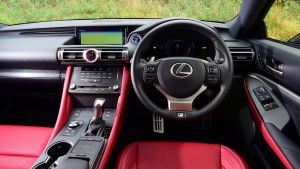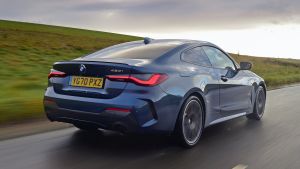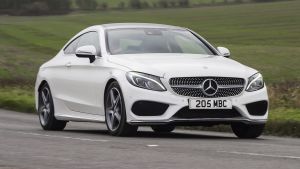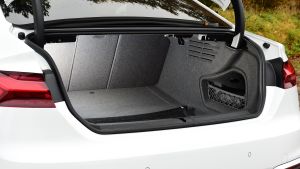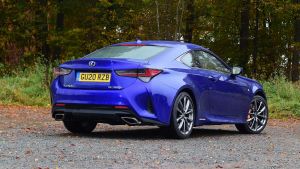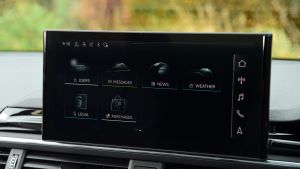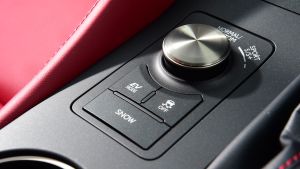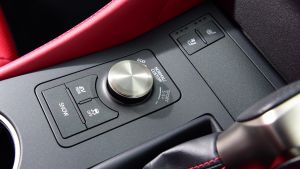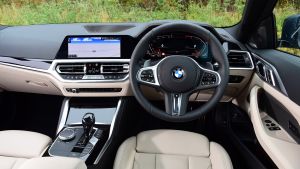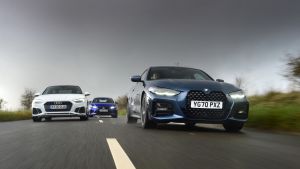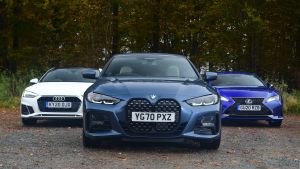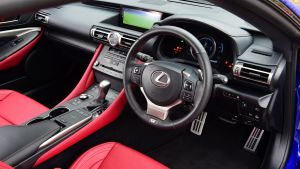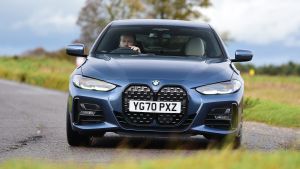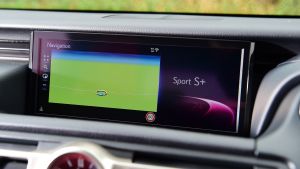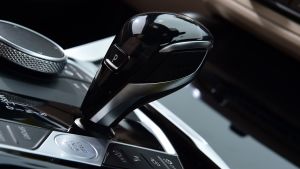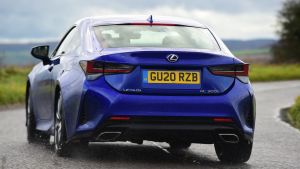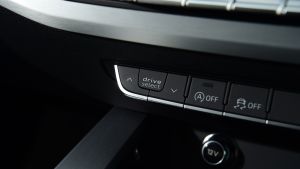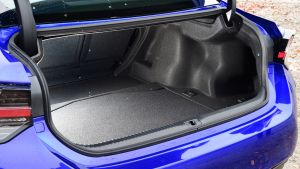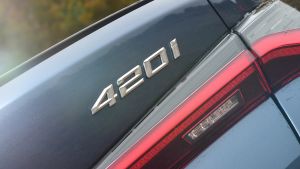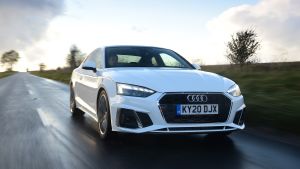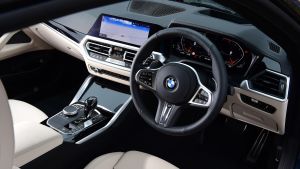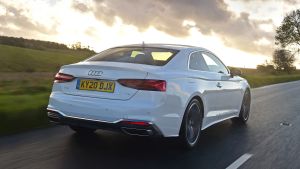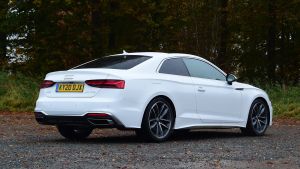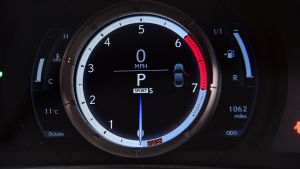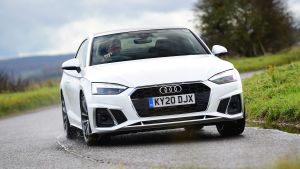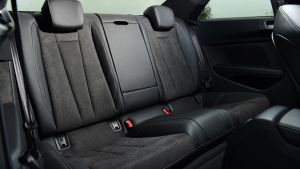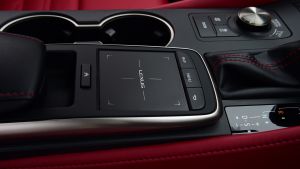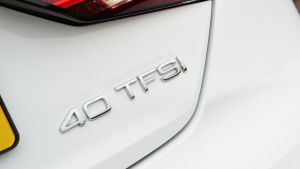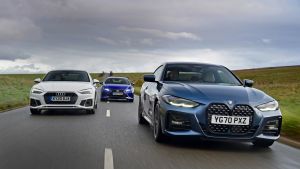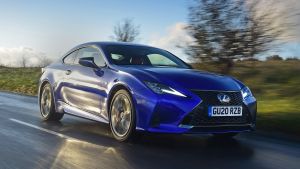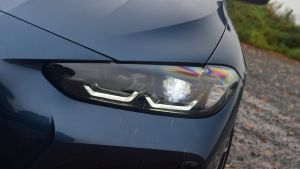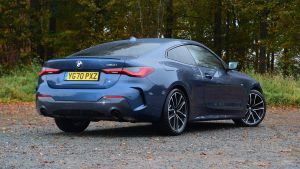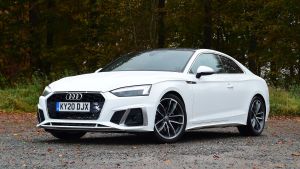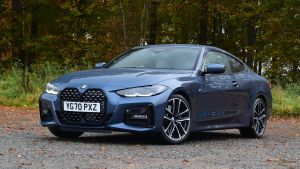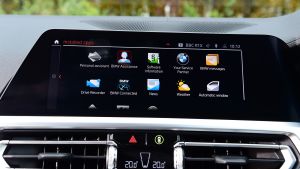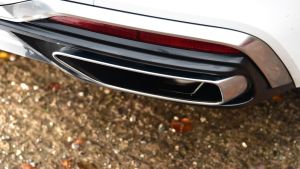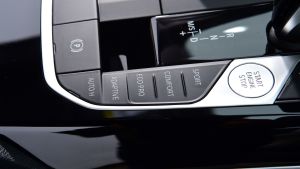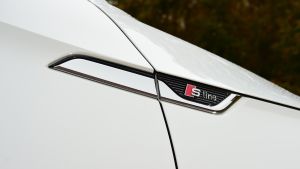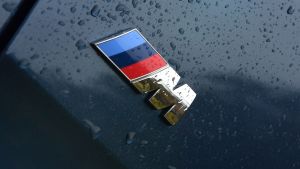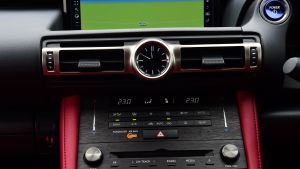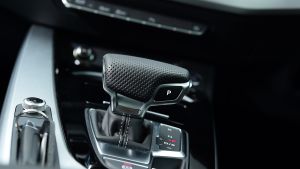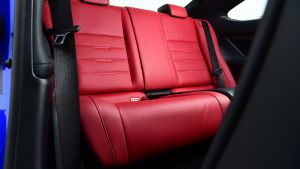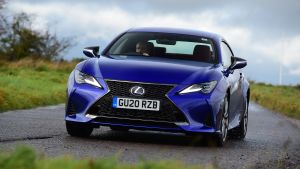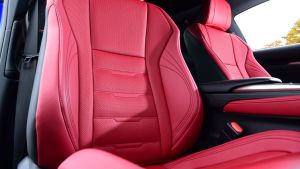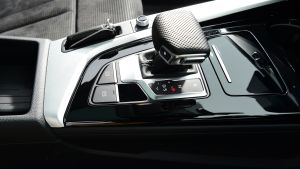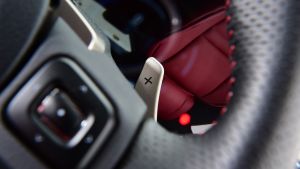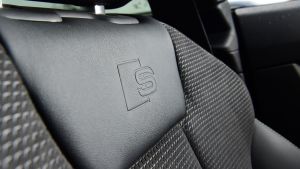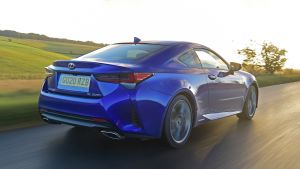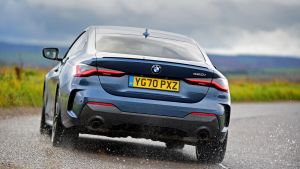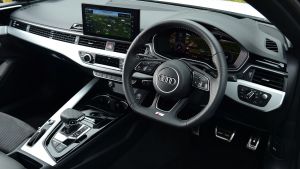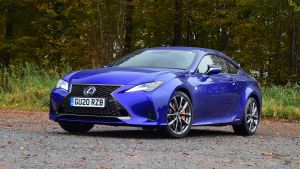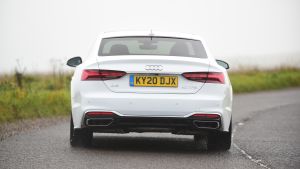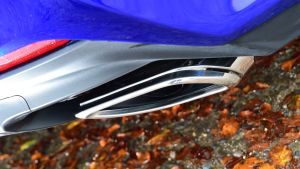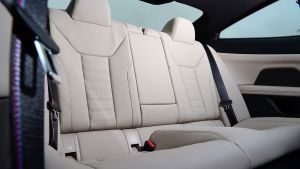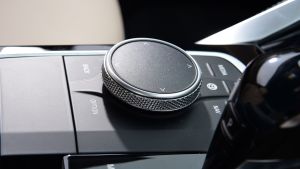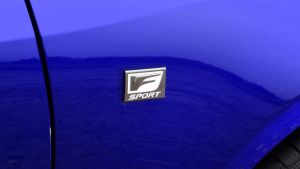 But from a performance point of view, the rather flat engine and CVT gearbox really take the shine off. While gentle acceleration can be conducted in near silence thanks to the electric motor, almost any acceleration that involves the combustion element is accompanied by an unpleasant drone as engine revs rise out of sync with road speed. 
The CVT gearbox can be controlled by steering wheel-mounted paddles and in theory they introduce artificial ratios to give the feel of a more conventional auto gearbox. In practice, however, they make little difference. Switch to Sport mode and the increased throttle response – from the electric motor in particular – at least gives a fairly lively turn of speed in short bursts, but it's still not quite a match for the 4 Series or A5.
Practicality
Those sitting in the front of the RC are well catered for. The seats are supportive in the right places, and unlike in either rival, F Sport trim features heating and cooling functions. 
However, keen drivers would hope for the seat to adjust lower, especially when the wheel can drop to a position where it's almost touching their knees.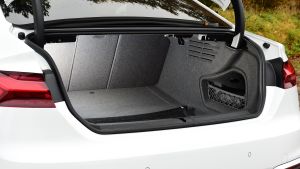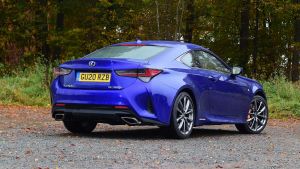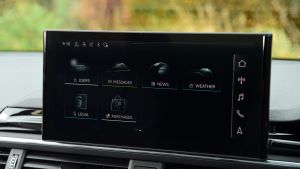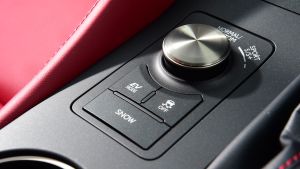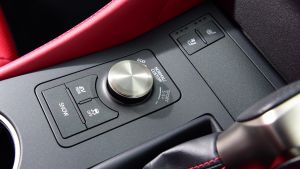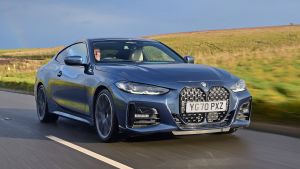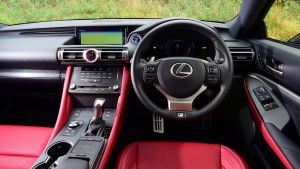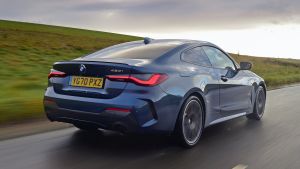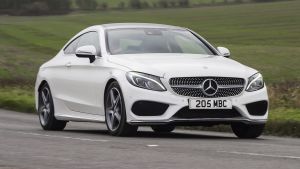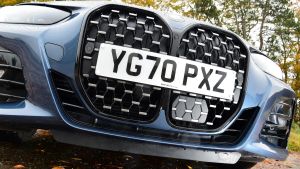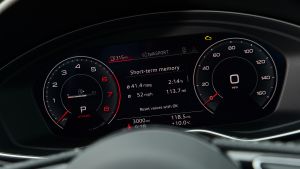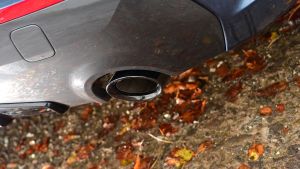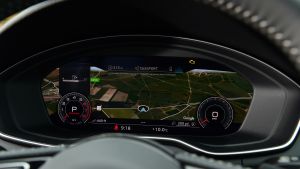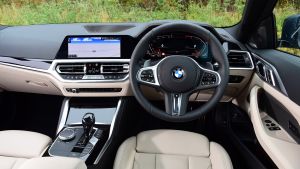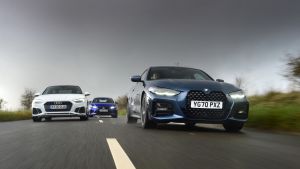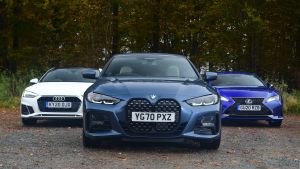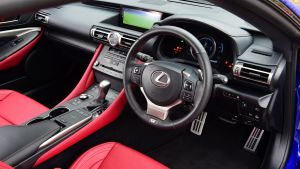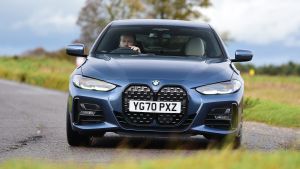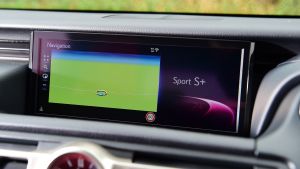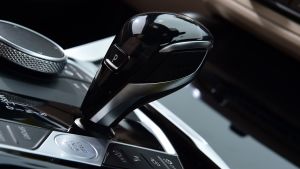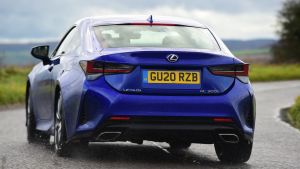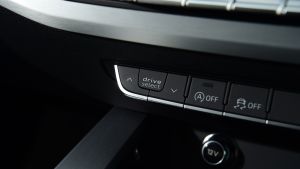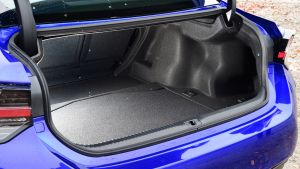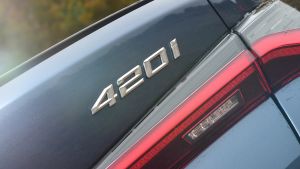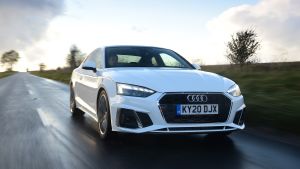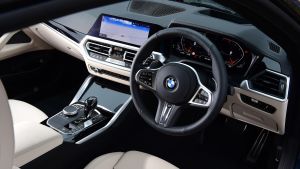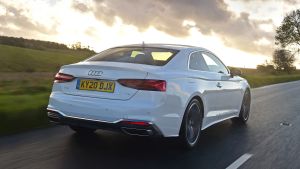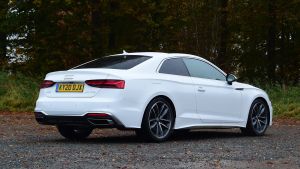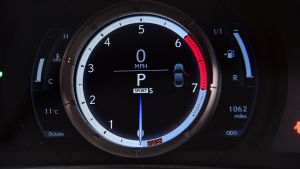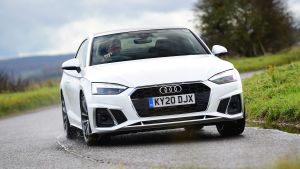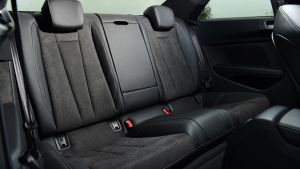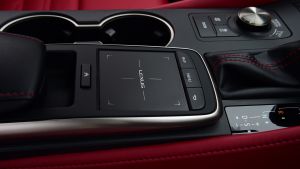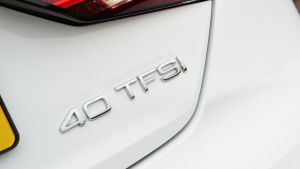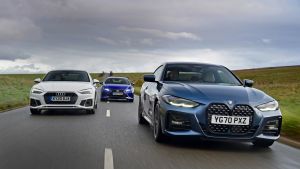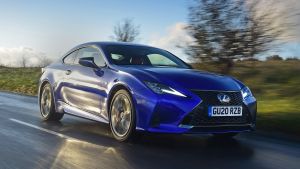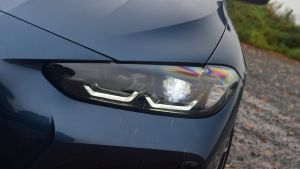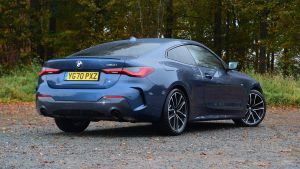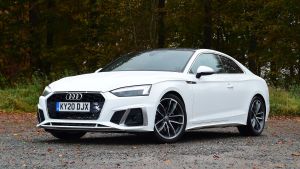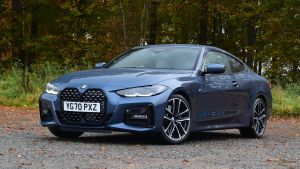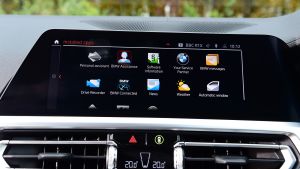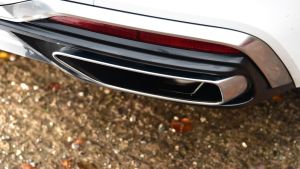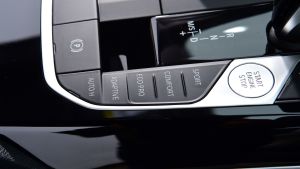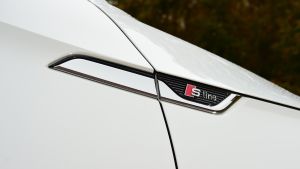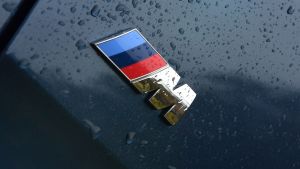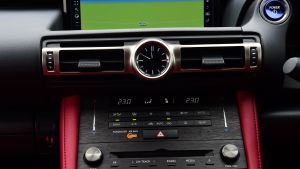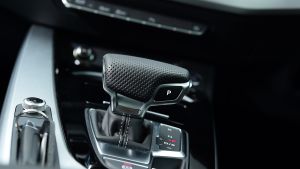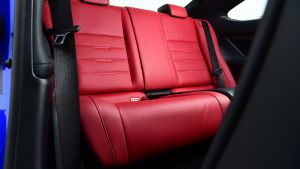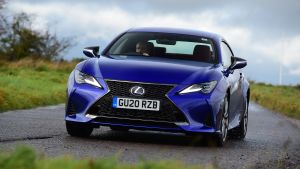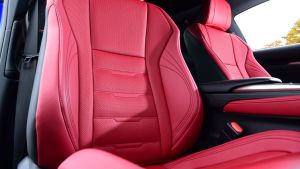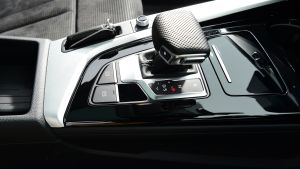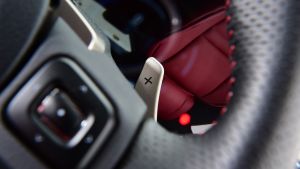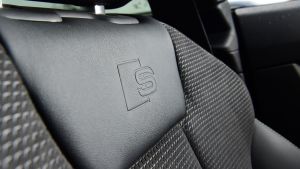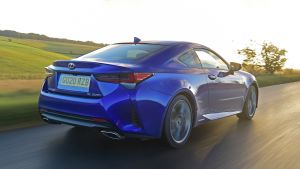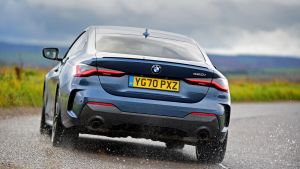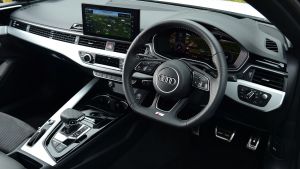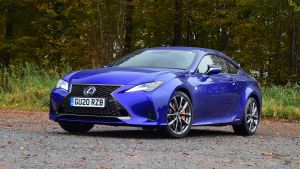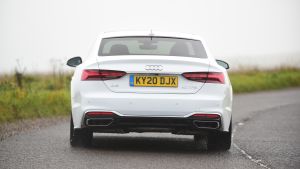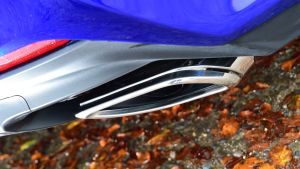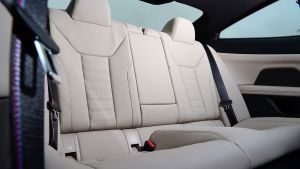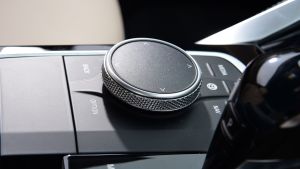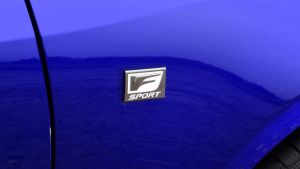 The RC's rear quarters offer more kneeroom than in the A5 (although it's still behind the 4 Series), and it has the most space under the front seats for feet. When it comes to headroom, however, it's the most cramped car of the three. It's the only one of this trio without a fold-down centre armrest, too.
The need to package the hybrid tech means that the RC is compromised on boot space. At 340 litres, it's 100 litres short of the BMW and 110 litres behind the Audi. Still, if you can squeeze luggage through the fairly small opening, the overall capacity falls somewhere between a supermini and a family hatchback.
Ownership
This is one area where the Lexus takes a clear win. In our most recent Driver Power surveys, the brand topped the charts both as an overall manufacturer and for the service provided by its dealer network. 
In other words, while satisfaction and faultless reliability can never be guaranteed, if you were to take your chances, then the Lexus is likely to be the most hassle-free car to own of the bunch. 
Although the RC is an older design, it still offers lots of modern safety tech as standard, including Lexus' Safety System+. This features adaptive cruise, autonomous braking with collision warning and lane-keep assist, among other features.
Running costs
Do plenty of town driving, and the RC should be comfortably the cheapest car of the three to top up with fuel. Overall, however, the gap isn't quite so great; officially, the Lexus achieves 45.5mpg – barely any better than the 4 Series and almost an exact match for the Audi.
Overall, in our hands the RC 300h managed 42.4mpg – a clear 6mpg up on the 4 Series. Cover 20,000 miles a year in each, and that means that the Lexus could save you £400 at the pumps. At 66 litres, the RC has the largest fuel tank of our trio, so it boasts the longest range between fill-ups, too.
Testers' notes
"Newer Lexus hybrids such as the UX show how far the brand has progressed with the calibration of its hybrid system – especially the CVT gearbox – when compared with the RC's older set-up."
Verdict
BMW 4 Series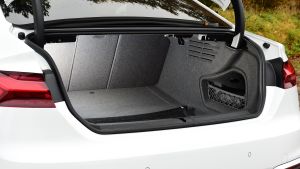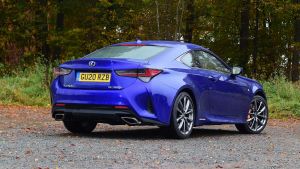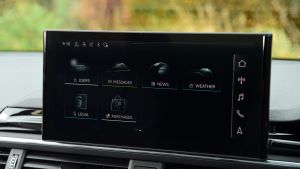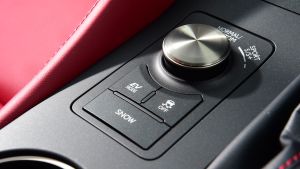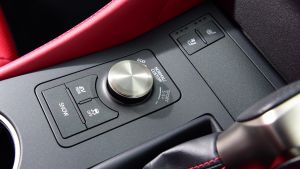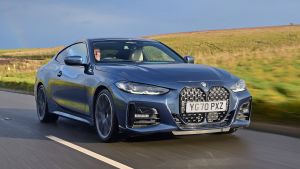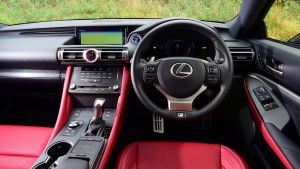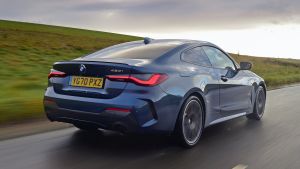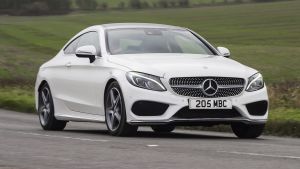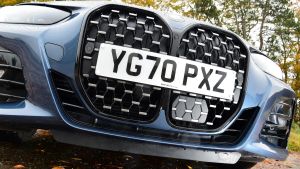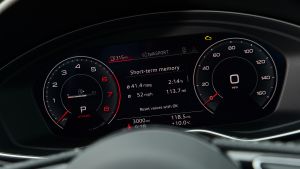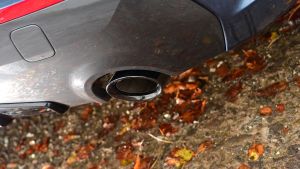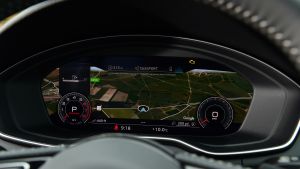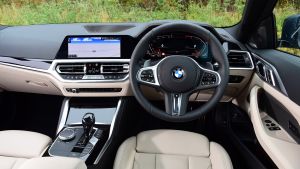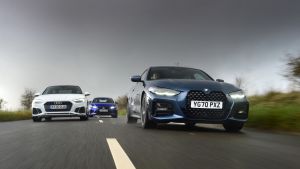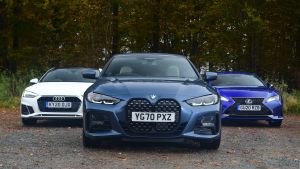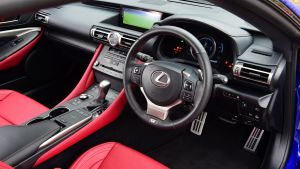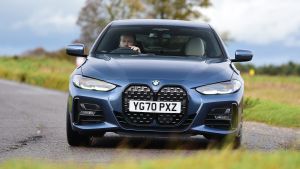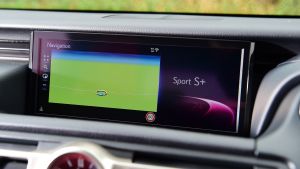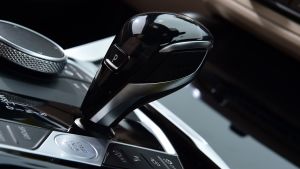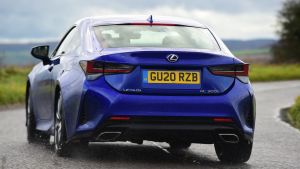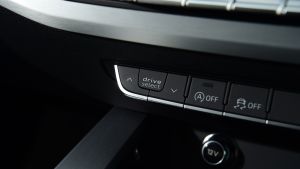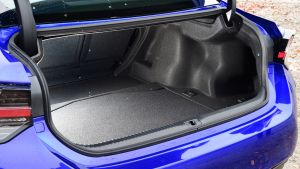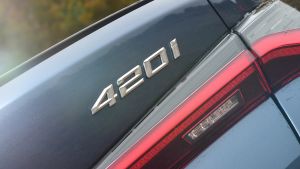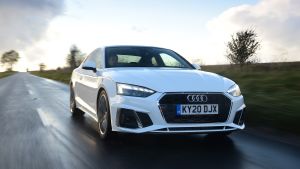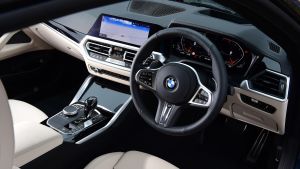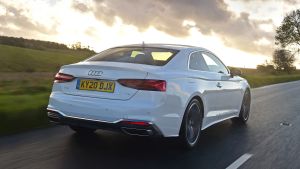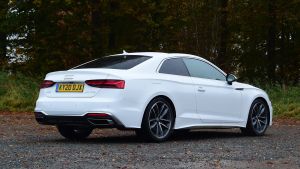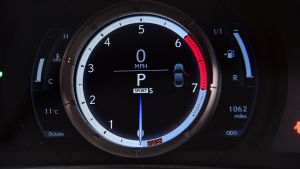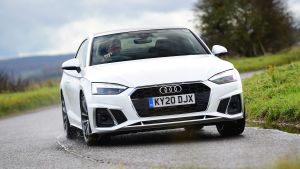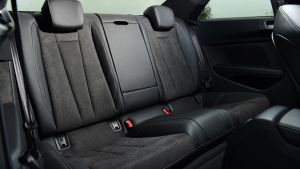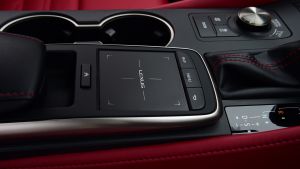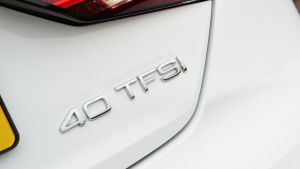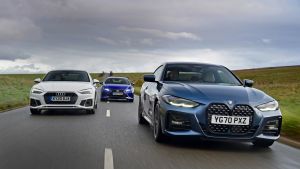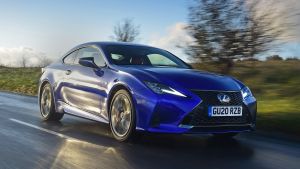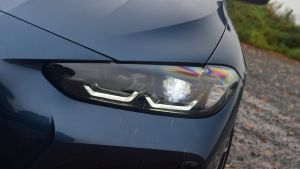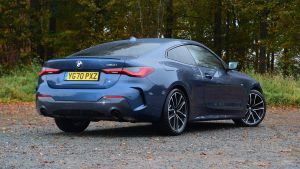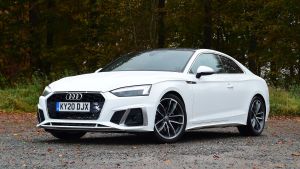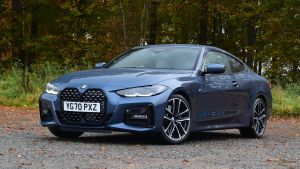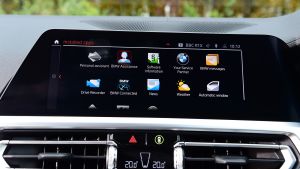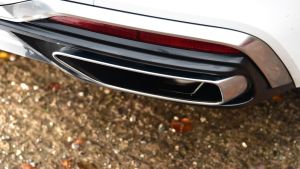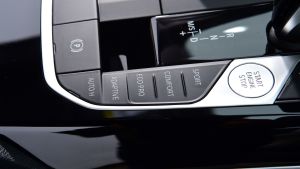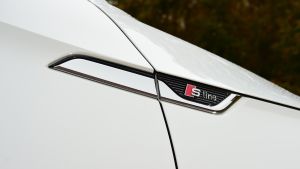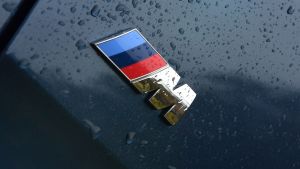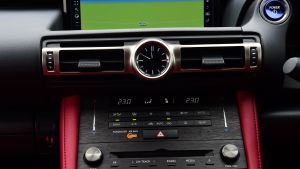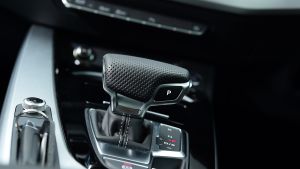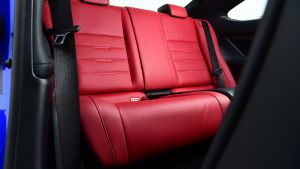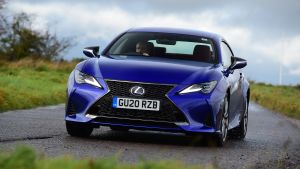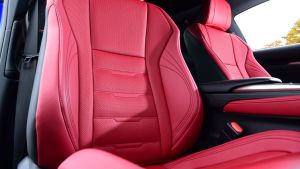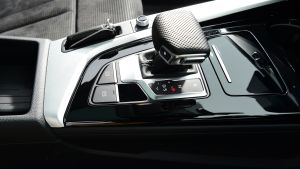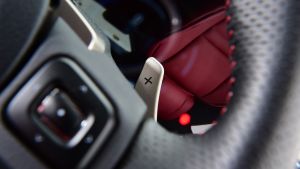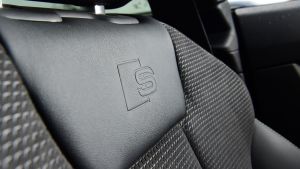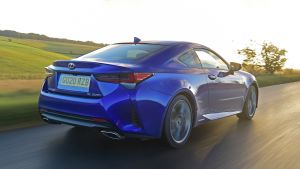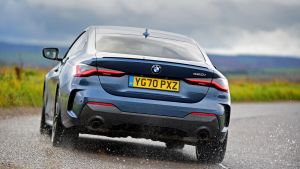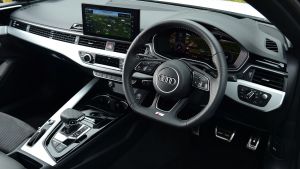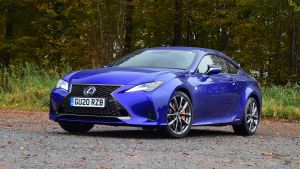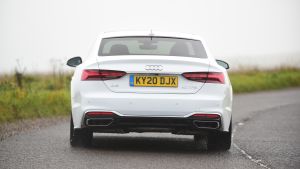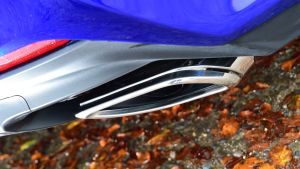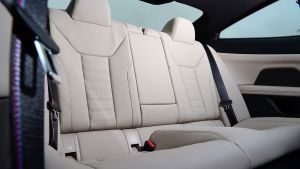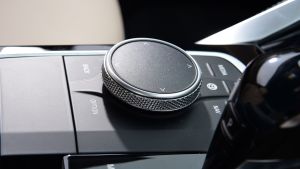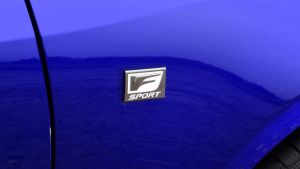 The new 4 Series is a deserving winner here, because it shows many strengths and very few weaknesses. It delivers the best combination of ride and handling, the cabin is refined and has the roomiest back seats, while its infotainment tech is the best. While it's thirstier than the Lexus, it offers the lowest tax rates for company car users and is the cheapest to buy for private customers, too.
Audi A5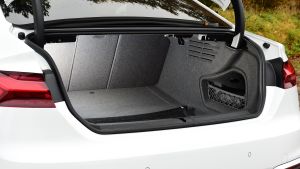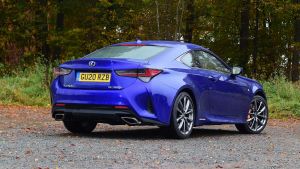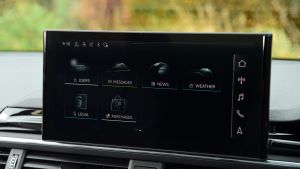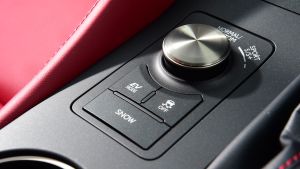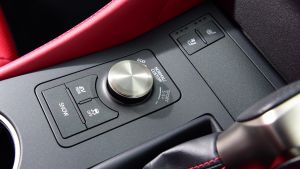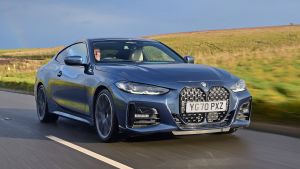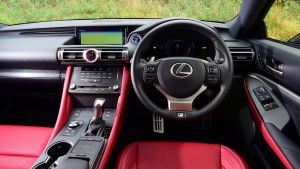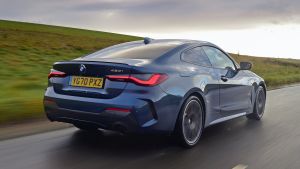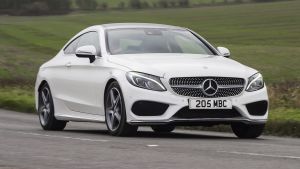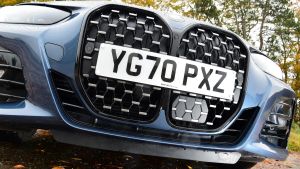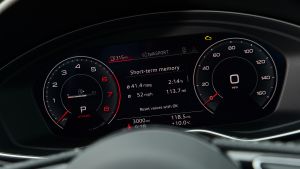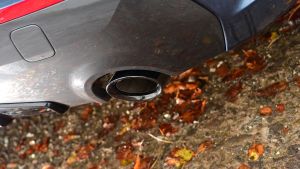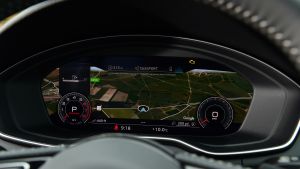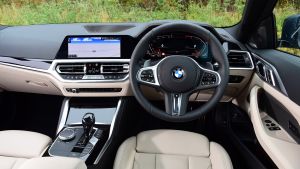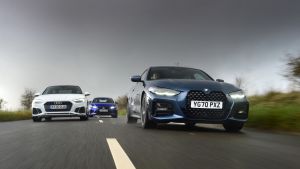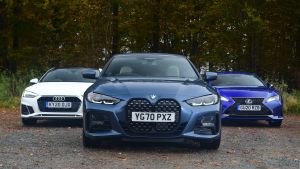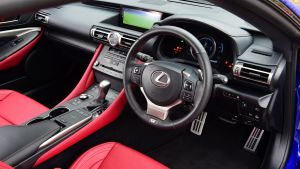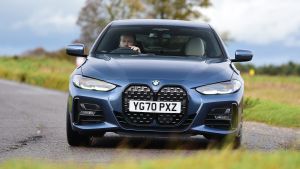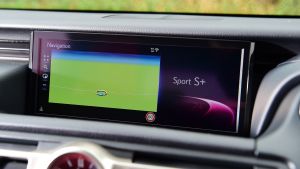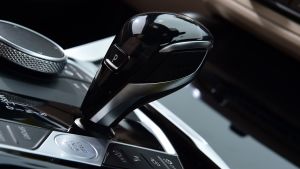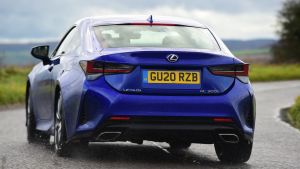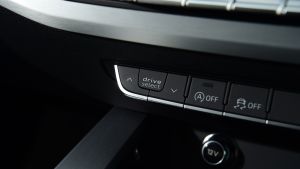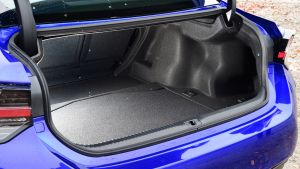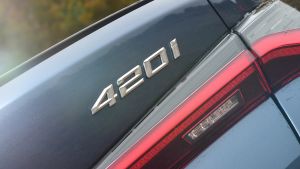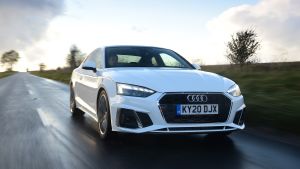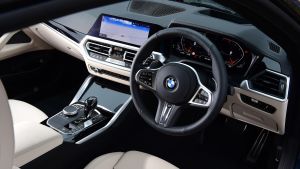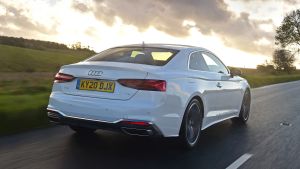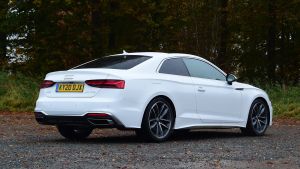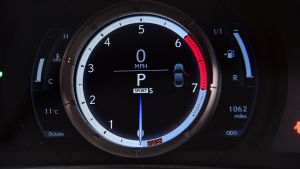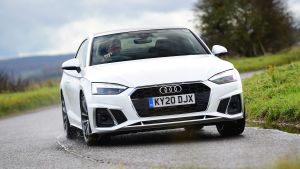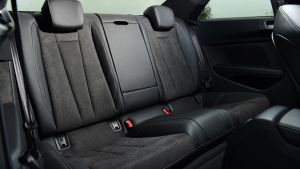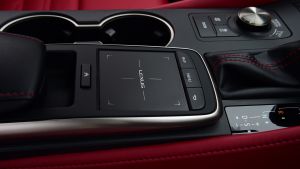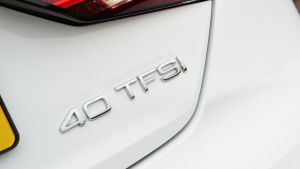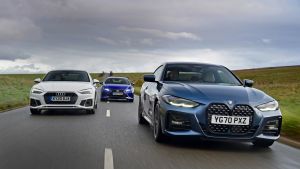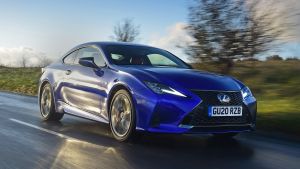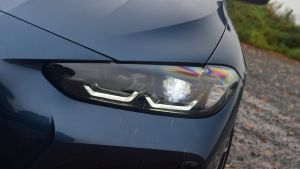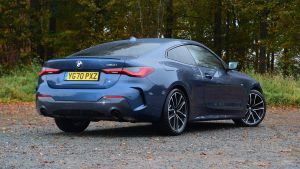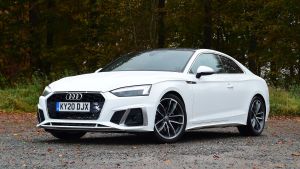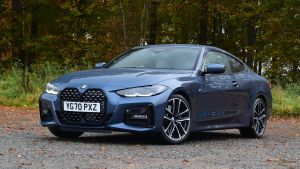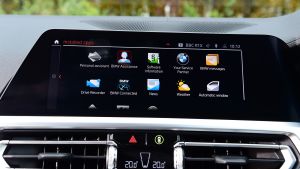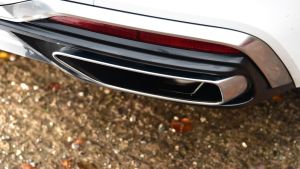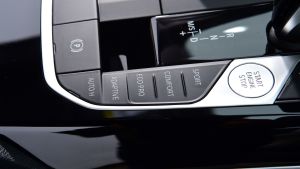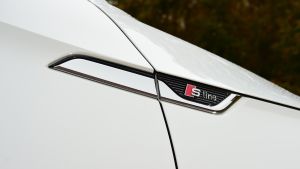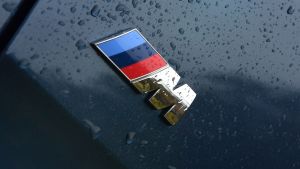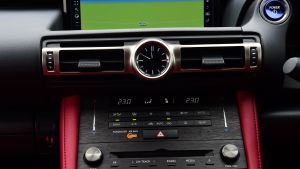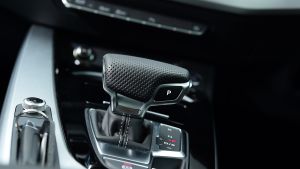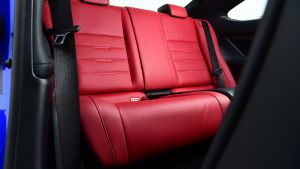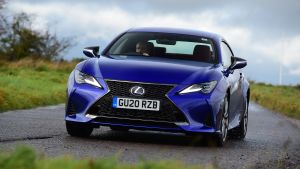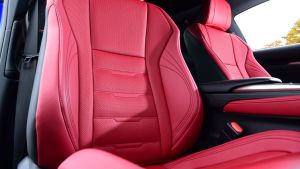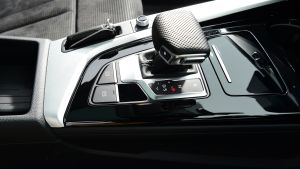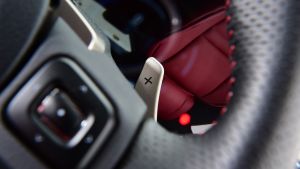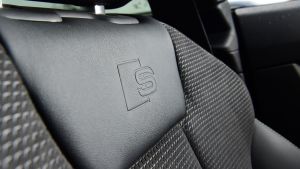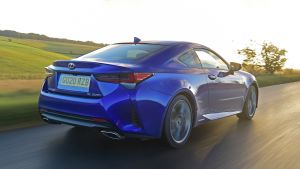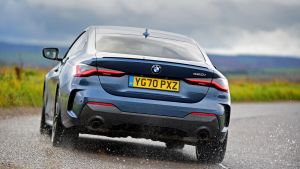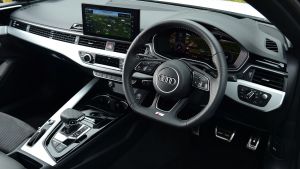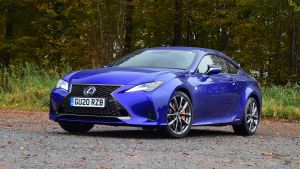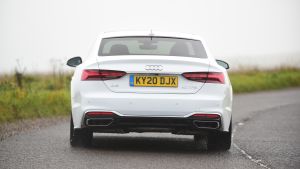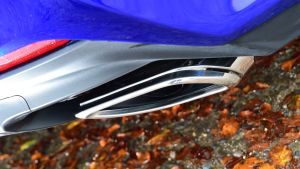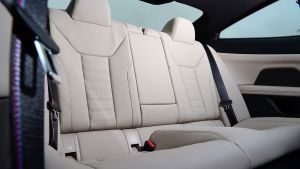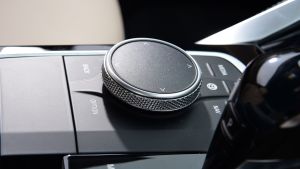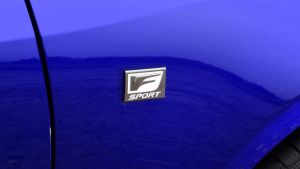 In many areas the A5 runs the BMW very close. Build quality is excellent, it's the quickest car here and the in-car tech is very slick. However, the A5 isn't as much fun to drive as the 4 Series, and without the optional adaptive dampers, it's not as comfortable, either. Given that it'll also be the priciest to run and is the least spacious in the back, it can't quite do enough to earn a win here.
Lexus RC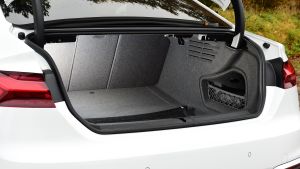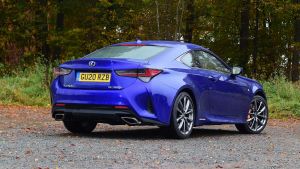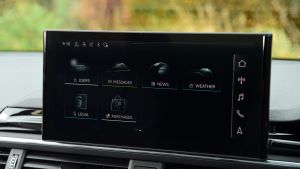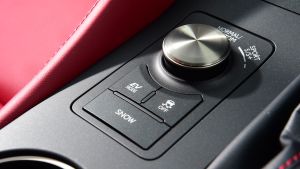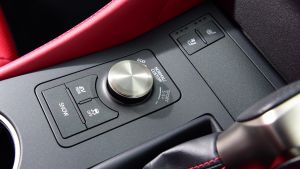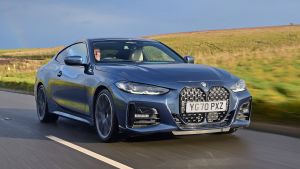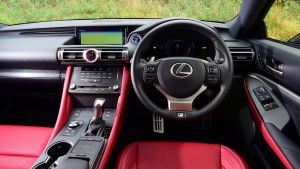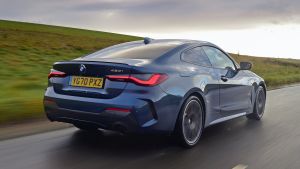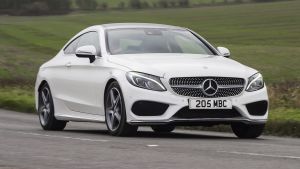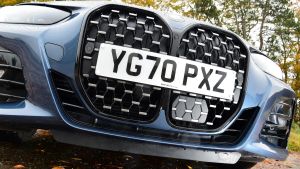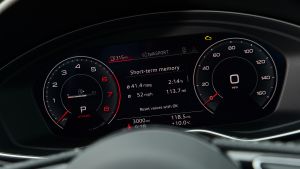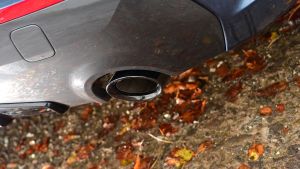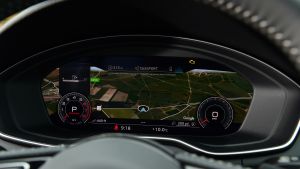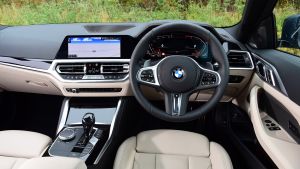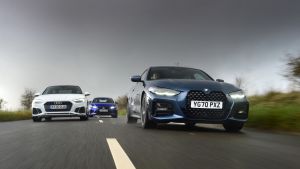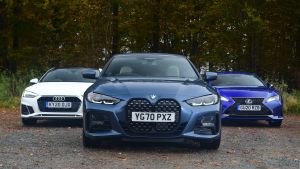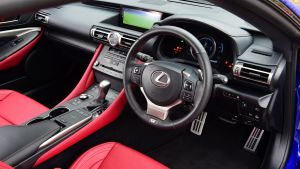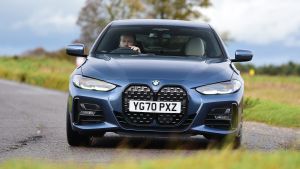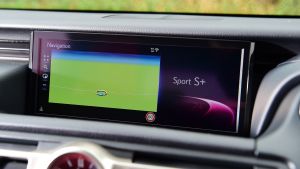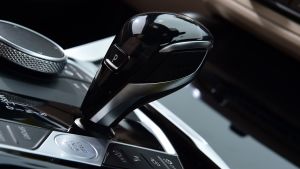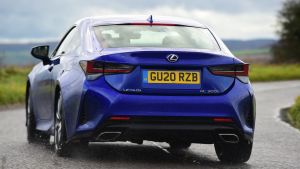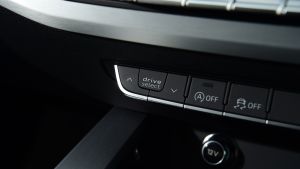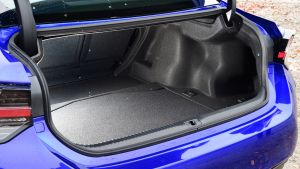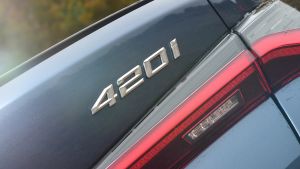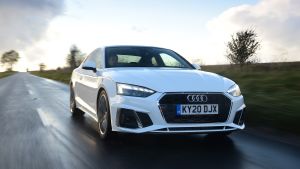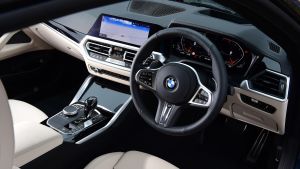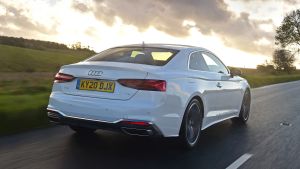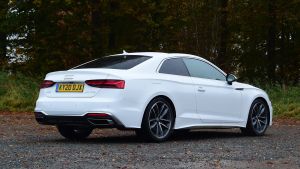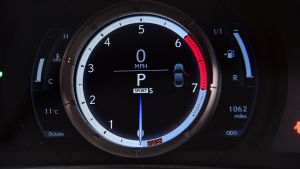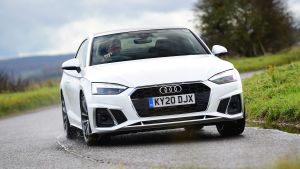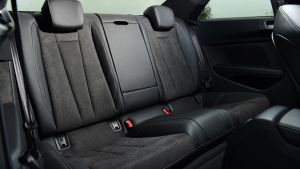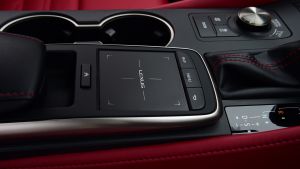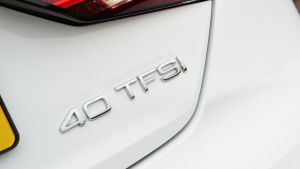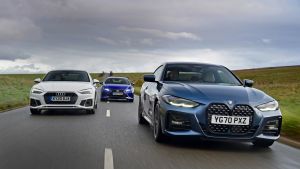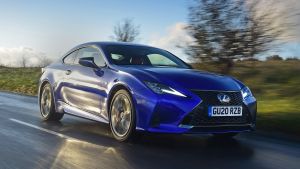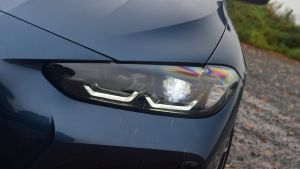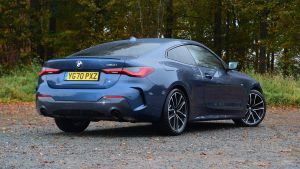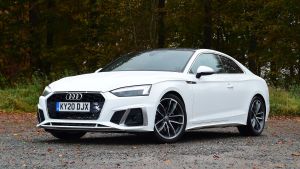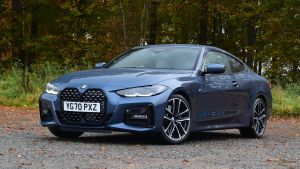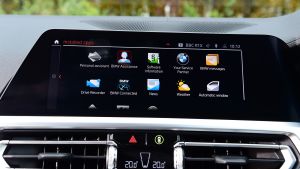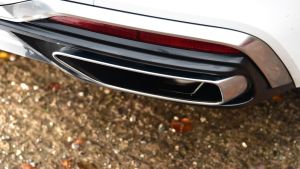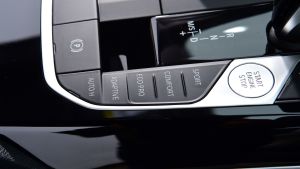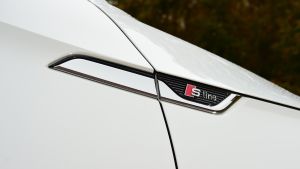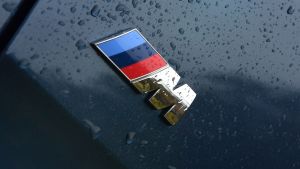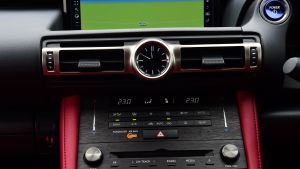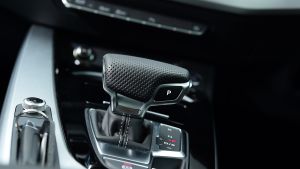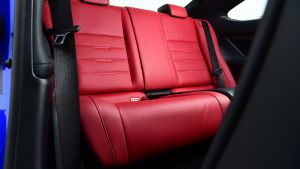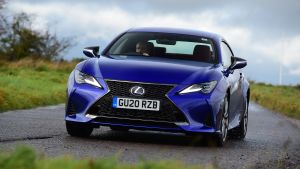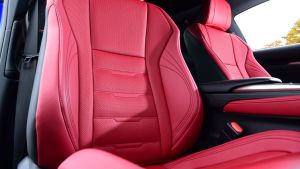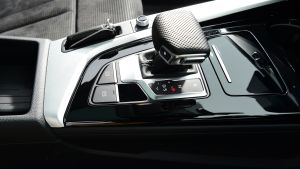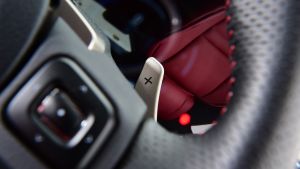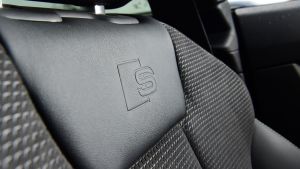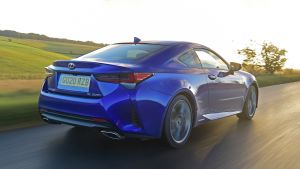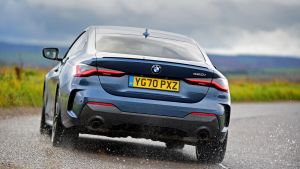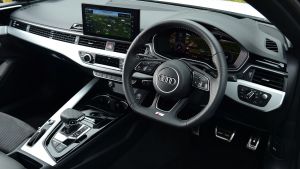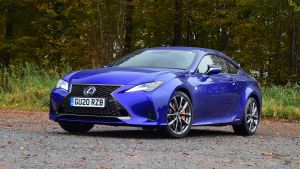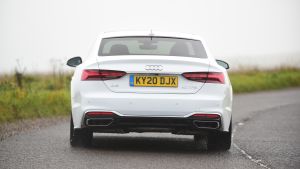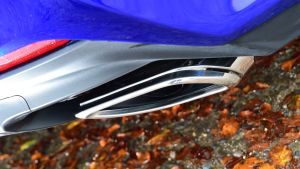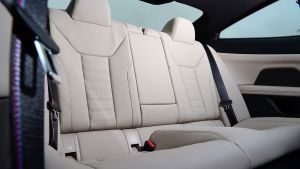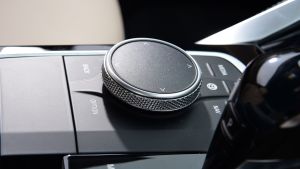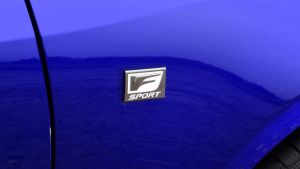 Although it still has its plus points, the RC falls into third place in this company. It's the most fuel-efficient of the three and the cabin is flawlessly built, but both of its German rivals are quicker, more refined, handle better and are cheaper to buy. That the Lexus has a frustrating infotainment set-up, the smallest boot and higher monthly finance costs also prevents it from challenging here.
Also consider…
Mercedes C-Class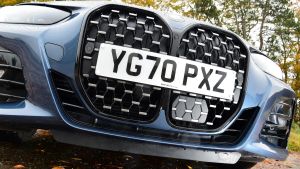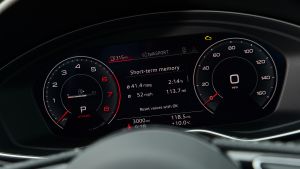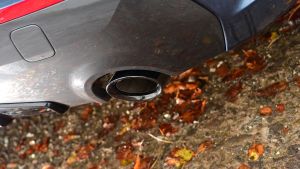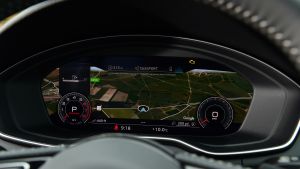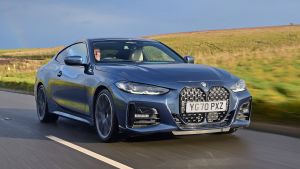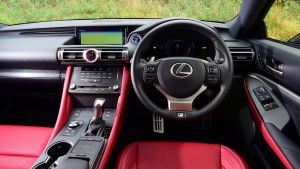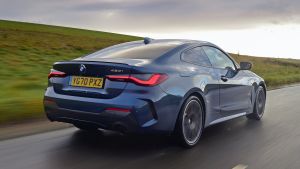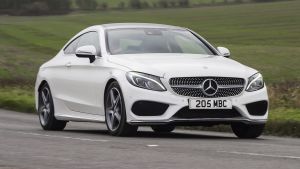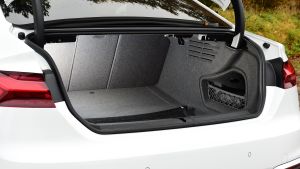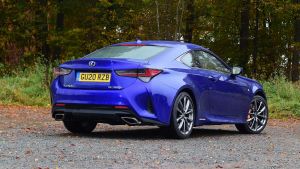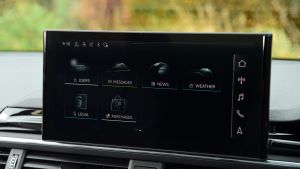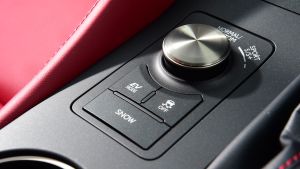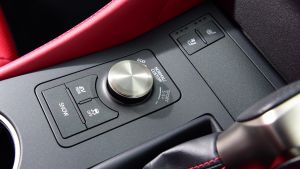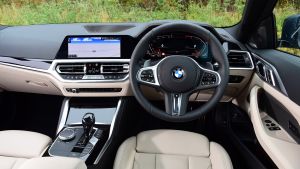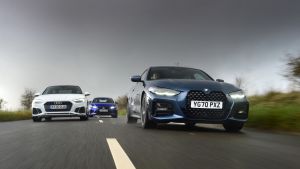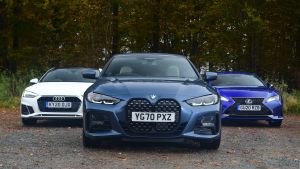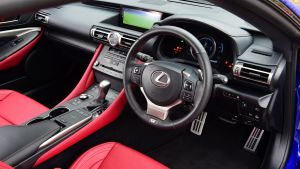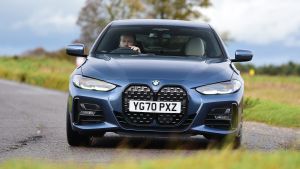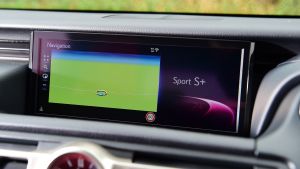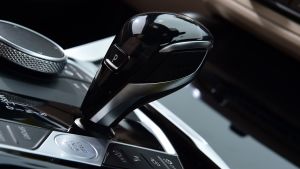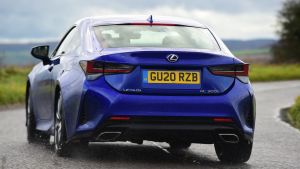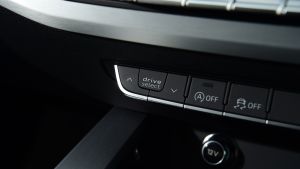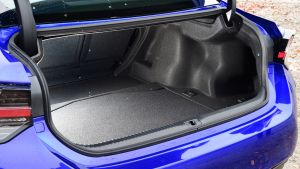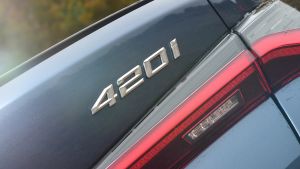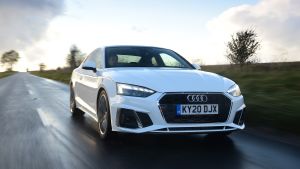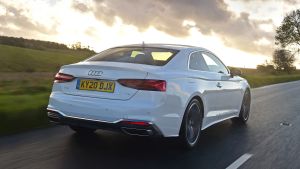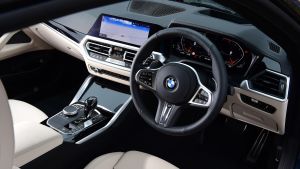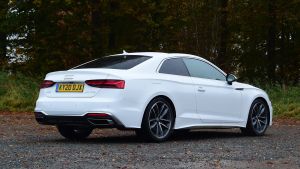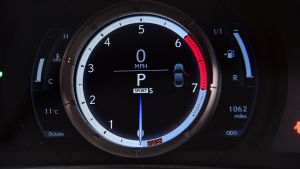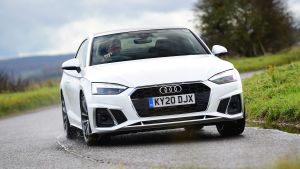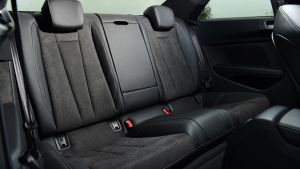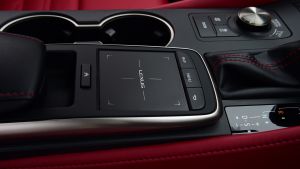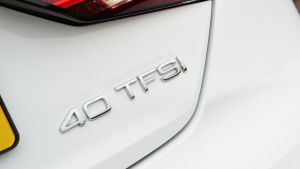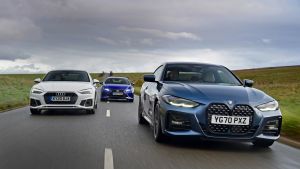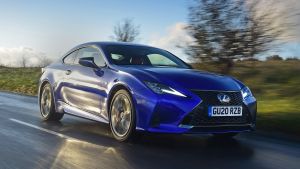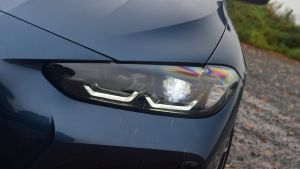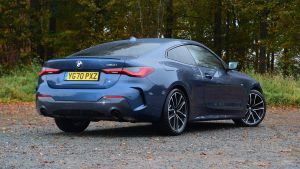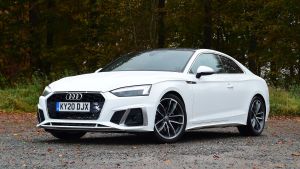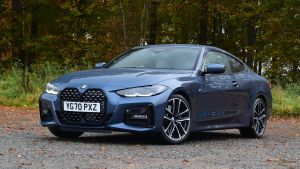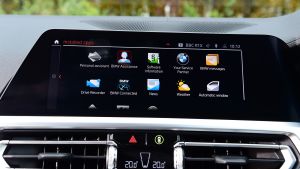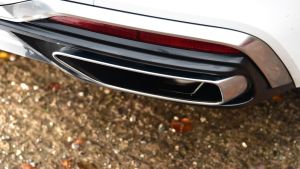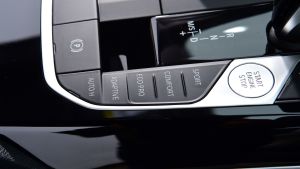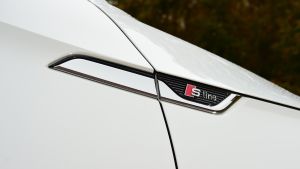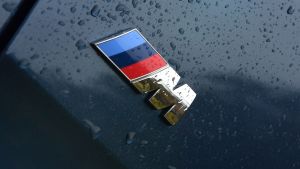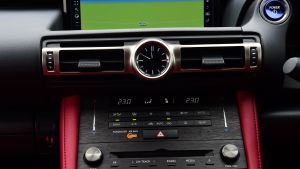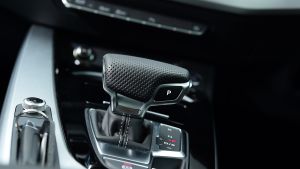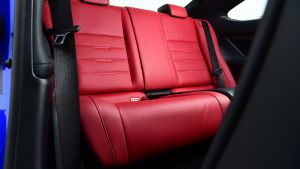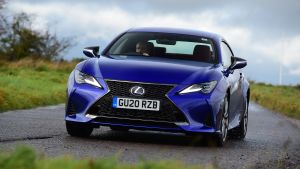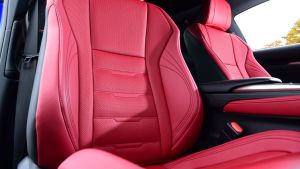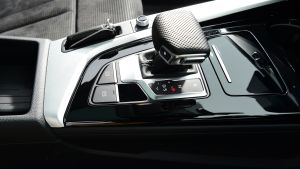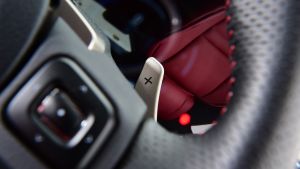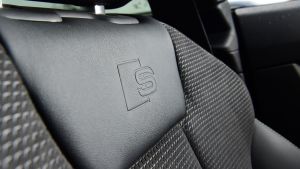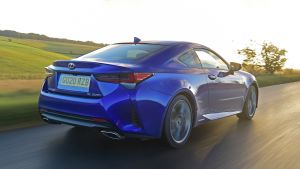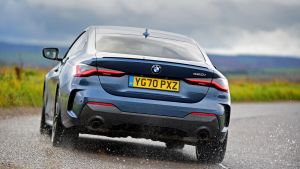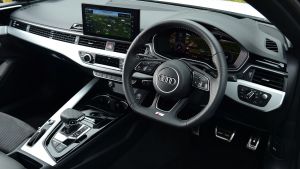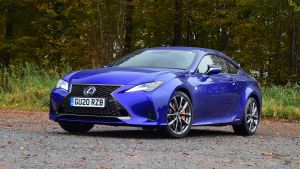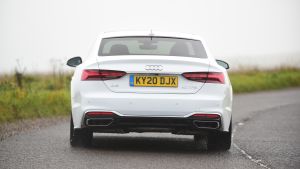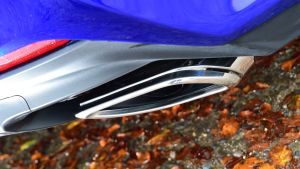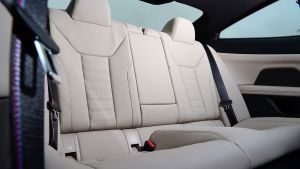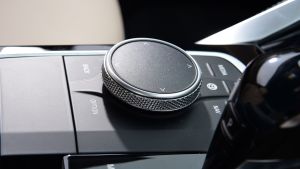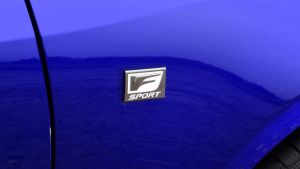 New: Mercedes C 200 AMG Line Edition
Price: £43,090 
Engine: 2.0-litre 4cyl, 181bhp
Mercedes' C 200 Coupé benefits from mild-hybrid tech, and while it might be down on power, it's quick and frugal enough. AMG Line Edition is the trim to choose since you get kit like wireless charging. Tech, quality and style are on par with rivals'.
BMW 6 Series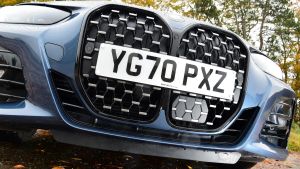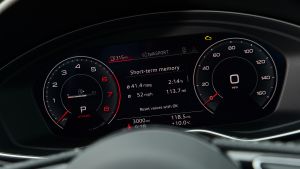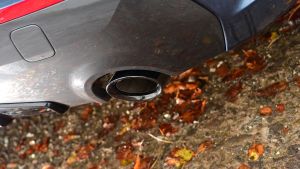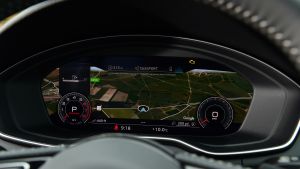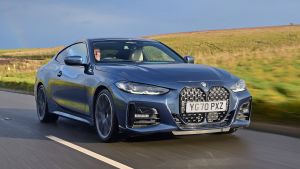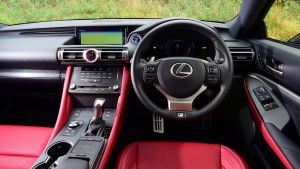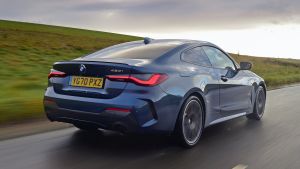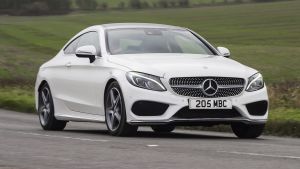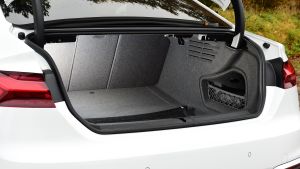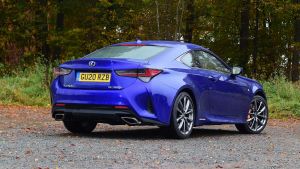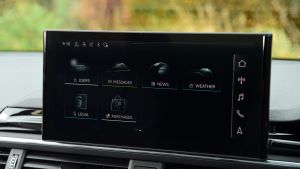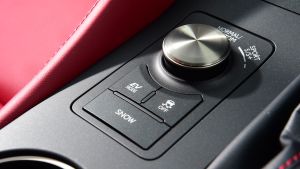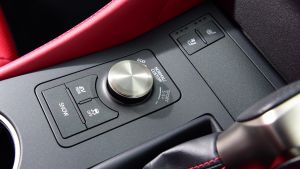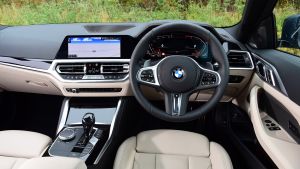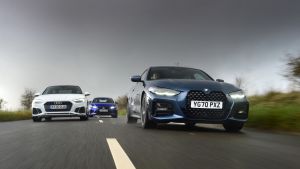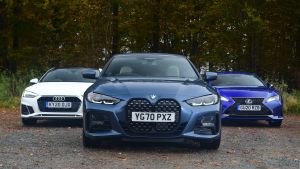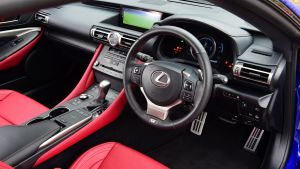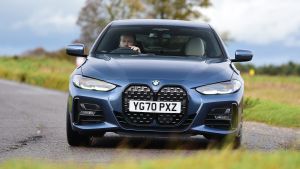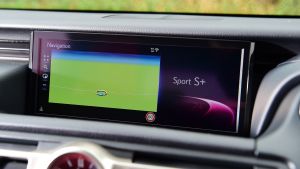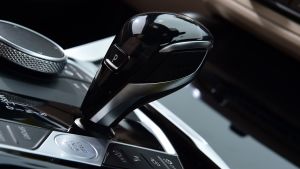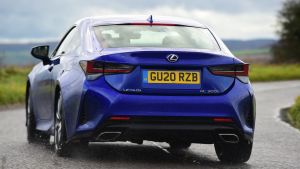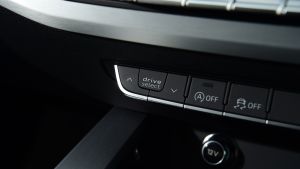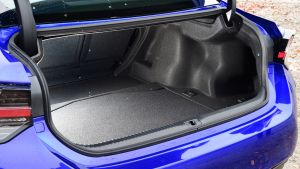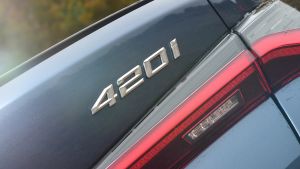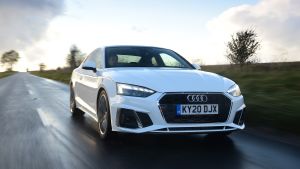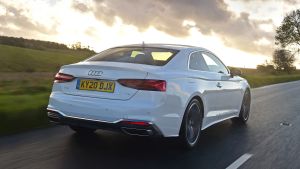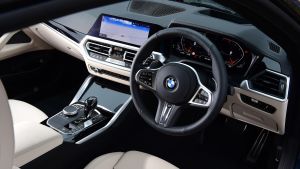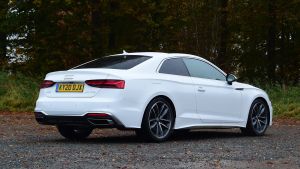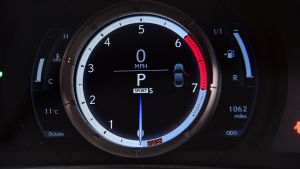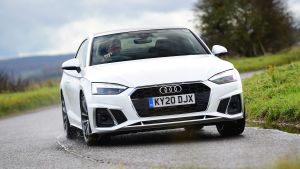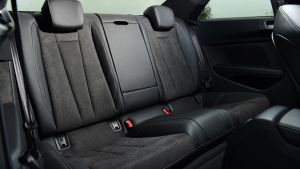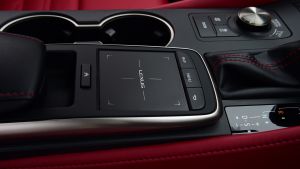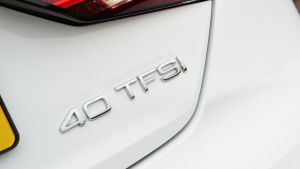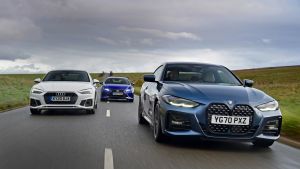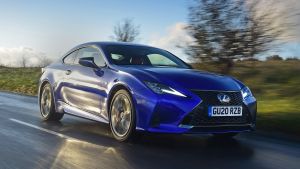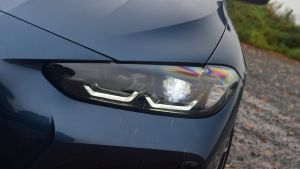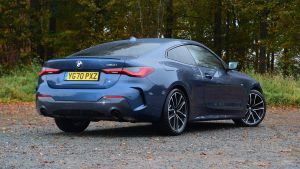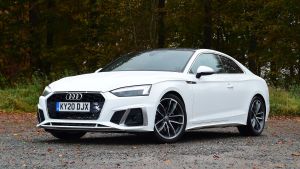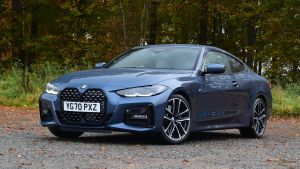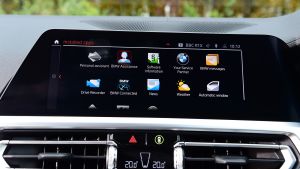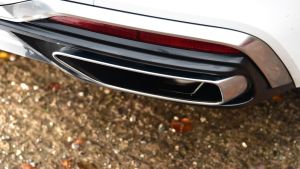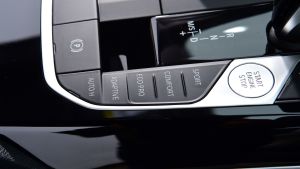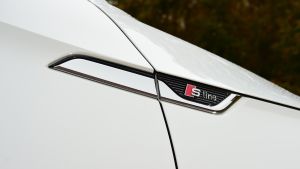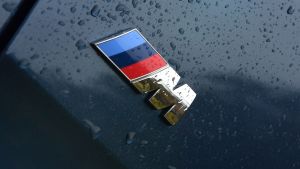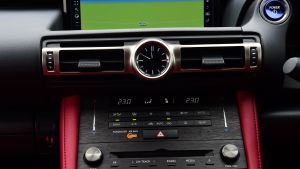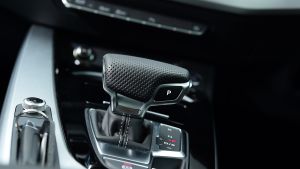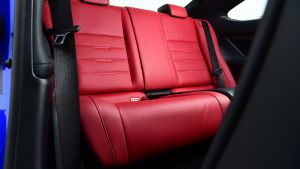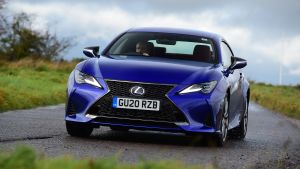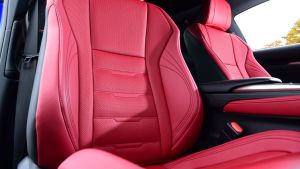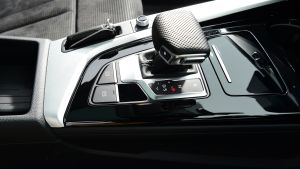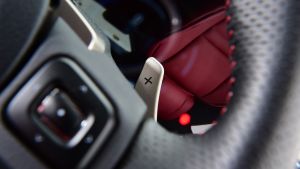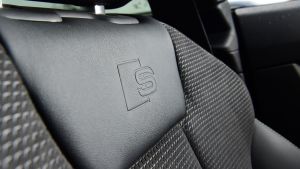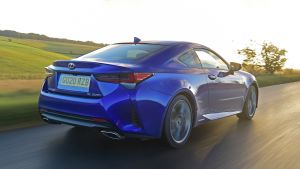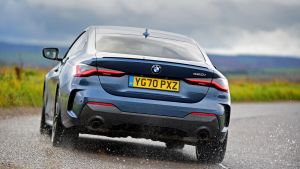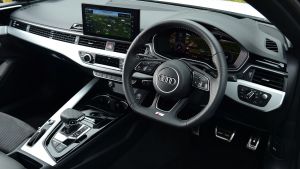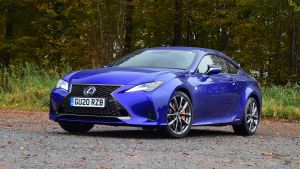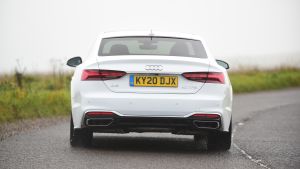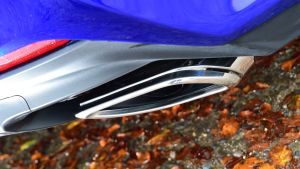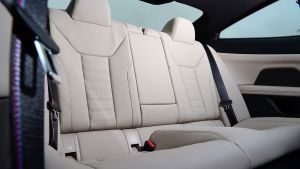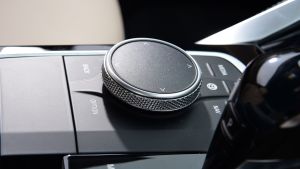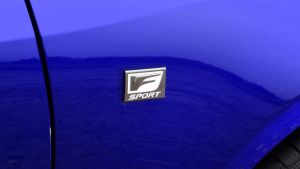 Used: BMW 650i M Sport
Price: £36,999 
Engine: 4.4-litre V8, 438bhp
If your budget is around £40,000, but you want something bigger, a lightly used BMW 640i is within reach. Quality is just as good as in the 4 Series and interior tech not far behind, but the V8 has more character. It'll be more expensive to run, though.
Figures
BMW 420i M Sport
Audi A5 40 TFSI S tronic S line
Lexus RC 300h F Sport
On the road price/total as tested
£40,460/£48,925
£41,805/£47,600
£43,500/£45,020
Residual value (after 3yrs/36,000)
£20,906/51.7%
£16,617/39.8%
£20,614/49.3%
Depreciation
£19,554
£25,188
£22,886
Annual tax liability std/higher rate
£2,572/£5,144
£2,722/£5,443
£2,767/£5,535
Annual fuel cost (12k/20k miles)
£1,719/£2,865
£1,938/£3,230
£1,479/£2,465
Insurance group/quote/VED
TBC/£629/£475
33/£751/£475
35/£757/£465
Cost of 1st/2nd/3rd service
£25pm (3 years)
£205/£365/£205
£310/£570/£310
Length/wheelbase
4,768/2,851mm
4,697/2,764mm
4,700/2,730mm
Height/width
1,383/1,852mm
1,371/1,846mm
1,395/1,840mm
Engine
4cyl in-line/1,998cc
4cyl in-line/1,984cc
4cyl in-line/2,494cc
Peak power/revs
181/5,000 bhp/rpm
201/4,475 bhp/rpm
220/6,000 bhp/rpm
Peak torque/revs
300/1,350 Nm/rpm
320/1,450 Nm/rpm
N/A
Transmission
8-speed auto/rwd
7-speed DCT/fwd
CVT auto/rwd
Fuel tank capacity/spare wheel
59 litres/repair kit
54 litres/repair kit
66 litres/repair kit
Boot capacity
440 litres
450 litres
340 litres
Kerbweight/payload/towing weight
1,525/490/1,600kg
1,485/490/1,700kg
1,735/435kg/N/A
Turning circle
11.4 metres
11.5 metres
11.4 metres
Basic warranty/recovery
3yrs (unlimited)/3yrs
3yrs (60,000)/3yrs
3yrs (60,000)/3yrs
Driver Power manufacturer/dealer pos
27th/25th
21st/20th
1st/1st
NCAP: Adult/child/ped./assist/stars
N/A
89/87/75/75/5 ('15)
N/A
0-62mph/top speed
7.5 secs/149mph
7.1 secs/151mph
8.6 secs/118mph
Auto Express econ (mpg/mpl)/range
36.3/8.1/471 miles
32.2/7.1/382 miles
42.2/9.3/613 miles
WLTP combined
42.2-44.1mpg
41.5-42.8mpg
44.1-45.5mpg
WLTP combined
9.3-9.7mpl
9.1-9.4mpl
9.7-10.0mpl
Actual/claimed CO2/tax bracket
180/146g/km/32%
203/150g/km/33%
155/145g/km/32%
Airbags/Isofix/park sensors/camera
Six/yes/yes/yes
Six/yes/f+r/yes
Eight/yes/f+r/yes
Auto box/lane keep/blindspot/AEB
Y/£3,650*/£3,650*/y
Y/£2,700*/£2,700*/y
Yes/yes/no/yes
Climate control/cruise
Yes/yes
Yes/yes
Yes/yes
Leather/heated seats
Yes/yes
Part/yes
Yes/yes
Metallic paint/LED lights
£670/yes
£675/yes
£670/yes
Keyless entry & go/powered tailgate
Yes/£990*
£1,395*/£1,395*
Yes/yes
Sat-nav/digital dashboard
Yes/yes
Yes/yes
Yes/yes
DAB radio/connected services
Yes/yes
Yes/yes
Yes/yes
Wireless charging
£1,900*
Yes
No
Apple CarPlay/Android Auto
Yes/yes
Yes/yes
Yes/yes
This content was originally published here.